Oh boy…now THIS is a never ending job, isn't it? How many of us actually enjoy this task? I remember when I first heard Martha Stewart talking about how much she loved doing different chores around the house, and laundry was one of them.
Do WHAT?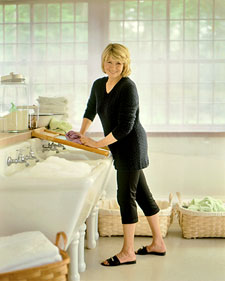 Well, she certainly LOOKS like she's having fun, doesn't she? (Wait, is that big window in the background PhotoShopped in?) And the most insane part of all of this is that I think I would be the same way as she is – if I had her laundry room!
Anyway, I believe her when she says she loves it. Truly, I do. Martha is a role model for me in some ways, and the fact that she loves being a homekeeper is one of them. The woman has everything set up right, though! Like me, she is a perfectionist – but, unlike me, she actually has her home organized. The laundry room is no exception. She encourages you to make your laundry room organized and pretty…you know, a space that you wouldn't mind spending time in every day or every week or however much you need to do so. A person can get a lot done in a nice, organized room!
So is your laundry room/closet/space working for you? How does it make you feel when you're in that area?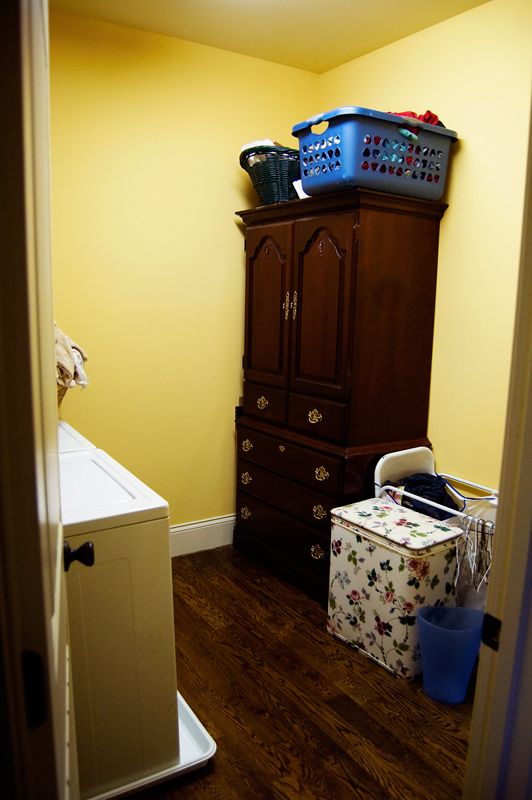 For me, I'd have to say that there is simply not enough storage. When we built this house 2 years ago, it was supposed to have built-in cabinets all along one wall for storage. Due to financial constraints, it wasn't added but was planned to be shortly down the road. As you can see, it's just never been done. I've scoured the free section on CraigsList for used cabinetry, hoping to score a deal – but I've rarely seen anything like that. I have a feeling that when used cabinetry is posted, it's snatched up Pronto Squanto. It's just in high demand. Maybe one day I will either find it – or will have this sudden creative idea for making this space work better for us.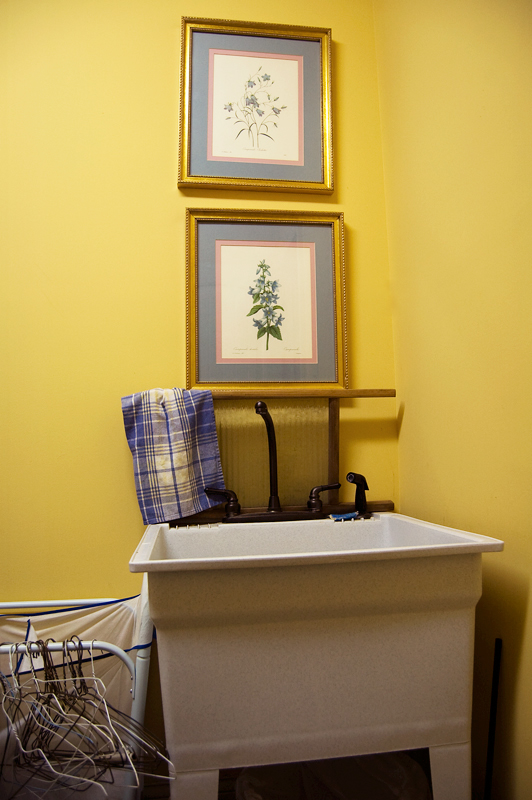 If there's no cabinets, then what's in there exactly? Obviously our washer…and then the dryer (which we never use anymore except for dire emergencies; we are converting almost totally to line drying everything), and then we also have a cherry wood armoire (a little much for a laundry space, don't ya think?), a 3-bin cheap-O laundry separator, a hamper, and one of those plastic utility sinks. There are two gold tones framed floral prints above the sink (and hung crookedly, at that).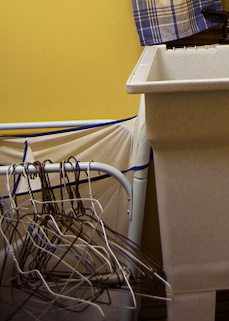 See that? Yeah, that junky looking mess of wire hangers from various sources? I have been using those for quite a while now to dry our laundry. If it's a shirt, or diapers, or a skirt – I just hang it up on one of those hangers on the back of the door, or in the adjacent bathroom window, or the doorway…or pretty much anywhere that works to dry the stuff. If its a blanket, pants, towel, sheet or anything larger, then they get draped on the banister railings on the second floor going up to the 3rd. On days where I've had mucho laundry to do, it can start to look like a scene out of Sanford & Son around here. It's one of the many reasons why I will be super stoked when hubby gets the fancy laundry line built for us outside!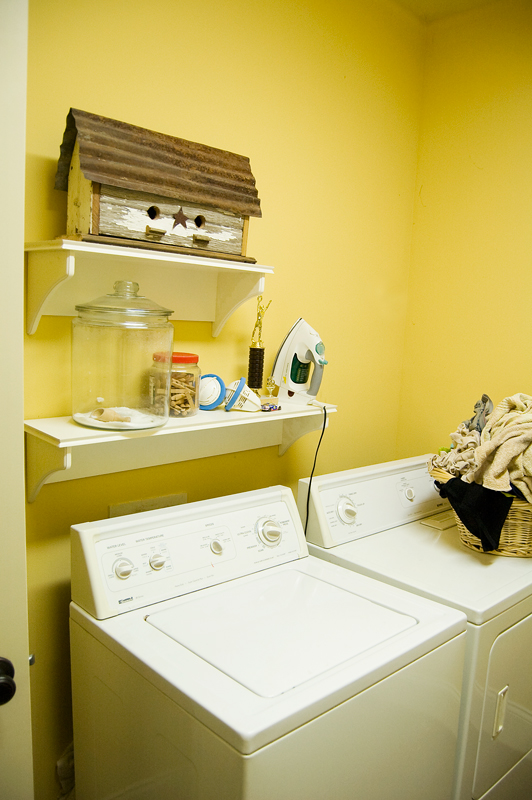 There are two white shelves on the wall above the machines that I have regretted putting in the very moment that I completed installation, which was a pain in the spleen. There is even the pie eating contest trophy that my husband won back in the 80's when he was but a lad. I bet that we have the only laundry room that showcases something like that!
Nothing in here flows to me. The prints go okay with the nice armoire, and the white of the shelves matches the white machines, but it doesn't all work together to create a pleasing space. Just like any other room in this home, I feel like I can make it look and function 80% better than it is today, but need to get my mess together to do it.
I do love that in Martha's laundry room picture above (and I know that this is just ONE of her many laundry rooms!) the color palette of the room is bright and white. Doesn't it just feel clean? It makes you feel like you are easily getting your laundry just as clean as its surroundings, I'm sure.
At this point, I'd love to start over on our laundry room and go with something more farm chic. I would maybe not do it quite so rustic. I mean, I do want it to look clean-ish, but it would really fit nicely with our farmhouse style here – and I could still add in a few fancy things to give it that Rustic Opulence look that I want to be the defining style for our entire home.
Are you loving your laundry space? If you could change something in your laundry room, what would it be? If nothing else, tell me what I can change in mine! Inspiration, please!
How about naturally cleaning your laundry? Tune in for LYL Part 2!