Continued from Lovin' Your Laundry – Part 2…
Sniiiiiiiiiiiiiiiiiiiiiiiiiiiiff! Mmmm, smell the yummy freshness!
Now let's have some good, clean fun! Since your curiosity has been piqued about the ingredients in natural cleaners – let's talk about how to make them happen for your laundry. All you need is a good recipe or two for Good 'Ole Laundry Soap. I'll just share a really basic one with you that I've used before:
1 Cup Soap Crumbles (ground lye soap)
1 Cup Borax
1 Cup Washing Soda
Several drops of your favorite Essential Oil (some to try are Lemon, Grapefruit, Lavender)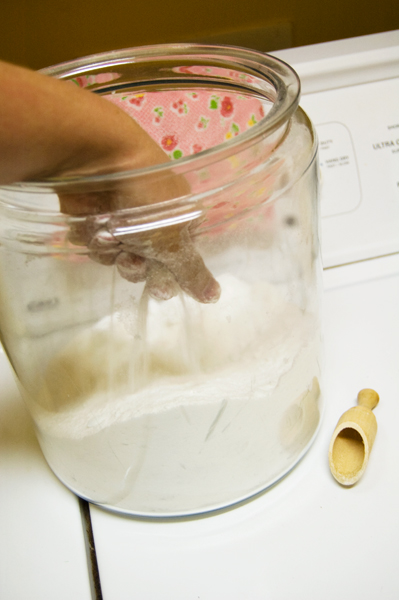 Mix it all up really well with your hands. Yes, it's messy – and yes, it's fun to do.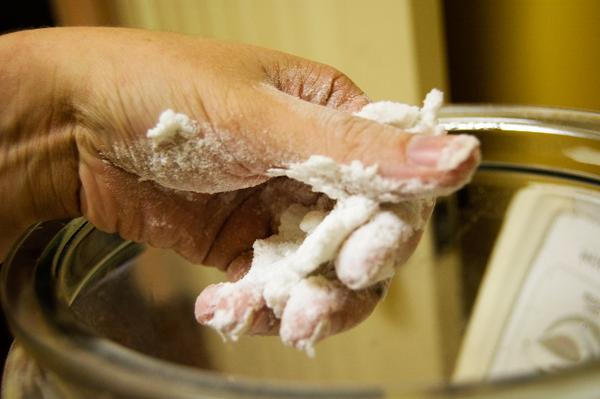 You will have the cleanest hands and fingernails in all the land!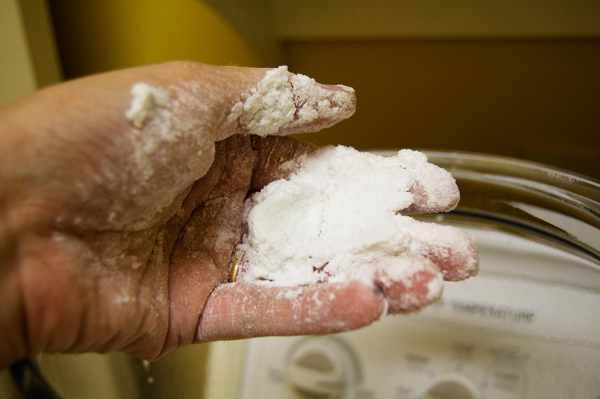 See how it starts to break up the soapy clumps? It's almost like working with a flaky pie crust dough. Almost.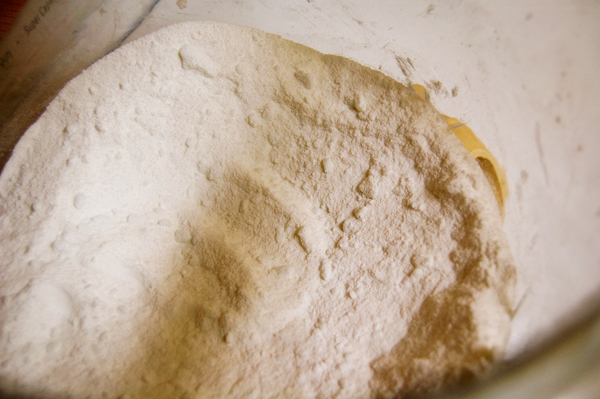 I guess at this point, you should store it in an airtight container if you want to preserve the essential oil part of the recipe, but I've just got mine dispensed in this glass jar with a not-so-tight-fitting lid.
We use 1-2 tablespoons per average size load. For cloth diapers, I tend to use more like 2 tbsp. but I also have to make sure to add vinegar to the rinse so that it doesn't cause breakouts on my baby's tushi! Remember – the vinegar helps all the soap rinse back out really clean.
Some notes about homemade laundry soap:
First-  Don't expect it to be bubbly and sudsy because it won't! That's okay, though, because we don't want the chemicals that cause the sudsy action in the first place – and it's not suds that get your clothes clean. We now have better ingredients for that!
Second- Feel free to skip the essential oil part completely. It's not a necessary component. When you don't use it (and I frequently don't) then your laundry will simply come out smelling fresh and clean with no unnecessary fragrances.
Third- While your newfound ingredients are natural, you still want to keep them out of reach of children. It wouldn't be fun to ingest some of that stuff…
Fourth- You do the math and see how much money this will save you! When you start making your own homemade laundry soap, it is VERY cost effective!
Anyway, I'm telling you – there is something about making your own laundry soap that is entirely satisfying. I'm not quite sure what it is, but it really makes you feel like you're the greatest wife and mother around. Maybe it's because it's something that you will use all the time and that your family constantly needs…and every time you go back to your jar or tin with handmade laundry soap that you made, it's another pat on the back. I did this! Wow! "Oh cool, Mommy! I'm glad you washed my favorite shirt!" They love me! They really, really love me! – And my handmade laundry soap, of course! "Ethan? Please go start loading those clothes into the machine." "Mmmm! This soap smells really great!" Yeah, doesn't it? I made that myself! See? It's laundry soap that is good for your self esteem.
So talk to me! Have you tried making it yet?
Be sure 'n check here for the whole Lovin' Your Laundry series!