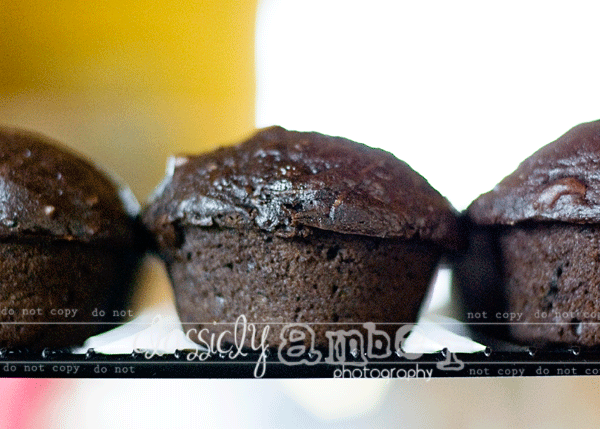 Have you heard of…"Zucchini Bread"? I have, and I've tasted it before, too. Honestly, they should just go ahead and call that stuff "Zucchini CAKE" because that's exactly what it is! When I think of the term 'bread', I think of something more hearty and savory than what I've personally experienced as "Zucchini Bread". If I ever get the chance to make what I would consider to be true Zucchini BREAD, then I will come back here and share it with all of you. But for today – I bring you more muffins instead. These are more along the lines of a cakie bread, but still not so much like cake.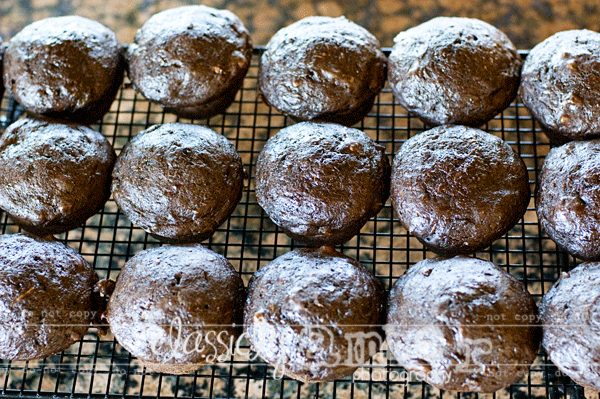 …Or am I in denial, too?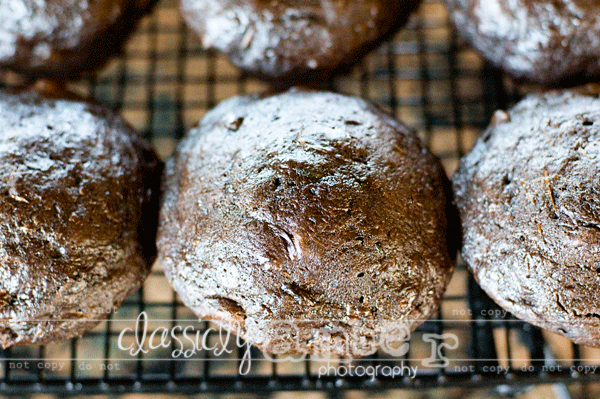 Yesiree, we just looooooooove muffins 'round this place! Can you tell yet?
When you look at these, you might be thinking – 'Oh my! I bet they are SO sweet!' You are right! They are definitely sweet, but not TOO sweet!
If I may explain: Yes, these are quite deliciously sweet while at the same time – they are not so sweet that they burn your mouth or may you sick to your stomach. Therefore, I give 'em my full hearty approval for….BREAKFASTS!! Yes, breakfast. Just think about it, you and your family are starting out the day right with VEGGIES (and also chocolate). So how could ya go wrong with this? Just so you know, they are sweetened in several ways. 1.) natural applesauce, 2.) organic sugar, 3.) molasses and 4.) raw honey. All of it combines to make for a sweet chocolatie zucchini muffin that is juuuuuuuuust sweet enough to fancy your taste buds without overwhelming them and confusing them as dessert. Seriously.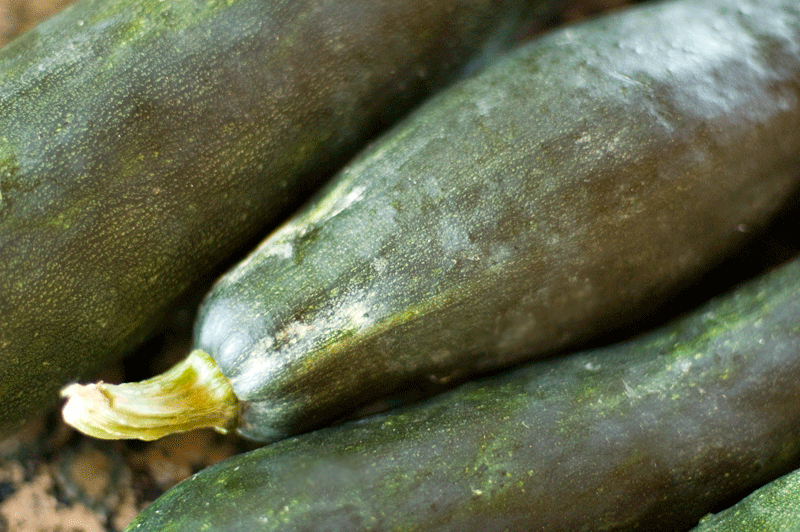 And are you one of those weird people that doesn't like chocolate? Or do you simply want to actually taste the zucchini? Then scroll down for the slightly different version of these muffins that uses NO chocolate or sugar! They are also superb!
Let us begin!!
Ingredients:
3 cups unbleached all purpose flour
1/2 cup dark chocolate cocoa
1 tsp. baking soda
1 tsp. baking powder
3 tsp. ground cinnamon (make it fresh!)
1/4 tsp. nutmeg
1/4 tsp. allspice
3 fresh eggs
1/2 cup vegetable oil
1/2 cup unsweetened applesauce
1/2 cup organic sugar
1 cup raw honey
1 tbsp. molasses
3 tsp. pure vanilla extract
4 cups grated zucchini
1 cup chopped walnuts
Okay, so you guys know my drill with muffins. Preheat your oven to 350…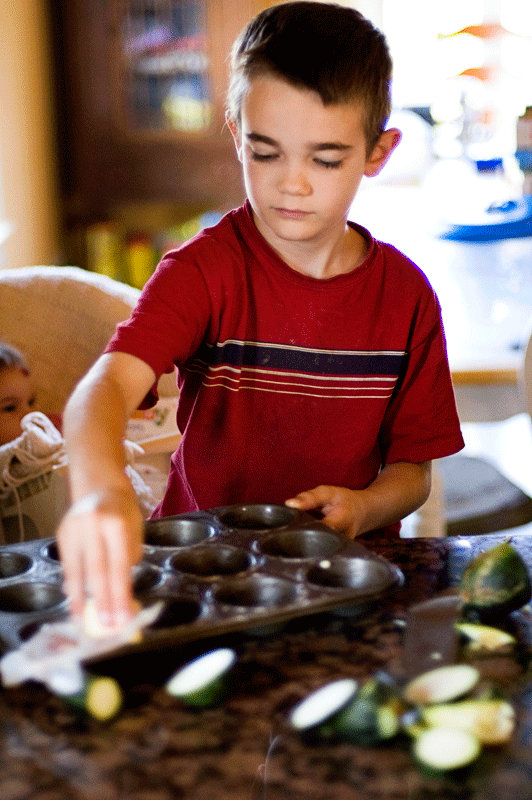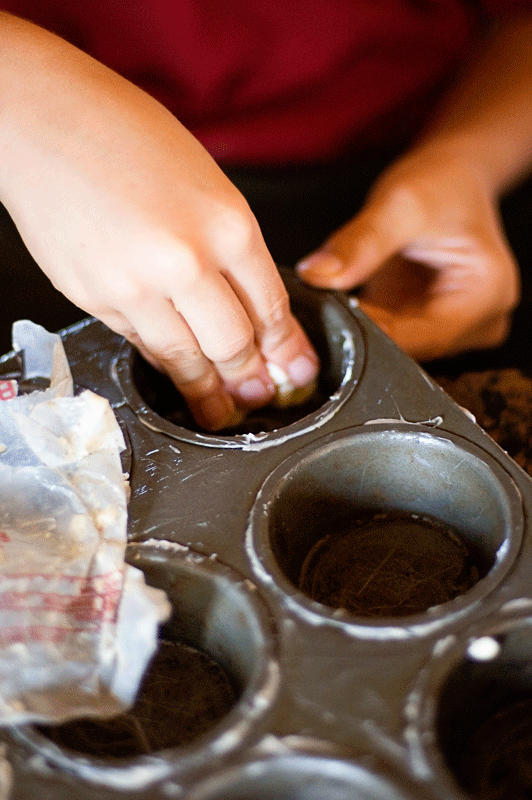 …butter your pans (inDEEDly well!)…and start adding your ingredients together, starting with all wet ingredients and then ending with all the dry.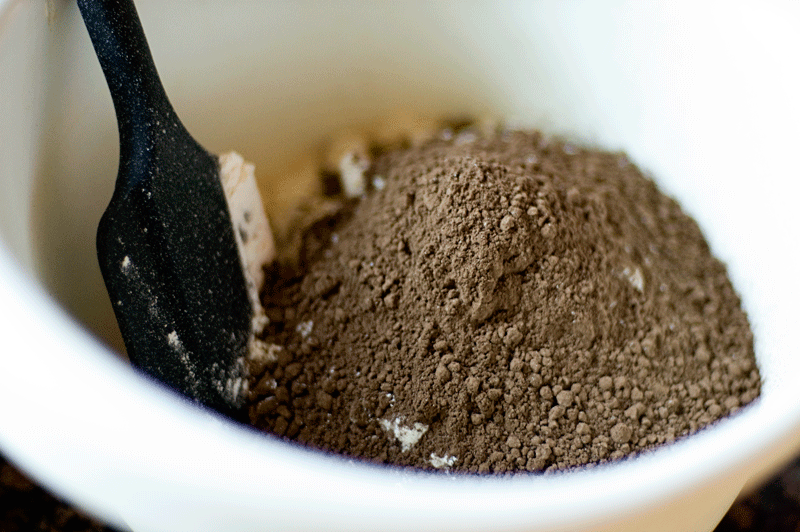 In a big bowl, put in your flour, chocolate powder, salt, baking powder, baking soda, cinnamon, nutmeg, allspice and sugar. Mix well.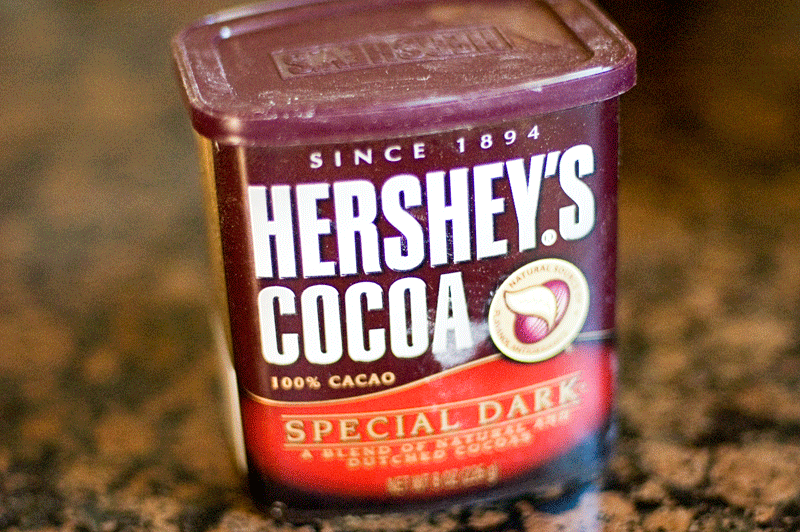 For the chocolate, I just used Hershey's 100% Cacao Dark Chocolate cocoa powder. It's pretty good!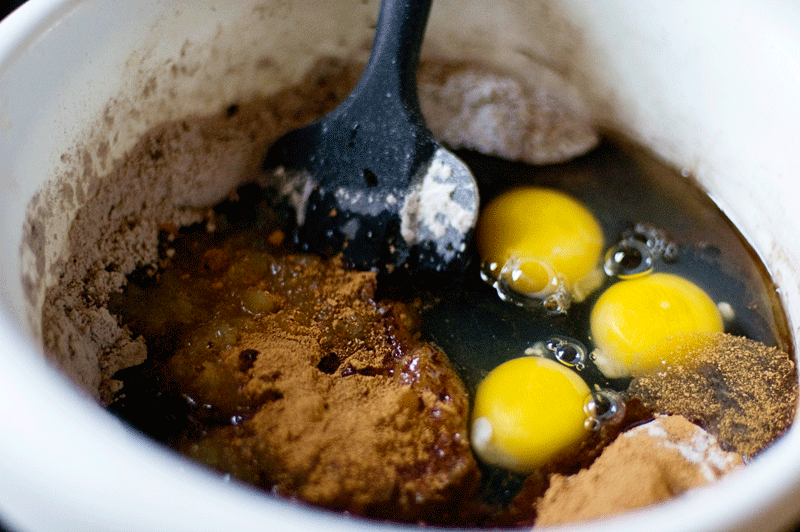 Then add in your eggs, oil, applesauce, honey, molasses and vanilla extract. Mix well and then begin incorporating into the dry ingredients. Mix it all together well.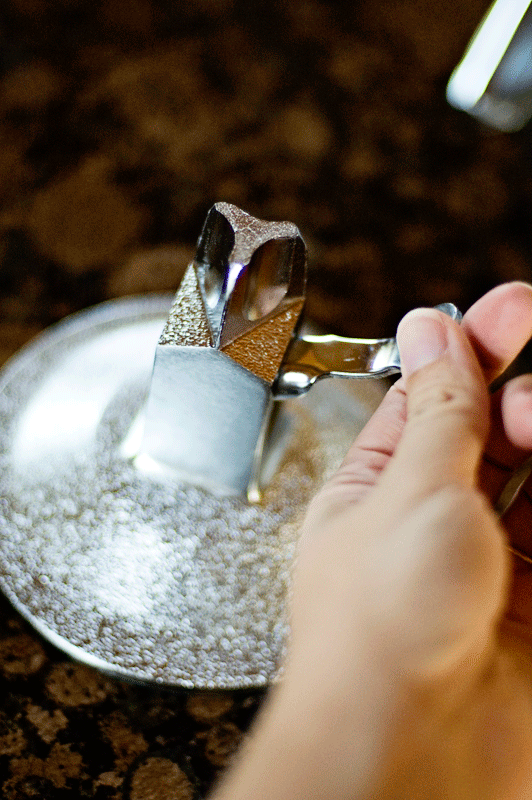 Now, I have to tell you about this really awesome grater that I just acquired from a friend! This is our first time using it and we were totally loving it.I can tell already that it's going to quickly become a favorite tool in the kitchen. Do you have one of these at home? It is basically 3 different pieces, and there are several different barrel thingies with various types of blades on it for shredding and cutting. The bottom suctions TIGHT to the counter top!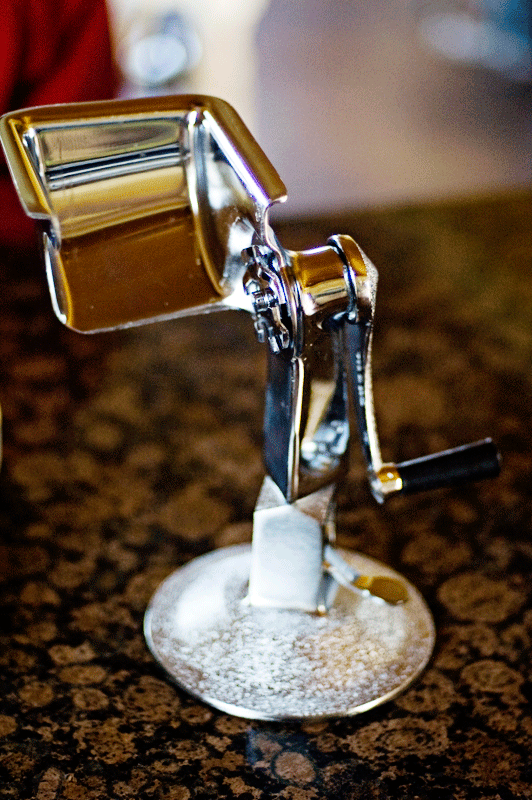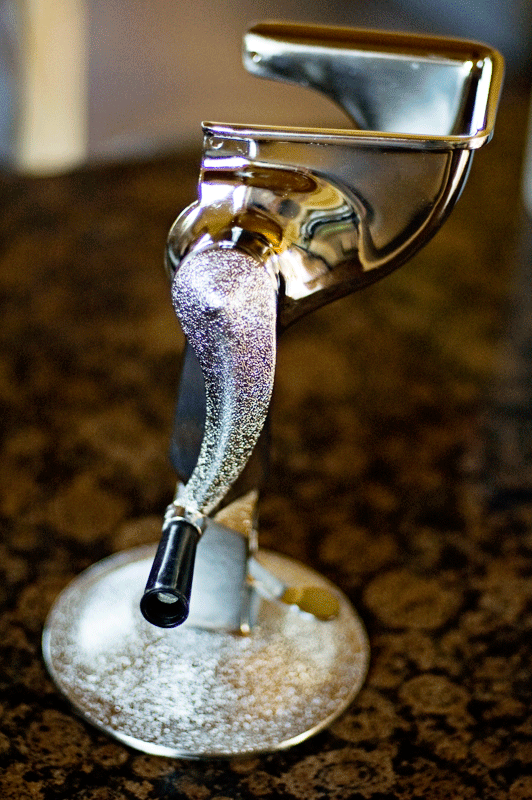 Then you pop on the middle section with the handle…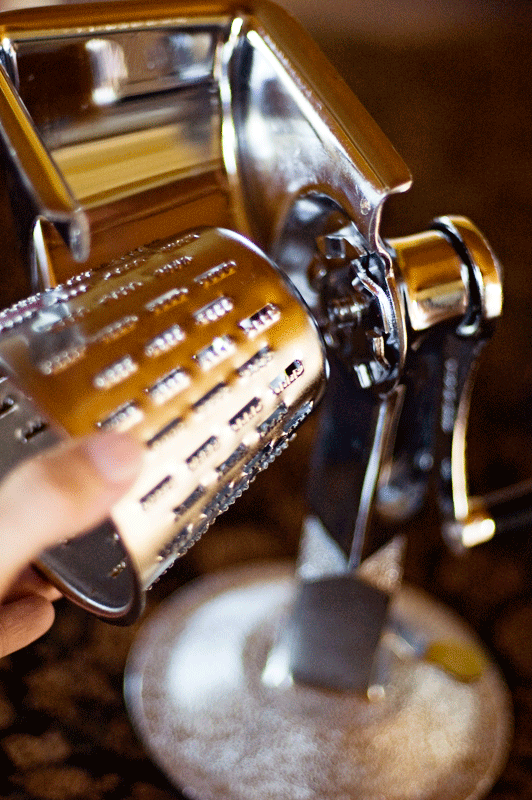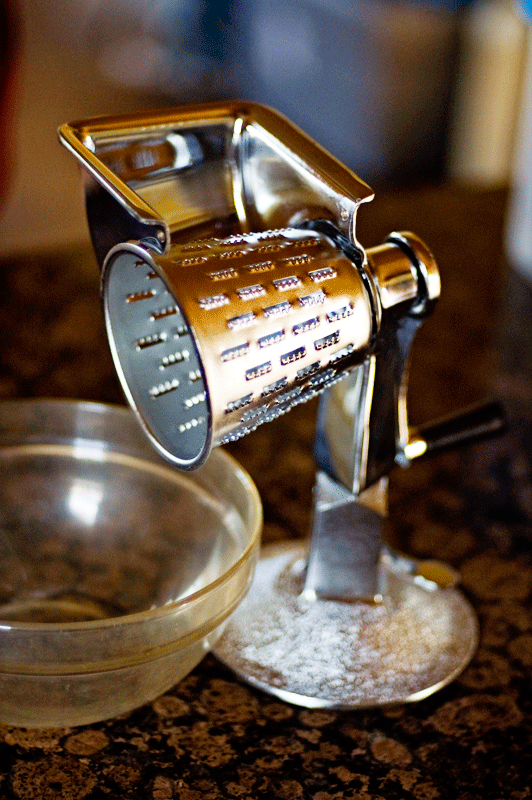 and then add your cutting barrel of choice! Stick the food in and roll. Does it get any easier?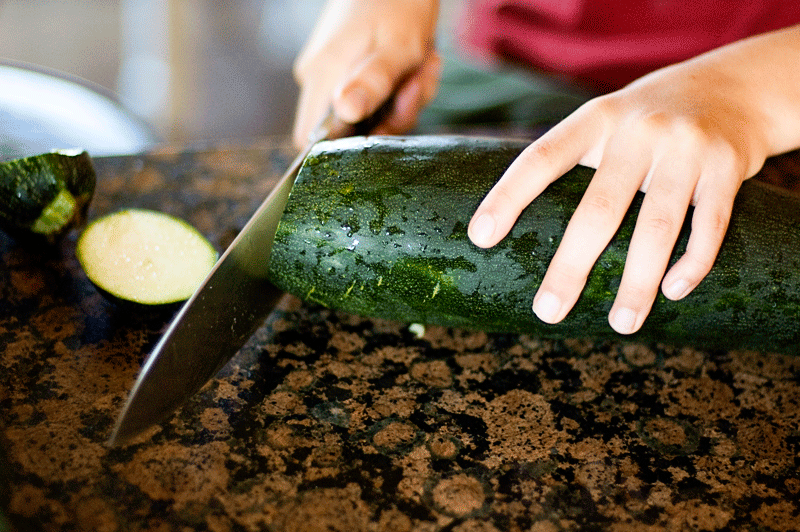 As you can see, we basically just cut off the ends of the zucchini, stuck it straight in from the top and rolled to grate that bad boy up – skins, seeds and all.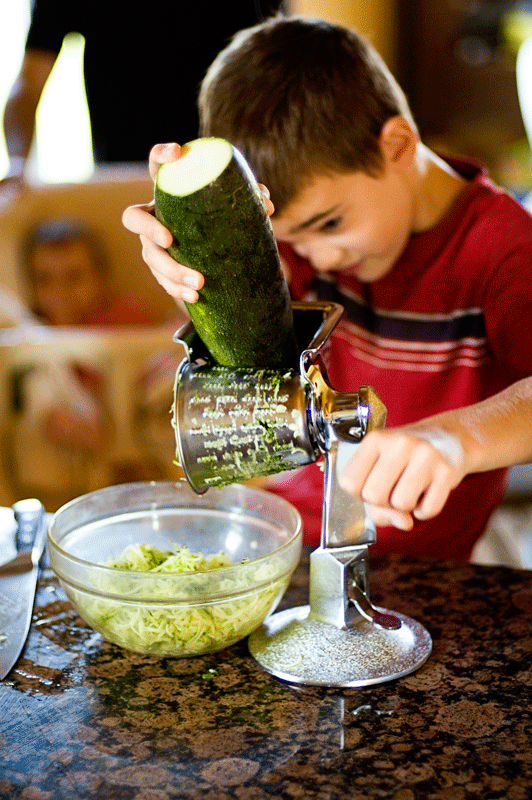 I can tell ya…hubby had raised eyebrows and quiet questions, wondering if we were supposed to do it that way, but I DO hate to waste things and wanted it all in there. And you can bet your bippy that he had nothing but excellent reviews while chowing down on the finished muffins!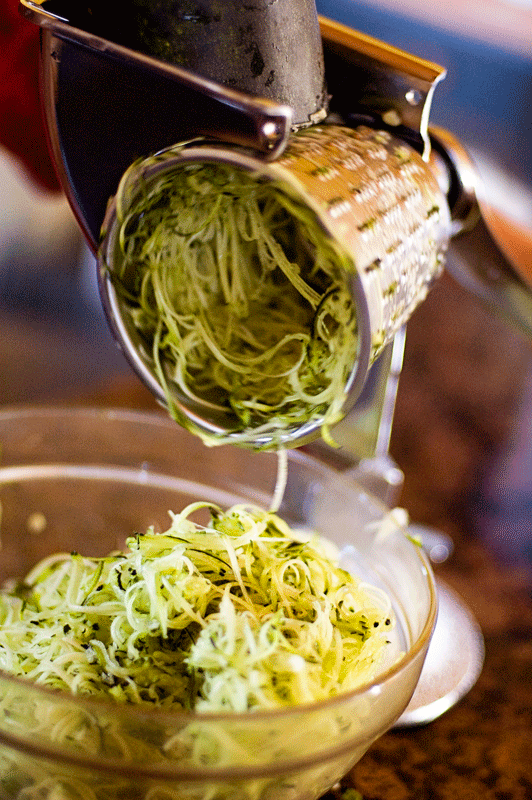 It was nearly effortless. And fun.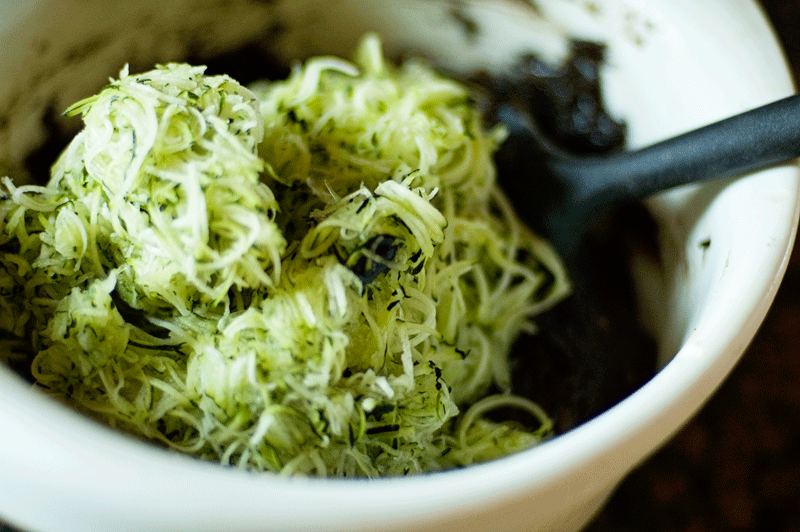 Add in funly-grated zucchini.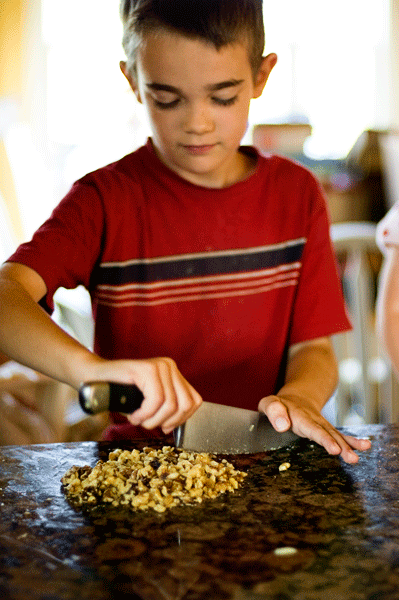 When it comes to cooking and baking in the kitchen, DO let your children and grandchildren help out! It doesn't matter WHAT age they are, you can always find something for them to do. Even if they are just little babies, let them have a section of the cabinet to play with the plastic bowls and lids – and they will have a blast! I think it's really important for children to feel like they really contribute something worthwhile to the family. And they will be happier and have better self esteem when you let them help out however they can!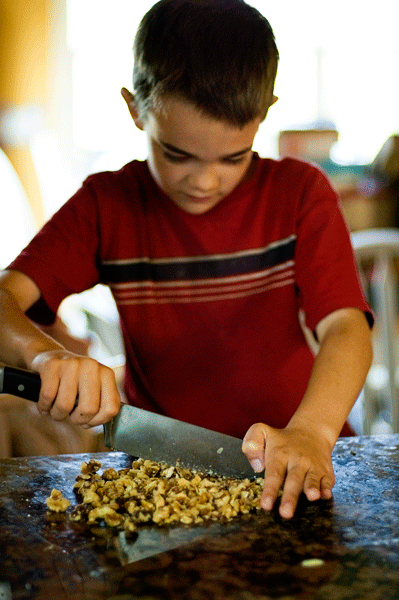 So here you see our oldest, who just turned 8 years old a few months ago. He has shining self esteem, see? 😉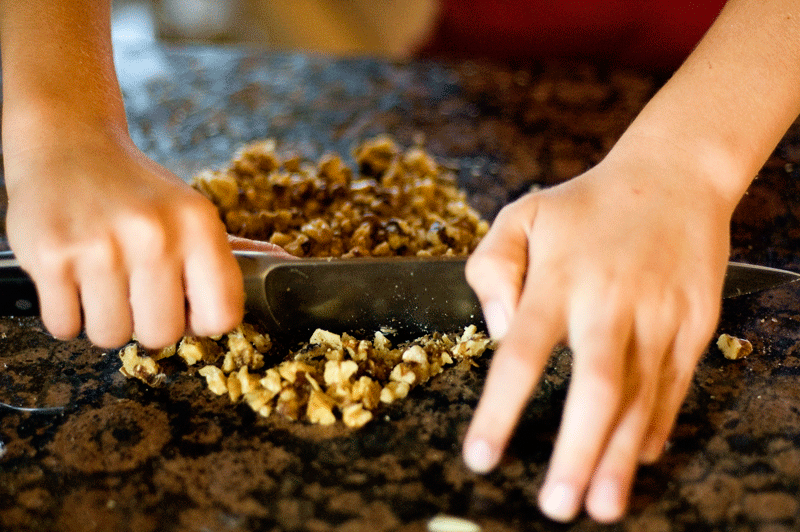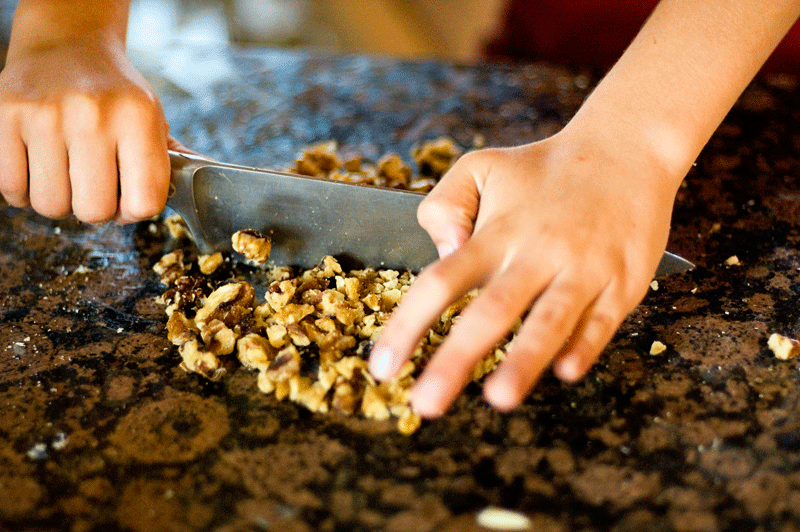 He's had "Cooking Class" here with me and his father several times.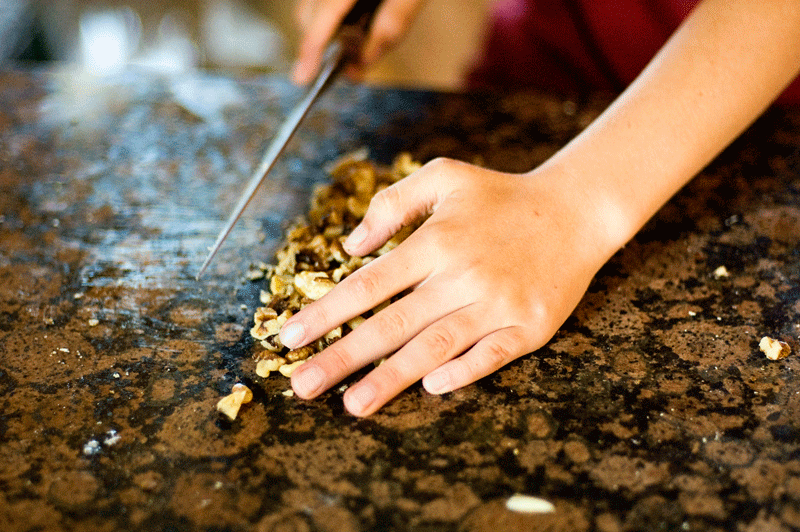 If you were to watch him chop and dice things up, you might confuse him with a pro! He does really great chopping up those walnuts…just like a chef!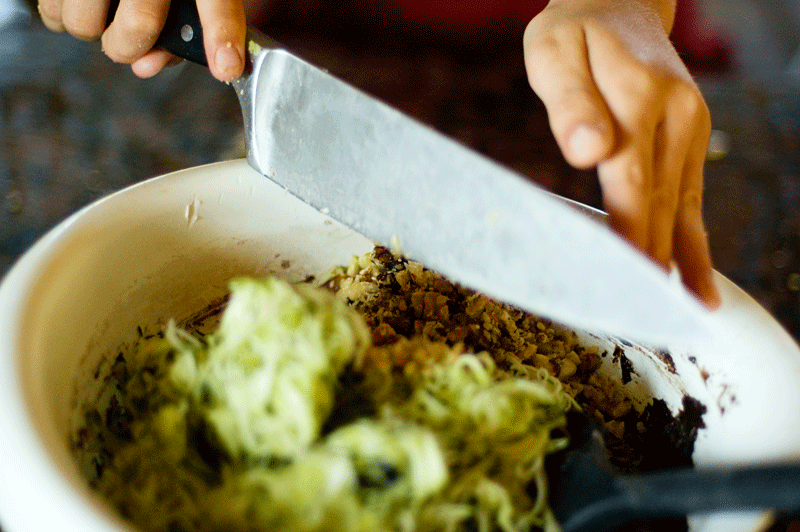 Add in chopped walnuts and mix up.
Here again, I used one full sized muffin pan (12 cups) and a separate muffin pan that only has 6 cups. Fill up your pans with the batter all the way to the top of the cups. As always, make sure you butter the very top of your pan, too!
Place the pans in your preheated oven and try not to think about what's going on in there. Pretty soon, your whole house will be filled with the chocolatie aromas of summer….with a hint of fall to come. When you can't stand it anymore – or after about 18 minutes, do check your muffins with a cake tester or a toothpick. It should pull out clean. It may take 2 or 3 more minutes to get done. My oven cooks these muffins perfectly in just 20 minutes.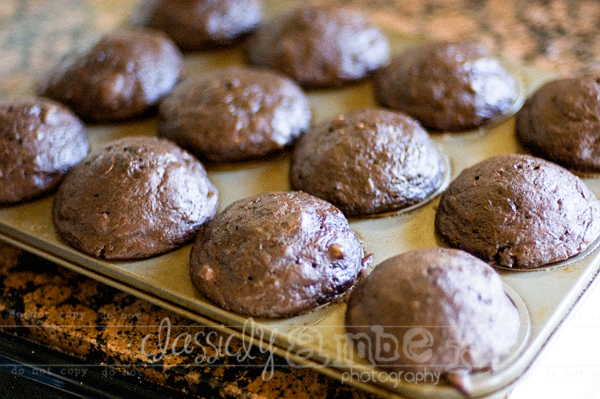 When they are done,  turn the pans over and let 'em fall out onto a cooling rack…then turn them right sides up.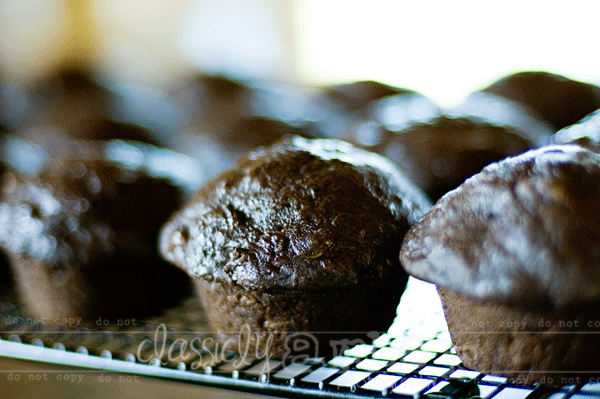 Let 'em cool (if you can). You will not believe how wonderfully moist and delicious these muffins are!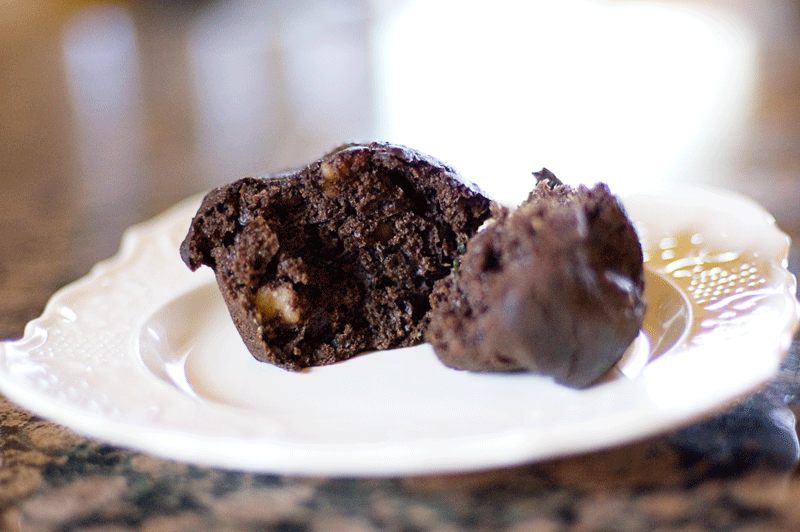 They are perFECTion for breakfast – or snack – or even a light dessert!
Now for the Totally Zucchini Muffins: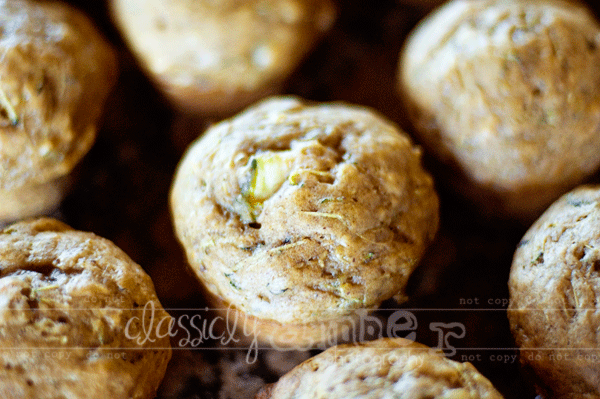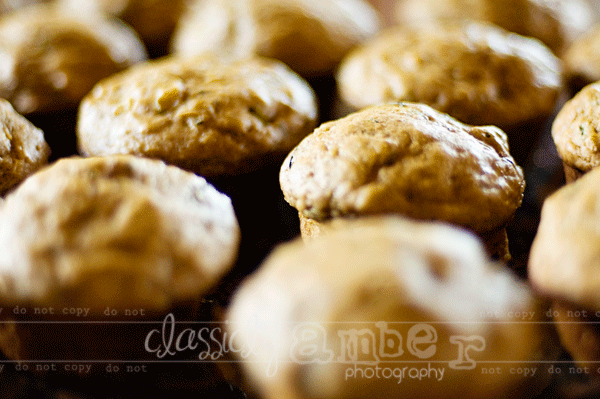 To make these happen, simply omit the cocoa and sugar, and you're there! They are toooo tasty, too! And you really can taste the zucchini. Imagine that!