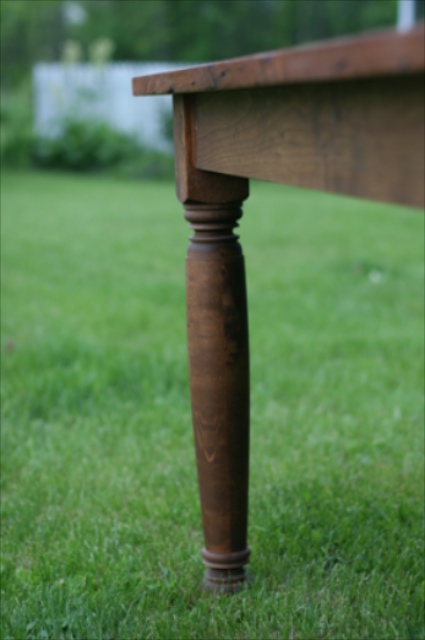 Ever since hubby and myself first sat down to design this home, I knew exactly what I wanted in the kitchen and dining areas.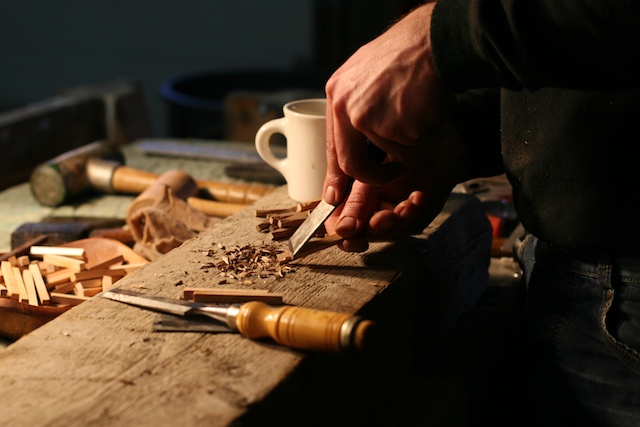 I knew I hoped for an open kitchen…and I wanted to forgo the whole separate nook and formal dining rooms. Instead we put those two spaces together to make one nice sized dining area. And in that dining area, I wanted…
… a Nice – Rustic – Textured – Unique – Solid Wood Farmhouse Table!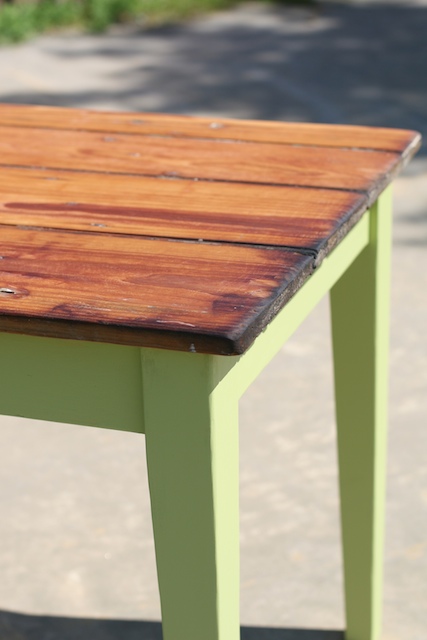 Why did I just capitalize the first letter of every word of the previous sentence?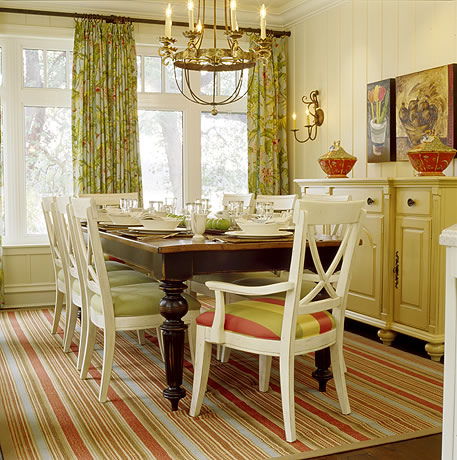 Well, I guess that was my emotions getting the best of me.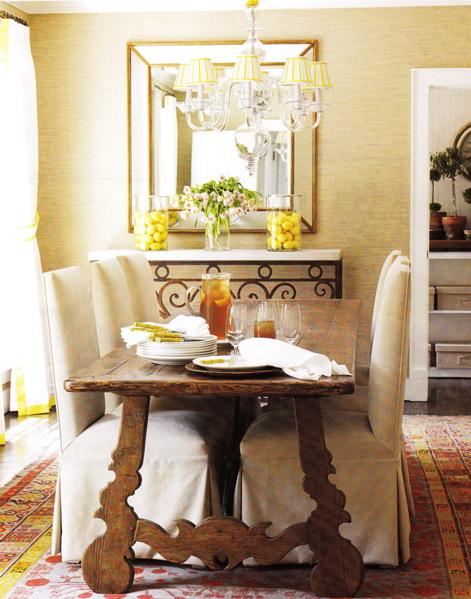 You see, I really do get ridiculously giddy when I think about a rough, chunky table mingling with softly upholstered friends..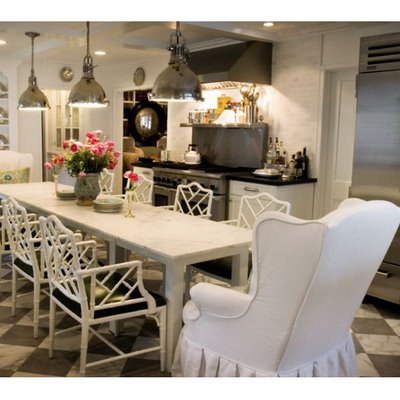 It makes my liver quiver to think about slipcovered wing chairs flanking the ends of a big table. And truly it doesn't matter if you can see the wood tones or not. I'd definitely take a distressed painted table. But there IS something to be said for being able to see that yummy wood grain goodness: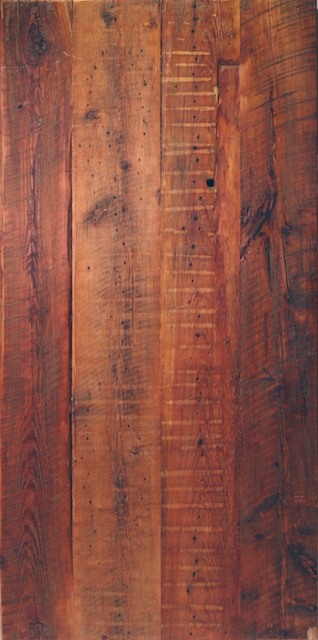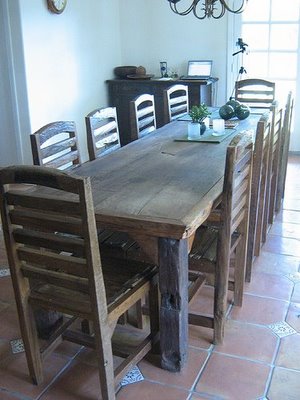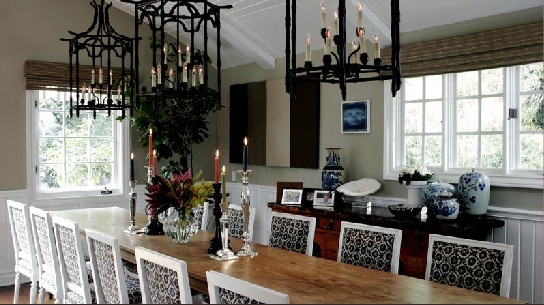 I get weak in the knees to see many chandeliers all lined up in a row over top a pretty table!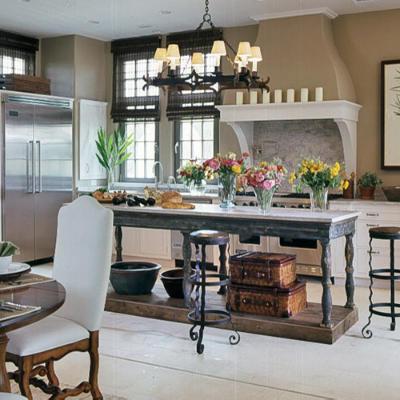 And it's a wonderful sight to behold when an old treasure is repurposed into a beautiful prep area in the kitchen.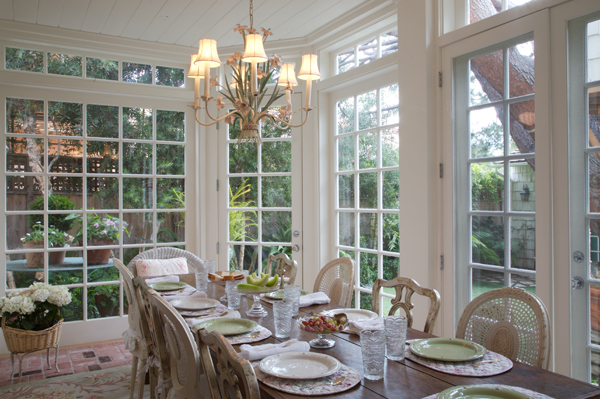 Ah! So relaxed…yet somewhat dressy all at once.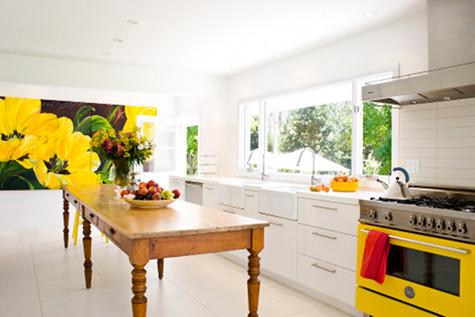 When a punch of color is added in, it really makes your heart sing, doesn't it?
Now let's move on to what I am actually working with in our own home: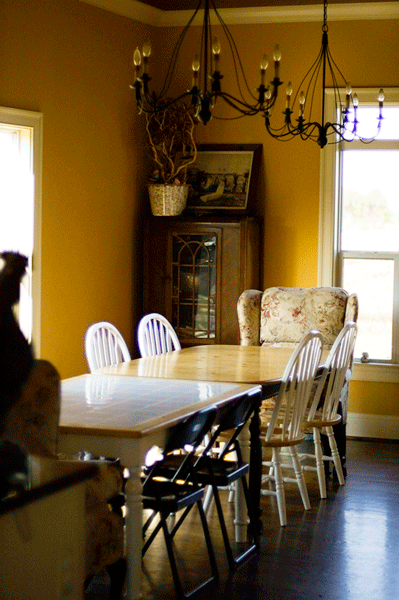 Yes, we have not one, but two tables in here. As you can see, they are opposing colors…which is something that I can more than likely fix with some leftover paint in the house. And then we have all of these chairs. I certainly don't prefer the fold-up metal chairs, though they are nice to pull out in a pinch when we have extra guests dining in. Those will someday be replaced with chairs that have more character.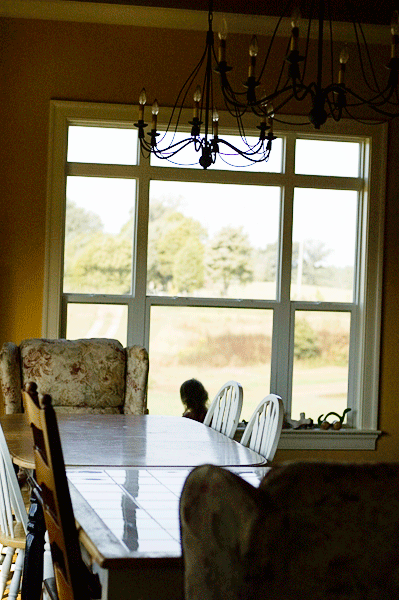 I bet I could make this all come together better if – as we've already established – I paint the two tables to match, then sew up a table covering for it all so the top of it flows better, and then round up a big batch of antique side chairs (all mismatched, but then I could paint them the same color), and then slipcover the wings on the ends. I could get the side chairs for cheap at a local "junk yard" that I've perused…and the fabric for the table cover and slipcovers at a local sewing salvage shop. So I'd still need a LITTLE money, but probably not as much as you'd think!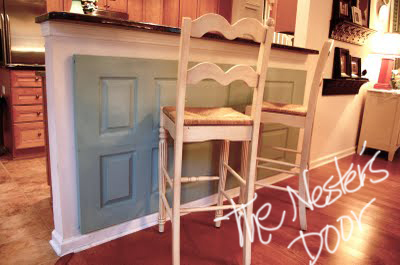 Also, the Nester posted something about hanging up a door on the wall to give interest and help protect it from little dirty feet…and I thought about trying that at our counter.
Do you think it would work for cabinets? The door that I have in mind is an antique solid wood door! I just don't want that heavy door tearing up our cabinets and falling off, ya know? That would be a little problem. Teeny. But if I could make it work, then it would give that area some much needed architectural interest!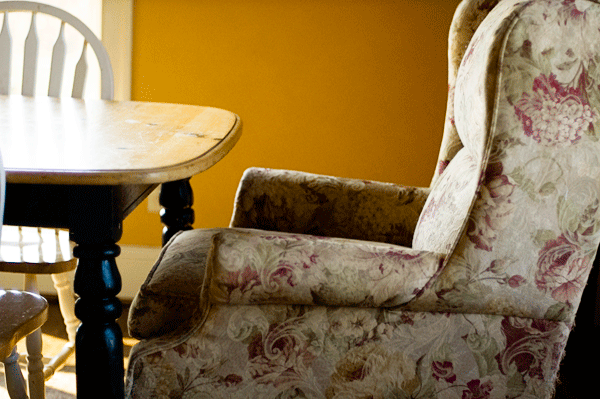 And these chairs were some that I scored on CraigsList! They have some cat scratch damage on the corners and told me that they will be somewhat embarrassed until I could get them either slipcovered or reupholstered.
I have shopped around for a true farmhouse table, and they are so pricey! We are talking $3,000 for a 14 foot long table, folks. I don't know how YOUR money tree is producing this year, but we are still waiting on ours to catch up! 😉 I was ecstatic to find a guy about 15 minutes down the road who builds furniture from barnwood…and from the pics he's sent me, it looks like good quality stuff! He still wants around a thousand smackaroos for a table. Yes, that is a good price compared to everyone else – but we just don't have it yet. When you're fighting just to keep your home, the last thing that really concerns you is a $1,000 farmhouse table. I can never say it enough, though –  – it NEVER ever ever hurts to dream! So I dream big! It's a lot of fun and it keeps me young 'n energized.
What have YOU been dreamin' up big for your kitchen and dining areas?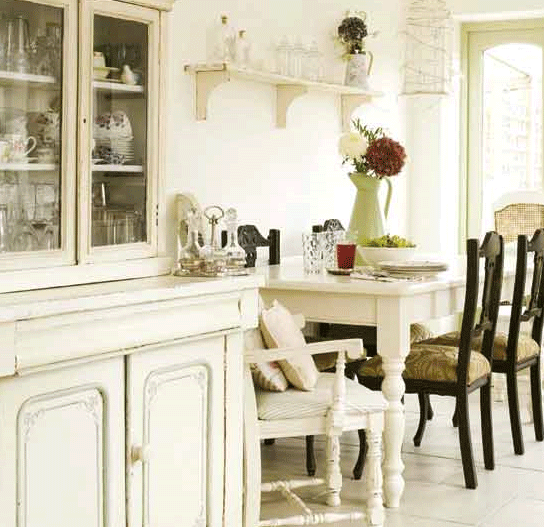 Photo credits: DecorPad, VermontFarmTables, DecorDepot, Brooke Giannetti, Eleventh of Earl Mar, Home & Garden, Napanee Design