Since all the corn was recently harvested, I can boldly tell you that there is no shortage of corn husks around here! I started thinking about all of the things a person could do with corn husks. I still intend on trying my hand at corn husk dolls, and think that my oldest daughter would really get a kick outta those.
Several years ago, Martha Stewart shared how to make a beautiful wreath from corn husks. I can't remember if I saw it on her old TV show or if I happened upon it online…but I did get the directions for making it at her website. It is SO simple and SO beautiful  – you really have to try it! If you don't have a recently harvested field of corn with corn stalks and husks everywhere, then you can also pick up packages of these dried corn husks at most any grocery or craft store.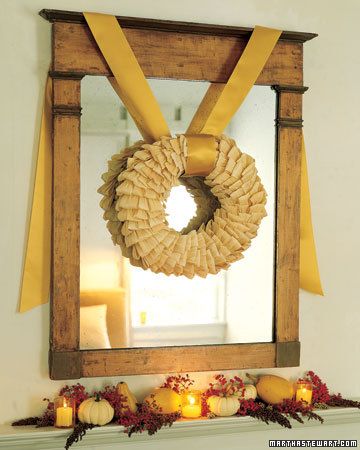 You basically get yourself some corn husk wreaths – either solid cream colored (or I've seen the purple tipped color that would be so beautiful, too)…and a straw wreath form and some U-pins. Soak the husks to soften them some so that they will bend without breaking. Then pin them all the way around the wreath form to look like yummy fall ruffles for your wreath. You can find the complete instructions here. In the pic above, you see that the MS team used a really wide, elegant gold ribbon. I <3 that. I also <3 that they kept the shelf real simple: some foliage, some berries, pumpkins and light up a few votives and you're good to go!
I am kinda liking mine on a pedestal underneath a pumpkin (there is a small bowl hidden underneath the pumpkin to keep it from crushing it all). Anyway, not only was this wreath inexpensive and easy to make – but it also keeps very well year after year.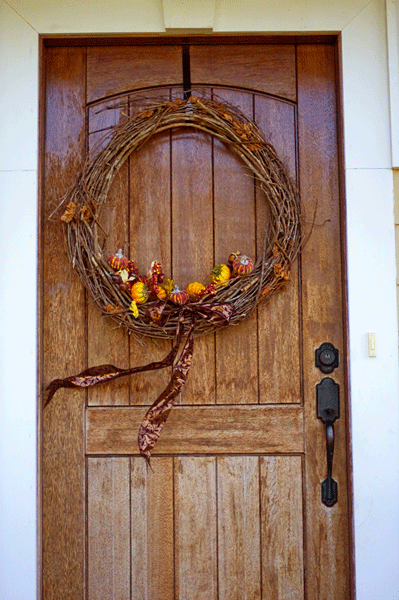 And there was a really big wreath marked for $4 at Hobby Lobby a while back, so I picked it up (it was the only one for that price!). And then I just added in some fall-ish picks 'n stuff that I've had for ages.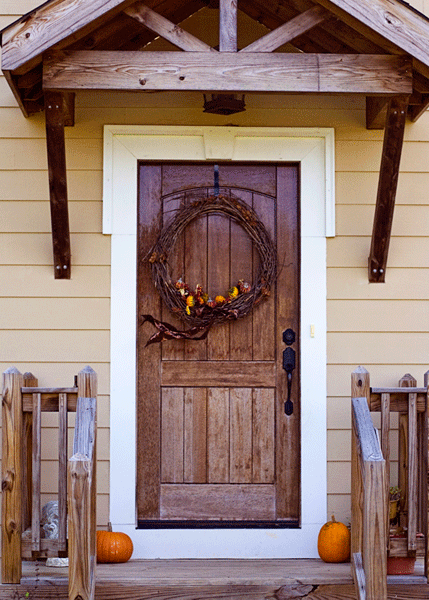 It's not my total fav, but I do somewhat like it and think it works pretty well! Money is so crazy tight for us right now, so I was glad just to be able to put some seasonal decor out at all.

If you have pics up of your fall decor, do link us up because I'd love to see it~!