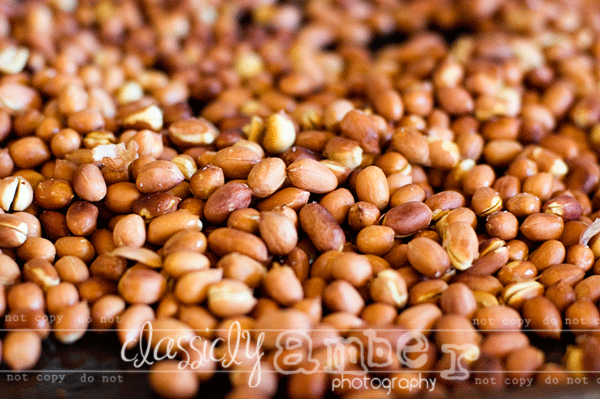 You know what I did? I took a risk and ordered 25 pounds of raw Spanish peanuts from our health food co-op! I say that it was risky because I had only ever made homemade peanut butter just ONE TIME before making the big order…and so I wasn't quite sure if our family was going to be on board with that type of peanut butter…and that MUCH of it. In the end, I decided that it would be the healthier, more frugal option for our family's peanut buttery needs, so I went for it. We discovered that it was fun to make and quite tasty, too!
Yes, there is a learning curve for your palate because it is different than your regular old store-bought PB – but in a great way! If you're used to ultra velvety-smooth peanut butter, then you will probably want to do some extra steps at the tail-end of this recipe to get it going that way. I choose to skip that sorta thing because we appreciate  a slightly chunky texture.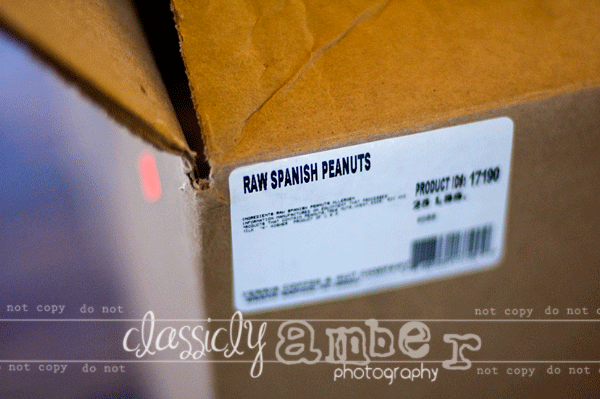 Now – if you aren't on board with a local health food co-op, and you would LIKE to be, then try contacting the friendly folks at Something Better Natural Foods. You can call or email them and ask if there are any health food co-ops in your area that you can join. If you aren't in a co-op and just want to get your hands on some peanuts, then simply check your grocery store and see if they have raw peanuts. If not, then you may be able to ask for a special order of them and return later in the week to pick up 'n purchase. Since you are making peanut butter out of these, then try to get Spanish peanuts because they have a higher oil content.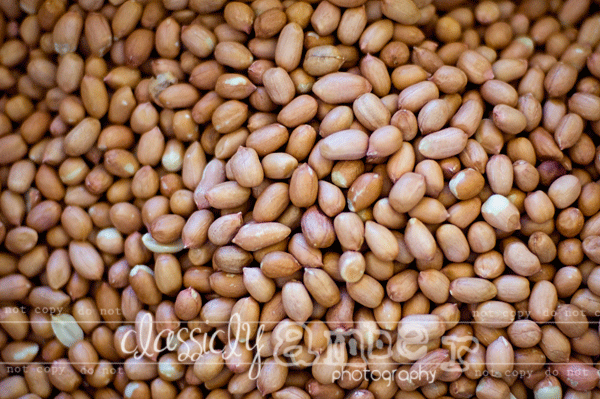 Homemade Peanut Butter
2 cups raw peanuts
6-8 tbsp. water
4 tbsp. raw honey
3 tbsp. peanut oil
salt
Preheat your oven to the standard 350 degrees.
Scoop out 2 cups of raw peanuts…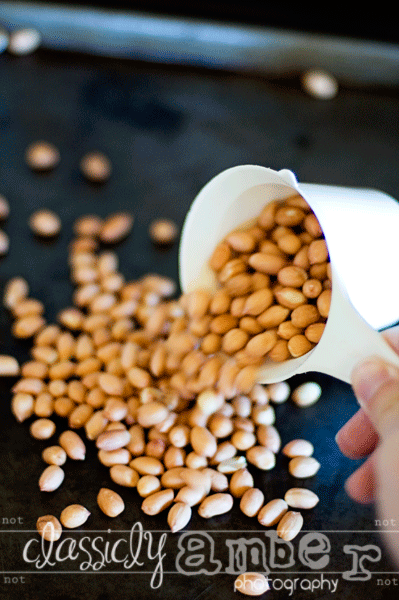 …and pan 'em.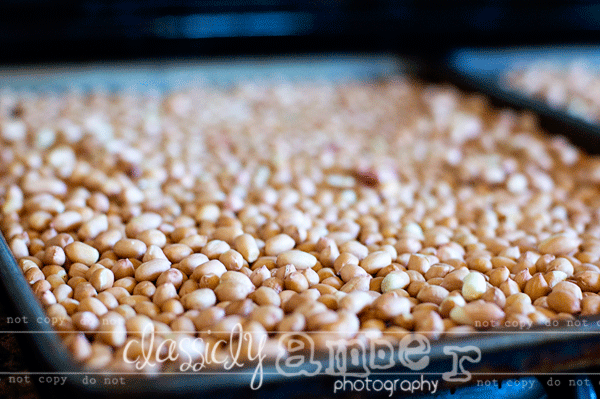 I double this recipe for our family because that's how fast we go through it, but feel free to make as much as you like! Sprinkle salt to taste!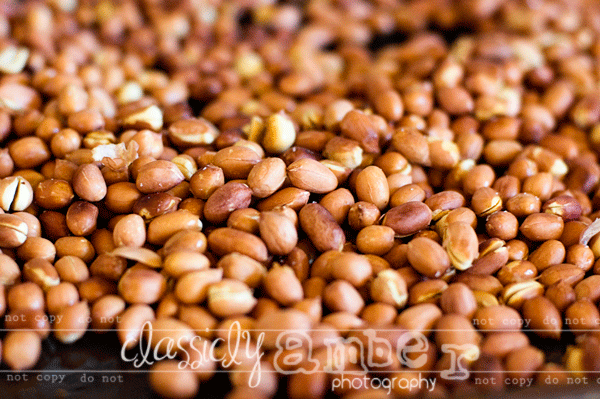 Roast the peanuts for 15-20 minutes. Keep a good eye on them – and sometimes shake the pans while they are still in the oven to ensure even roasting. When they are done, they will be a beautiful deep reddish-brown color. And they will smell divine~!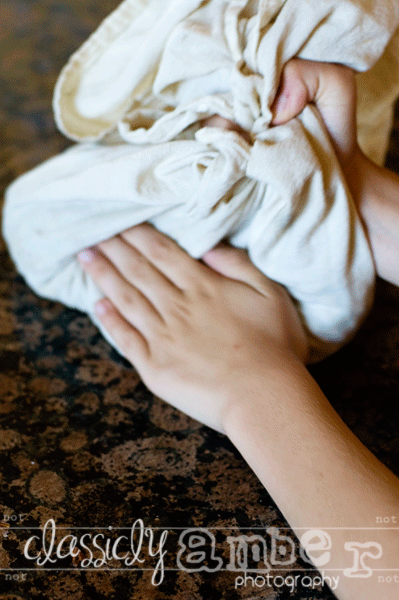 This next part deals with the papery skins. Do ya leave 'em on or off? It's a personal decision. At first, I thought I'd want to remove them. So I tried a few methods:
The first was to pour the warm peanuts onto a flour sack towel and then roll them around with my son's hand (he was doing this – not me!).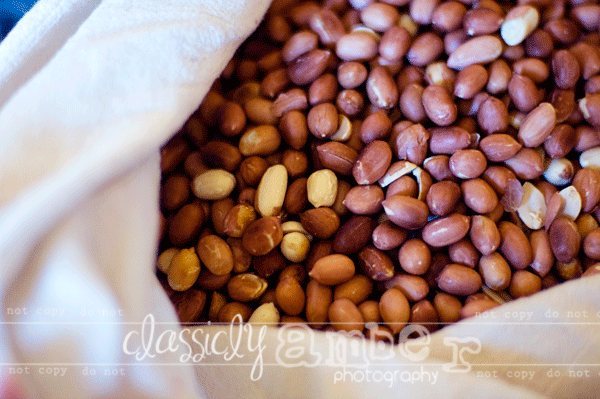 We did this several times and it removed some of the skins.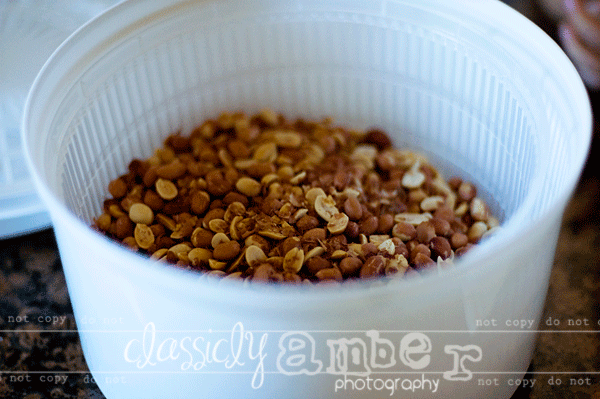 Next, we tried dumping them into a salad spinner and giving it a go.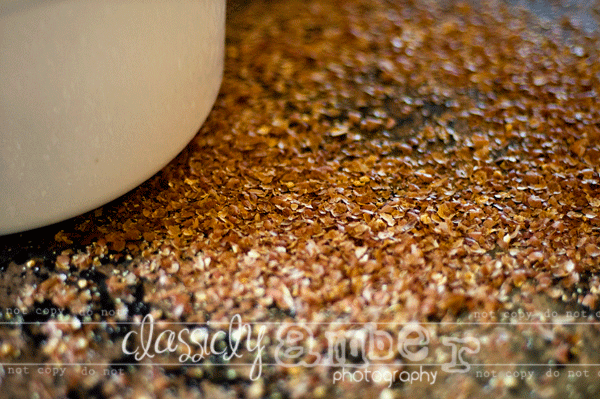 That removed a LOT of the skins!
So I just wanted to note that you do not HAVE to remove the skins if you like chunky peanut butter! With all the whirling that you're about to do in the food processor, the skins get chunked right along with everything else and you honestly don't notice them after the fact. I haven't tried making a super smooth peanut butter yet…but am thinking that you'd want less skins involved with that option, but I could be wrong. Try it and see!
See my retro fabulous food processor? My mother-in-law gave it to me back when hubby and I first married. (We are celebrating our 10 year wedding anniversary in December!) She was getting a new one and I was just learning to cook, so she offered to let me have this one in my new kitchen adventures. It has worked really well! Anyway, chunk all of your peanuts in, and then the fun part: add in all the rest of your ingredients and watch as the machine whips up peanut butter right before your very eyes!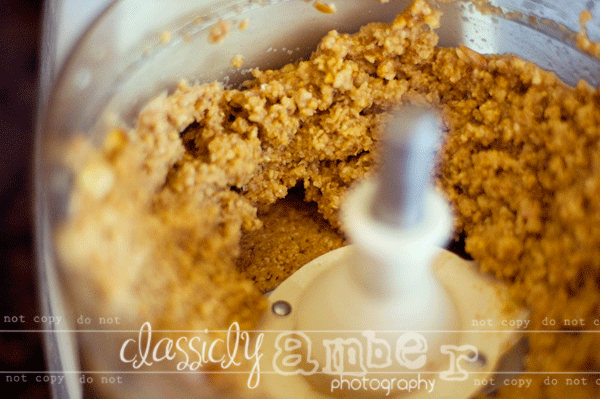 Yes, yes! You, too, can be a success in the kitchen!
At this point, please taste your peanut butter to see if it still needs anything – salt, honey, oil, chicken butt – and then add in just a little at a time. Remember kids: you can always add more, but you can NOT take away!
Mmmmmmercy gracious! Once the PB is to the consistency of your liking, spoon it into a mason jar with a tight fitting lid – no…no? Wait. What'chur gonna wanna do next is stick your finger in the bowl and pop that bad boy in your mouth for some supa tasty YUMS! Now – if there's anything left…make yourself a sandwich…or peanut butter crackers with some apple slices sprinkled with fresh cinnamon…or make yourself a peanut butter chocolate cake…I could keep going here.
After all of that, if you STILL have some peanut butter left, then you can plop it in a jar and stick it in the fridge. It must go in the fridge or it will get yucky on ya, so don't forget!
Do write back and let me know how your peanut butter turns out! 😀