December 18th, 1999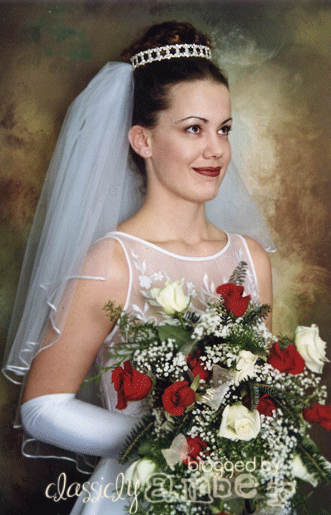 This was the day that my husband and myself permanently tied the knot.
I also thought it was cool that it was the same day and month that my Mawmaw and Pawpaw permanently tied THEIR knot, too…only they had gotten married back in the 50's. Ultimately me 'n Corey didn't set out to plan it that way…but were glad of it in the end. Almost every year that we celebrated our anniversary, my Mawmaw and Pawpaw would take us out to dinner and we started the tradition of celebrating our anniversaries together. It was somewhat short-lived, but oh so nice while it lasted. My Pawpaw was a favorite person in my life, and he sadly passed away back in the Winter of 2007.
Cherish every moment…
So – a quick rundown of our life around 10 years ago:
Corey and myself had been dating for 4 years straight. He was in college and we were both working. We knew early on into our relationship that we would marry one day when we were older (I was just 15 when we met!). Even though some folks said that we should keep on waiting until he was done with college, we dissed that and went ahead with our lifetime commitment. After being together ALL the time and for so long – we certainly didn't have the patience to wait a whole year or two with being engaged, so we decided to have a super short engagement and get married soon-ish (we planned our ceremony from start-to-finish in about 3 months). I can still remember that day…all the craziness of last minute preparations and all the many things that go wrong when you try to have SO MUCH happening all at once! I was somewhat antsy – but so excited for our big day! We decided on a Christmas wedding since it's our favorite time of the year – and red is my favorite color while green is HIS favorite color (cheezy, but romantic, right?). Plus, we wanted to get married before Y2K tore up the world.
Remember Y2K?…
We had a big live tree brought in to the church my Dad was pastoring back then…and lots of fresh greenery in the form of garlands and decor for the candles. It was a romantic candle lit ceremony…with clear Christmas lights everywhere. It was a perfect evening. Corey's uncle and my Dad both officiated the ceremony, and that night God gave me a best friend and lover for LIFE! I am so, so thankful for my hubby and love him so much!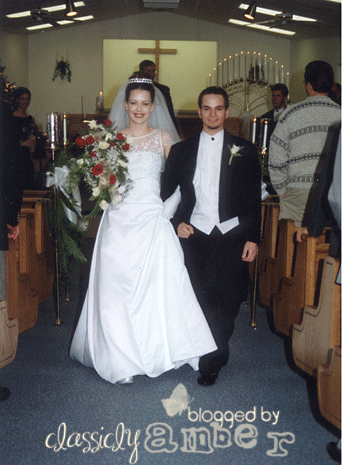 =================================================

Remember that I'm hosting my own giveaway here! You have one week to enter, so be sure 'n go for that! Details HERE!