Have you ever wished that you could:
Subscribe to the niftiest 'magazines' – or all of your favorite blogs – FOR FREE?
See what the world was up to (by that, I mean CNN, of course! 😉 ?
Check the weather forecast without even having to click a button?
Check ALL of your email accounts in one place?
Twitter?
Do a Google search?
See the newest CraigsList freebies posted?
Calendar? Notes? Day and time?
Feed and pet your virtual hamster named PETIE?
Wanted to keep up with all your friends and family in one place?
Nearly anything else that you could possibly dream up?
K.
We can make that happen!
I have fallen hard for iGoogle and wanted to share it with you (because some of you have asked)!
Lemme show you a recent screen shot of mine in 2 segments. Click each shot to magnify: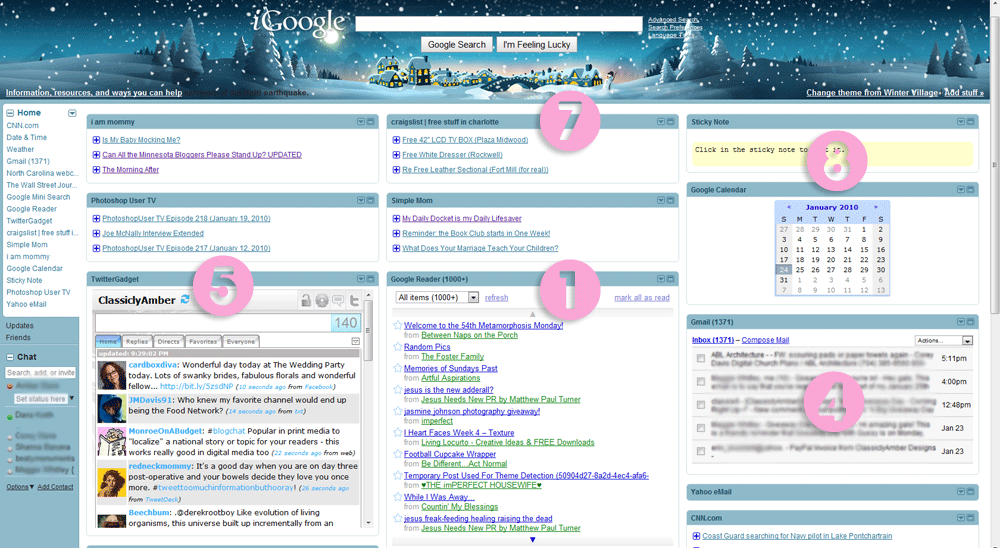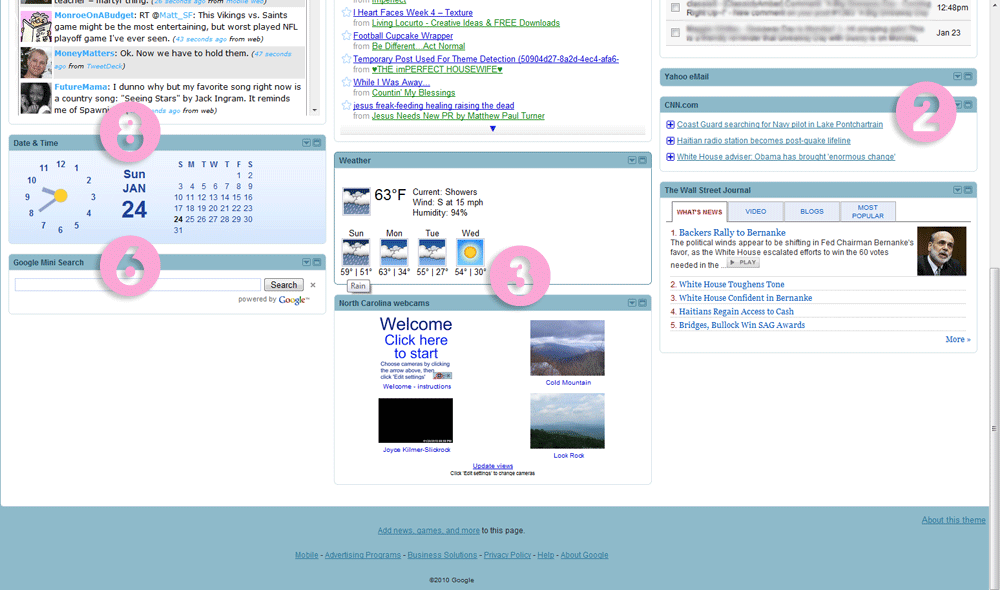 In the numero uno spot on my page here, you'll see my Google Reader. That's what I'm talkin' bout, y'all! It's not technically a magazine subscription…but you CAN subscribe for free to nearly any blog out there (including magazine blogs!). You can subscribe to your friends' blogs. You can subscribe to Martha Stewart's dogs' blog. Basically, anywhere that you see an RSS feed icon
, then you can painlessly sign up for free. Then once you've subscribed in your reader, (I always use Google Reader to do this), it will all show up together – live as the author posts their newest blog posts – right there in that scrollable window. You can read and read and read until you're cross-eyed!
You can also do live chats in the left hand side of your iGoogle screen…You can check your bookmarks from fav sites online…And to make matters even more fun, you can totally customize your graphics at the top of the page! You can switch your theme at any time. I like mine right now. It's a charming winter scene – and it's live! The sun goes up and down with the real sun…and at night time, the stars come out and the lights come on in the village. Yeah, I'm a sucker for cutesie stuff like this~!
Wanna subscribe to my blog here? Look at the right hand side of my blog here for the RSS link, and click it! It's that easy peasy, folks!
When you click any blog's RSS feed subscribe link (remember the orange button?), it will open a new window and give you options as to HOW you want this blog delivered to you. Since I always use Google Reader, then that's the button I choose. This is what it looks like for me: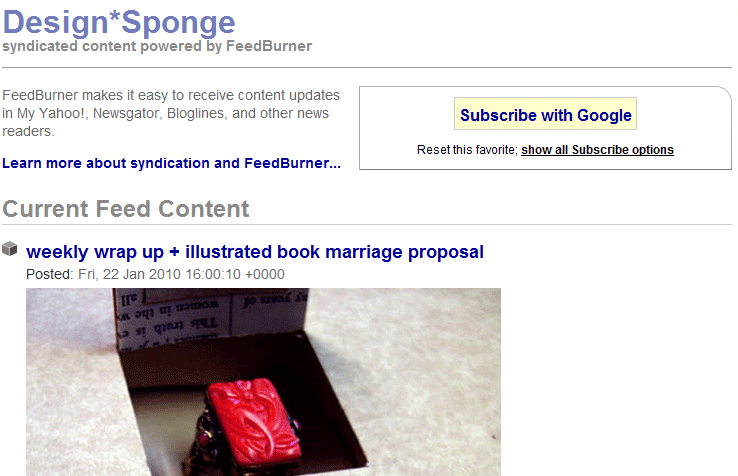 In that top right-hand corner, you will see where it's asking if you definitely want to subscribe to this blog with Google (Reader)? Click it to confirm!
Then it will take you to a new page where you will be given 2 options: do you want to have that blog show up on your iGoogle homepage separately from the rest, or do you want to have it show up inside your Google Reader (you know, the Numero Uno window at the beginning of this blog post!). I always pick to have it show up in my Reader window, unless it's someone I want to keep up with better. As of right now, I need to redo my iGoogle and have certain people's blogs show up separately from my Google Reader window. But you get the general gist here, right? Any questions? Not that I could definitely answer them, but I will try! =)
Let's quickly recap:
Life is short and your computer time is limited. Make life easier for yourself by signing up for iGoogle and have all of your stuff in one single window. Ready to take it for a drive? Click here to find out how to set up your own account!
I'm in love with iGoogle because it makes my time online more efficient and nifty!
P.S. Okay, so I don't have a virtual pet hamster named Petie, but you could, if you wanted! Check iGoogle's gadgets and see what all you can add to your own homepage!
P.P.S. Adding in…A new fav gadget of mine is my customizable To Do List. Simply do a gadget search for "To Do Lists" and see all the different results you will get. There are many options and they are fab!!