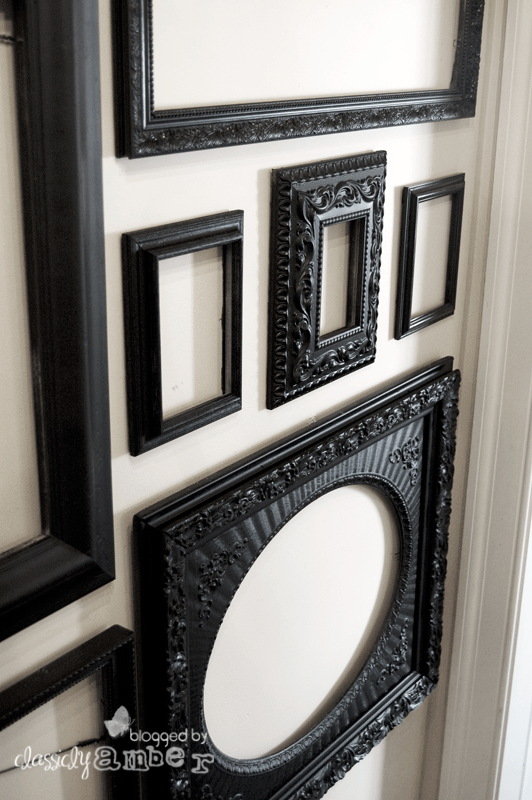 This is what I was talking about yesterday! We've finished our wall of frames! I think that it makes a nifty focal point for the foyer when you first step in our front door. And how did it happen? We used Martha Stewart's method of hanging up a wall of pics. Her way actually makes it super easy. You basically:
take any type of sturdy paper (I used what I had, which was a combo of kraft paper and Trader Joe's paper bags) and lay out each of your frames on the paper, trace around the frame and cut it out.
Then you measure the hanging hardware from the back of each frame and mark it in the exact same place on the corresponding picture frame that you cut out. Now you have exact templates of each of your picture frames!
You can tape up your templates using painter's tape or drafting tape and arrange and rearrange your pictures until it's just the way you want it – without damaging your walls. I thought that that part was cool!
When you're ready to commit, then go ahead and hammer up the nails in the places you've marked on the templates. Last is the fun part – remove the templates and hang up your pics.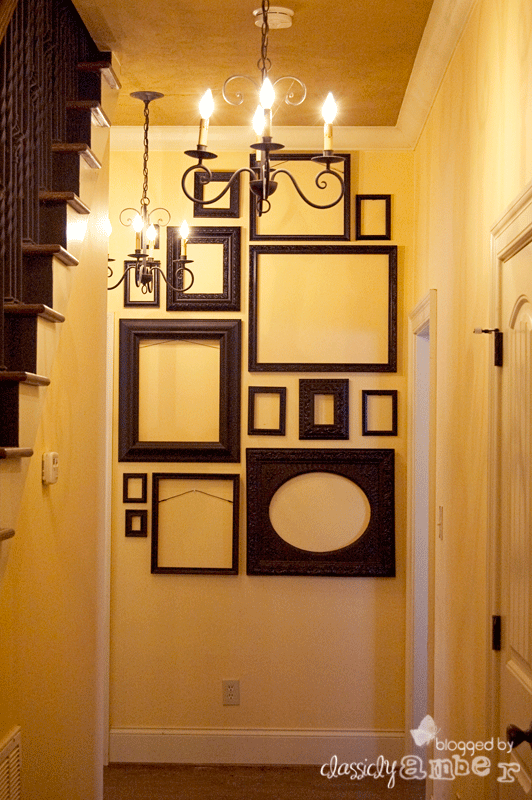 If you'd like to see a slightly different way of hanging up a wall of pics, check Isabella & Max Rooms.
For a while now, I've been on the hunt for a lot of old or antique frames – in any color, size or shape. Actually, to say I was 'on the hunt' is a tad much. I was honestly just hoping that these suckers would fall into my lap. Money is tight – so I couldn't just bid for a whole bunch of random ones on eBay. The coolest part? I didn't spend a DIME! Basically, I just went into our master bedroom closet (which is still being redone right now…we've had shelving collapsing issues) and pulled out several frames that I'd been saving. Some were given to me, some were from Hobby Lobby for CHEAP when they'd have a big sale and I'd also have a coupon…some of these frames were taken from other rooms in the house. They were pictures that I wasn't fanatical about, so I decided to take them all outside and spray 'em down black.
Places to Find Frames:
Other rooms of your home,
Someone else's home (if they are changing out their decor, that is; I don't recommend just taking their mess off the walls. Swap meet, anyone?),
Goodwill,
Salvation Army,
Crappy Junk/Antique Stores (seriously, just keep checking the um, less fabulous ones because they will be cheaper there!),
eBay,
CraigsList, etc.
Yard Sales
Craft Stores (when they go on sale and when you have a coupon!)
I have seen really good deals at all of those places! So you can do it. Unless your budget is ZERO like me and then you have to get even more creative. Even still – it can be done~!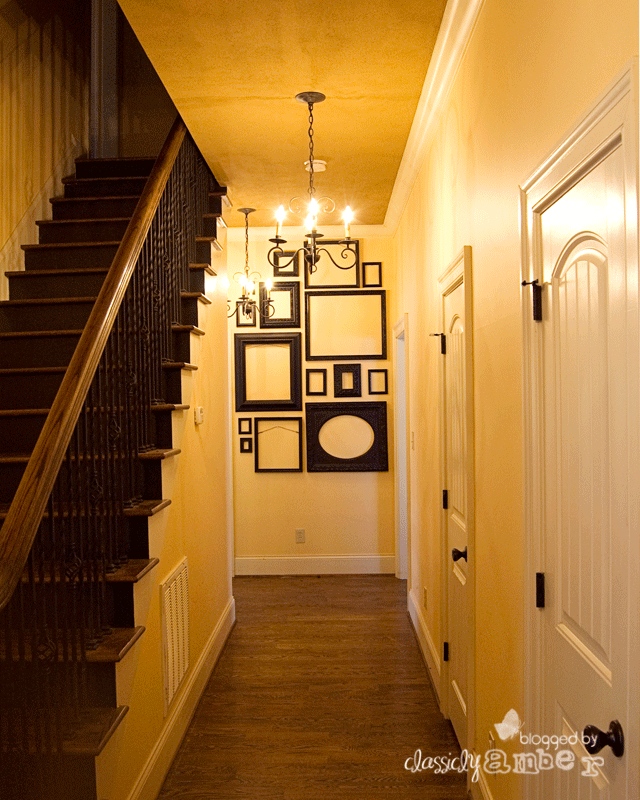 I am in love with this. And I either may or may not actually add photos or artwork in them in the future. And I plan on adding one more thing to this wall to give it a totally finished look. More on that later, though!
I also may or may not go back and paint one or three of them either turquoise or a very pale blue color.
Oh, and I also have very little framed art in the rest of the house now! =-D
So, see? We're not done yet, but we're on our way!
Do you have a wall of pics or artwork? What was your technique for hanging it all up?
P.S. This post was featured over on Laurie's blog. You know, the TipJunkie! If you're coming here from there, then please stick around awhile and subscribe to stay updated here. If you've never been to the TipJunkie, then go check it out!