If you haven't heard of this, here's a fun, all natural way to clean your sink!
Take a lemon and cut it in half. Spit on it, if you want to. [I normally don't, but what-ev floats your boat]
Sprinkle salt all in your sink.
Then use the salt-crusted lemon as a scouring sponge and scrub your sink down
After your lemon half is spent, then you just chunk the whole thing in your disposal, turn it on and it will clean that, too!
You've seen those cleaners at the store that say "Smells like real lemons!" Well, why not just go ahead and clean with REAL LEMONS? Then your sink really will smell just like real lemons!
I try to keep a bag of lemons at all times because we use them so much with both cooking and cleaning. One of these days, we might just break down and buy one or two lemon trees to grow inside since we don't have the weather for them year round outside.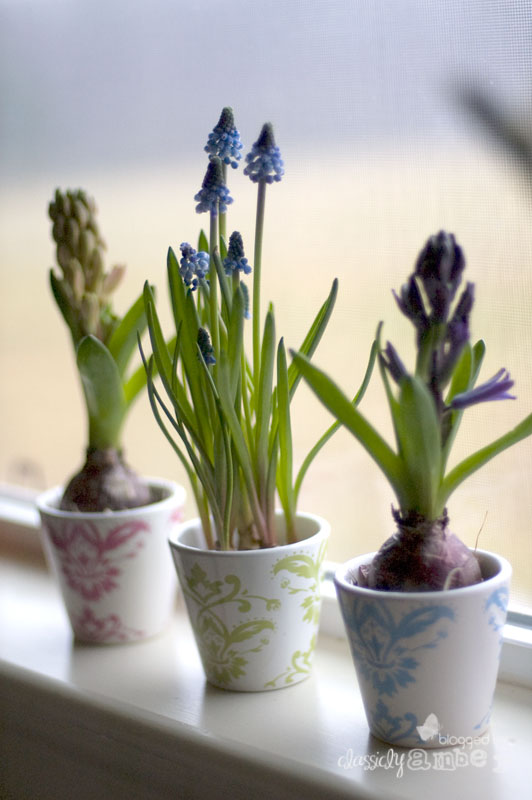 Doing dishes has never been my favorite chore – but something else that I've discovered is that when you keep your sink pretty (in addition to keeping it naturally clean), then you will fall in love with dish washing! [That might be stretching it just a little, right?]  I don't mind it nearly as much when I've got pretty flowers to look at – at the same time. If you have a window at your sink, definitely try keeping a little bit of flowers nearby and you'll be surprised at how it lifts your spirits. Right now, I've got some Rosemary and two different varieties of Hyacinths right on the windowsill and the Paperwhites are finishing up. My new goal is to always have some greenery and something blooming around the kitchen sink because I love it so much!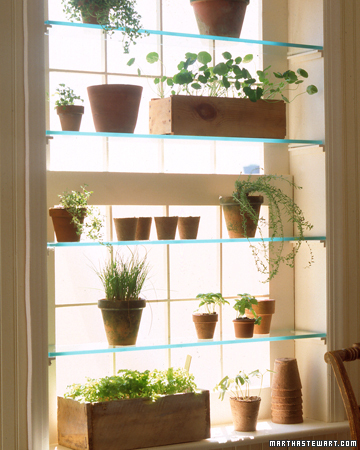 And isn't this a cool idea? It's something else that I'm interesting in trying, but am not totally sure which window to do it at. Do you think it would be wrong to put it up at our kitchen sink? Depending on how full the shelves are, it could block the nice view from the sink. However, it would be cool to have all of those fresh herbs right here in the main part of the kitchen! I like that it's fairly easy to install, too. To get the full instructions, just click the pic!
What are some things that you have done or could possibly do to make your kitchen sink area a more pleasant one to be around?