The title makes ya think this is going to be something pretty fabulous, and the good news is that it's totally true!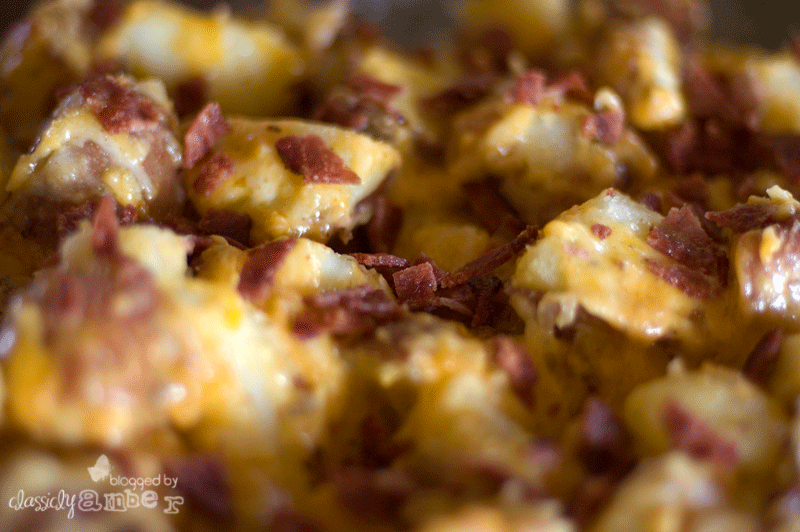 I entered this into a local bakeoff a couple of years ago and these potatoes won 1st place in the side dish category. You're about to find out why!
For this recipe, you'll need:
1/2 cup butter
5 lbs. red potatoes
1 large garlic clove, minced
1/2 cup Parmesan cheese, shredded and divided
1/2 cup milk
1.5 cups Monterey Jack cheese, shredded
1.5 cups cheddar cheese, shredded
1 tbsp. green onions, chopped
1.5 tsp. salt
1.5 tsp. fresh ground pepper
1 tsp. paprika
6-8 slices turkey bacon
Rinse off the potatoes and quickly quarter them. Then they all get tossed in a big pot, covered with water and boiled lightly. Don't boil 'em to death, please. Once the water gets to rollin' in these potatoes, they will cook a lot quicker than you'd think, so keep a close eye on them. You will know they are done when they are juuuust fork tender. Also, if you're wanting to make this for a big upcoming dinner, then you can boil the potatoes ahead and time to save yourself a little bit of time there.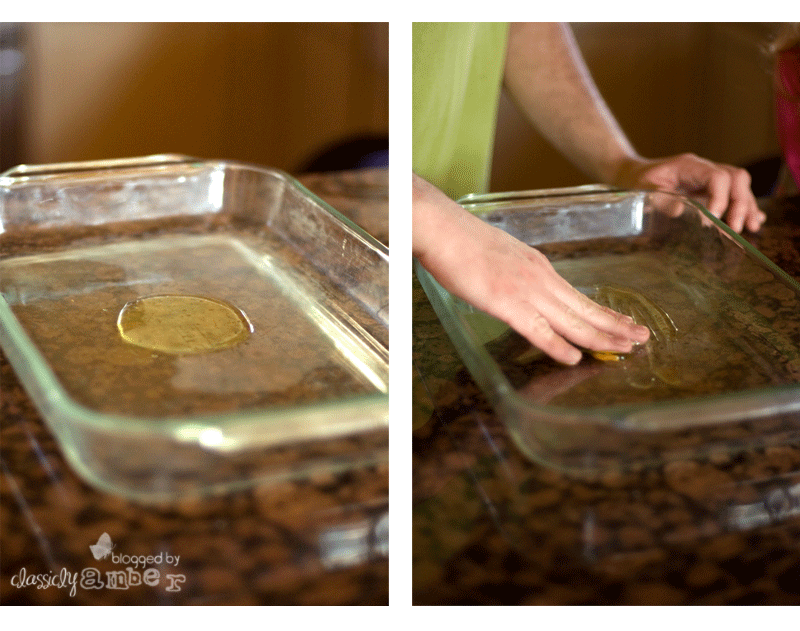 Preheat the oven to 350 degrees. Use at least a 13×9 in. casserole dish for this, but one that's a little bigger than that works really well. Lightly grease it with olive oil [we are primitive folks and just use our hands].
While your potatoes are heating up, melt your stick of butter in a small pot. In another pan, fry up the turkey bacon until each piece is nice 'n crunchy.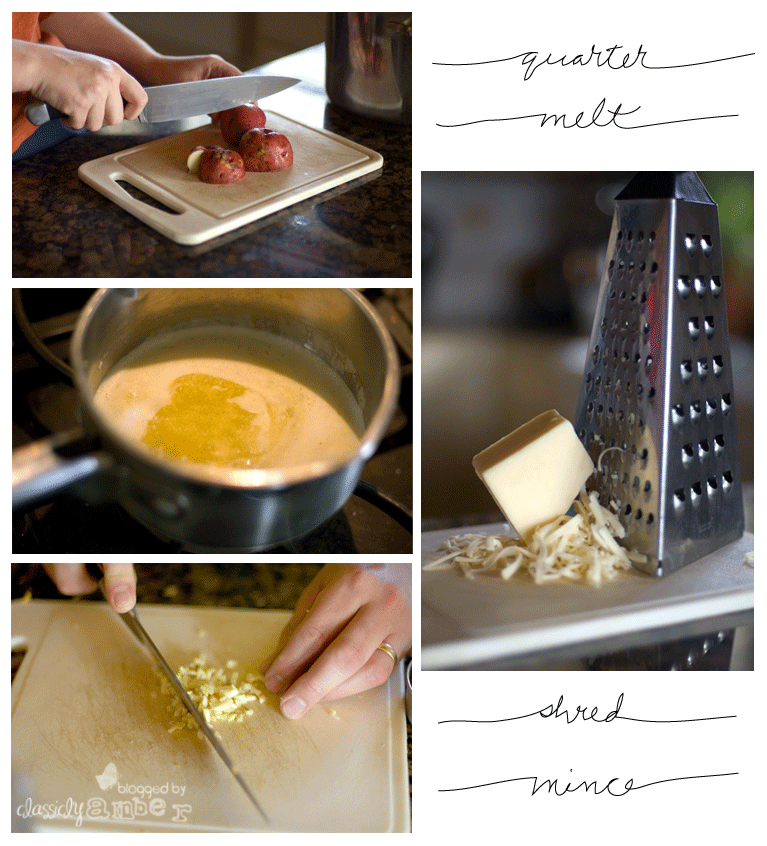 You can now start shredding up all of your cheeses. Put them all in the same bowl, but save 1/4 cup of your Parmesan cheese to get sprinkled on the top of your dish before it goes into the oven. Now is also the time to mince your garlic and chop up the green onions and put it into the cheese bowl. Next add in the milk, salt, pepper and paprika. Mix. Try not to eat too much of the cheese.

When your potatoes are just fork tender, drain them and pour in your melted butter. Mix. Next add in the big cheese mixture and mix again. Pour the whole thing into your greased casserole dish and top with the reserved 1/4 cup of Parmesan cheese. Crumble your cooked bacon pieces and sprinkle over the top of the potatoes. Can you stand it? Of course not! And I'm not gonna judge you for that.
Into the oven goes the dish and bakes at 350 for about half an hour.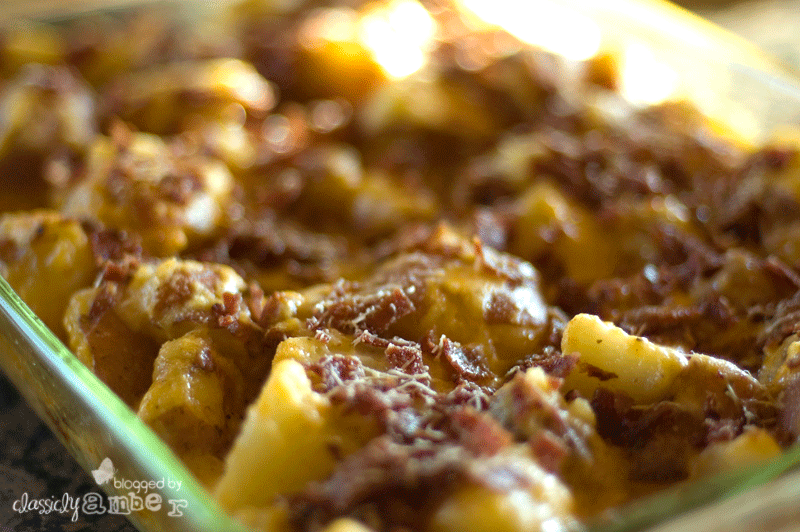 We ate this last night and served it up with some wild Alaskan salmon steaks that were of uber tastosity! The meal would be total perfection with a crisp salad, too. Try it!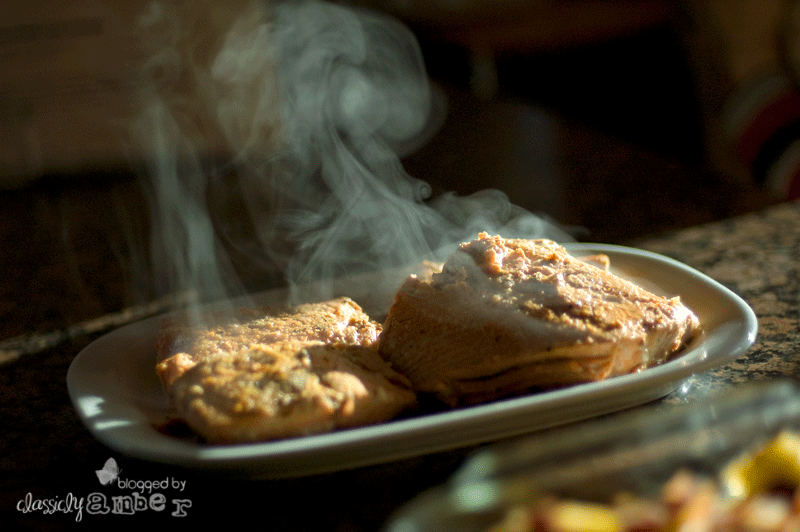 P.S. Not pictured: Green Onions
Why? We actually didn't have any when we made this, but please don't forget 'em when you make them! It really adds a lot of yummy to the dish!