Recently I purchased a lil' diffuser from MountainRoseHerbs.com. It's handmade from terra cotta and suspends from a simple jute string.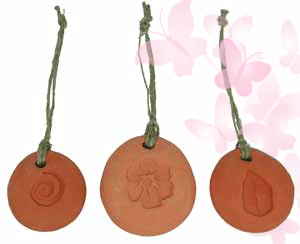 They have 3 different designs, but I really liked this one with the flower impression. There are also leaf and spiral designs, if you like that sorta thing. Please click HERE to see their whole line of diffusers and the like! Scroll down to the bottom to see their Terra Cotta Pendant Diffusers. This one here is only $3.00 to purchase, and they have good prices on their other types of diffusers as well.
It's cute! I am loving it in our guest bathroom. It really helps in there with small boys running in and out all day long, if you know what I'm sayin'!

How easy is it to use?
Hold the diffuser with the imprinted side up [or set it down on the table with that side up];
Put a few drops of your favorite essential oil on the imprint;
Allow a few seconds for it to be absorbed into the terra cotta;
Hang up and breathe in the lovely aroma!
It's cute. It's an all natural scent [way better than those fake scents]. It hangs up out of the way of other stuff. It keeps the room or area scented lovely for up to weeks at a time, and I love it! Also, "refilling" it is as simple as putting a few more drops on it.
Other places you can you this nifty lil' diffuser:
At the office
In your car
In your drawers [I'm talking about furniture here, peoples]
In the stuffy closet
Stick one in each of your husband's stinky tennis shoes
Near the trash can
Tie the pendant to a longer piece of jute and hang it around your neck [only if you REALLY want to! 😉 ]
I think that it would make a great gift presentation, too. You can add it under the bow on a wrapped present for someone you love.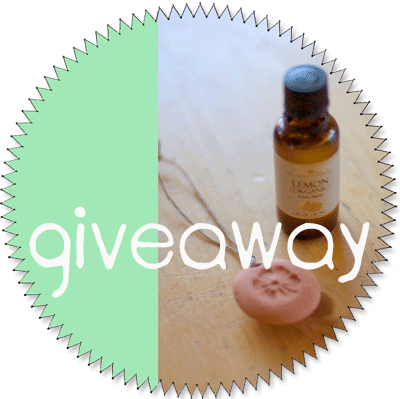 ***Giveaway is closed!***
For just one lucky reader today, I am also giving away a free diffuser and a small bottle of essential oil! You get to pick your design of the terra cotta diffuser [one of the 3 that you see pictured at the top of this post] and then for your essential oil, choose between either Lemon [1/2 oz.] or Lavender [1/2 oz.].
To be entered to win, all you have to do is leave a comment saying what flavor of essential oil you would choose and where you would use this diffuser! It's not mandatory, but you can receive extra entries if you tweet and Facebook this giveaway on your status update [leave extra comments here for each]! A winner will be randomly drawn from the comments through Random.org and announced on Wednesday, March 31, 2010, so make sure you've entered your correct email address below, too. Giveaway is open to U.S. residents only.
We are big fans around here of MountainRoseHerbs.com! Obviously we love them for their bulk herbs and spices, but they also carry teas and tea supplies, natural health supplements, bulk ingredients for making your own body care products, a good assortment of containers to put them in, home & garden gifts and even a nifty selection of herbs and healthy care for your furry friends! Be sure 'n check them out!

This is an affiliate post. I have not been compensated by MountainRoseHerbs.com for this post specifically, but the above links are my affiliate links and if you click them to place an order, I will receive a commission of the sale. It does not cost you anything extra, but it does generate moolah for moi. Thanks!