I'm putting this at the top of the post so you can all see it up front – but our winner is LISA!! Yay! Congrats, chickie! All you have to do next is send me an email to ClassiclyAmber at gmail.com with the mailing address of where you want it sent to. For everyone else, thank you so much for entering and check out MountainRoseHerbs.com to pick up your own diffuser and essential oils. While you're there, be sure to take a lookie at all of their other nifty products, too!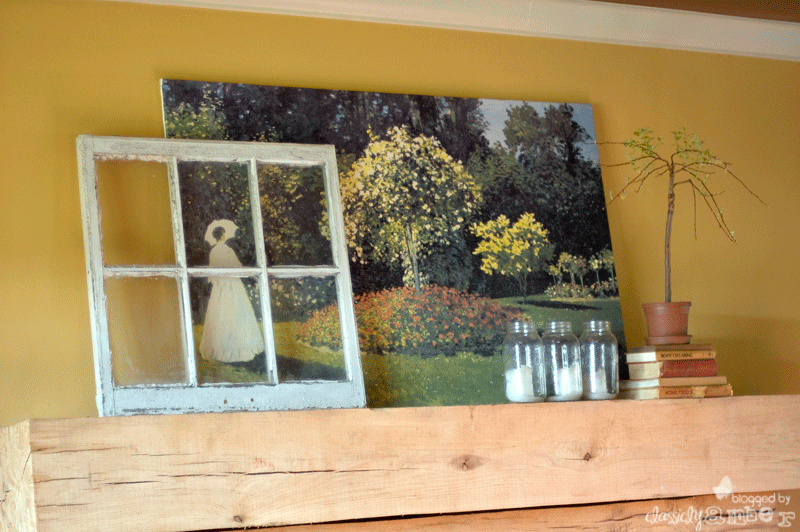 All righty, I just thought I'd share this really quick. Do you like it? I feel like it's nooooooooot quite done…or maybe not quite what I want to do with it. But I do like it well enough for now…
The HUGE canvas was only $12 and came from Goodwill, of all places! Yeah, I feel like I really scored because I found a 'rich person's Goodwill' not too awful far from me! 😀 Do you have one near you? They have a lot more to pick from than some of the others. You should have seen me having to lug this thing around WITH my buggy! It was kinda crazy. And there were a couple of times that women came up to it to inspect it, as if they were going to buy it and I'd chirp up "OH! I'm definitely getting this! Sorry! *smile*" In a way, I felt bad for them to have to disappoint them like that, but I couldn't just hand it over, ya know?  I haven't actually measured the thing, but it's like 3.5′ by 5′. Seriously! It's obviously not a real painting, but you do recognize it as Monet, right? It's Woman in a Garden, 1867. Clever name, aye?
Also – the chippy window came from an old building that hubby and our oldest son have been tearing down, so it was free! More on THAT, later!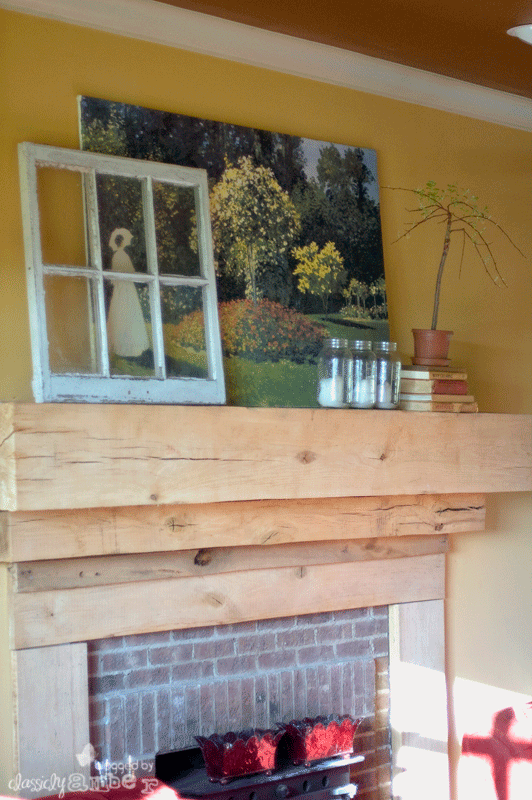 Yep, we have a HUGE mantle that I designed. I love it. It's this 300 pound piece of solid oak that has a very rough finish. It took 3 grown men to carefully and craftily install it back when we built our home. I always wanted to go back and put slightly less chunky vertical pieces going down the sides. We shall see about that someday!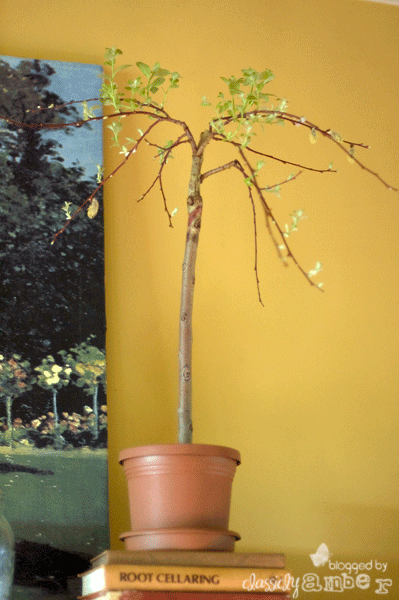 And then this pussywillow tree came from Trader Joe's! I've taken to nabbing a potted plant whenever we grocery shop there lately and the house is looking so cheery because of it! I suppose later on, we will plant this lil' guy down by the pond!
I'm thinking that I need to repot the tree…maybe add a 3rd layer to the artwork stuff…and incorporate a lot of moss for interesting green texture!
Sorry that I haven't been around as much this week, but I'm even more busy than normal! Hubby has been fighting Appendicitis and we have been treating it all naturally here at home. Now – before you freak out on me – please know that we are NOT the types of people that rush off to the doctor for every little thing. At the same time, we know that this isn't just a common cold or something. We both fully realize the dangers involved with Appendicitis and the appendix possibly rupturing if it goes too far. That's what we are working hard to keep from happening.
I will have to tell you…the first day, it was really scary. I have never seen Corey in that much pain before and was praying that it hadn't gone too far. I checked him for fever and there was none, so I assumed there was no infection…but gave him things to fight one anyway. We began immediately detoxing and flushing out his system to help get whatever was making his appendix so mad OUT of there. I also didn't sleep much that first night just praying and begging God to heal my husband. The next day, he awoke to feeling incredibly better, but still had some pain. I've read that strict bedrest is THE most important thing a person can do when their appendix is so irritable like this. The next most important thing is drinking plenty of fluids and cleansing out the body [and I gave him homemade yogurt, too!]. No solid foods at all. Also, you have to work to keep an infection from happening [though cleansing the body helps with that, too!]. The danger can arise when the body isn't flushed out and the bad germs multiply, causing infection and irritating the appendix further. If the person tries to continue with their normal lifestyle and doesn't deal with the problem – then the appendix can get so mad at you that it explodes. If a person's appendix ruptures, then all of those harmful toxins begin to literally leak out into other areas of the body, creating a potentially deadly situation. A lot of times, people will experience the pain in their abdomen and do nothing about it. Then by the time they go to the doctor, the problem has progressed to something dangerous and the doctor recommends total removal of the appendix for fear of it rupturing and killing the patient. It's a serious problem.
Corey has never had a fever or any sign of infection, thank you GOD. At one point, he started to show signs of the beginning of a fever, but I gave him some garlic and herbs to fight any infection harder, and it phased out. He has also been totally honest about his pain levels from the get-go. It's helped me a lot in determining how to help him and what to do next. I had him constantly rating his pain on a scale of 1-10. The first day, it was a 9. Whew! Also, he would experience more pain after getting up to use the bathroom or just moving around too much. While resting, the pain would drop down to a 1 or 2. So the resting definitely helps!
I am amazed to say that – what I have seen with him seems no less than a miracle. He's gone from something really bad [he had ALL of the symptoms!] to almost total healing in only a matter of days. Today, he says he feels about 98-99% recovered! I would say that that is awesome! I feel like God has healed him and given us the wisdom in treating it in a non-invasive manner, and for it all – I am truly thankful!
[Edited to add: I truly believe that in this day of modern medicine and health care reform that we, as a people, need to try to get back to more safe, effective and natural remedies.  I would never recommend that someone take the course of action that we did if my husband's appendix were about to burst, but because he obviously was very early on, it made perfect sense for us to try and treat it naturally before rushing him off for a surgery, and to pray and give God a chance to heal him before depending on a doctor.  And guess what?  It worked!  My husband is doing much better, and recovering nicely. I am sharing this information with my readers to encourage you to seriously look to ALL of your options before running off to the doctor every time.]
Have you ever known anyone dealing with Appendicitis? How did they treat it? [I have a feeling of what the most common answer for this will be! 😉 ]