***Comments are now closed! Thank you to everyone who's entered and keep a checkie here as I will be using Random.org to announce the winners soon!!***
Do you feel like you never win anything? Have you entered giveaways before really thinking that this was your chance, only to walk away empty-handed? I have so been there. So when I was contacted about hosting today's giveaway, I knew that I wanted to give each of you more chances to be able to win. Lisa is so nice and generous enough to offer up some tasty prizes, too! That's why we're having not just one winner today…but there will be 3 winners picked from the comments you leave below! Yep! 3!! So that helps your chances, right?
3 different peoples will walk away with some way cool handmade jewelry from Lisa Leonard Designs!! What is up for grabs in this giveaway? Keeeeeep a'lookin'!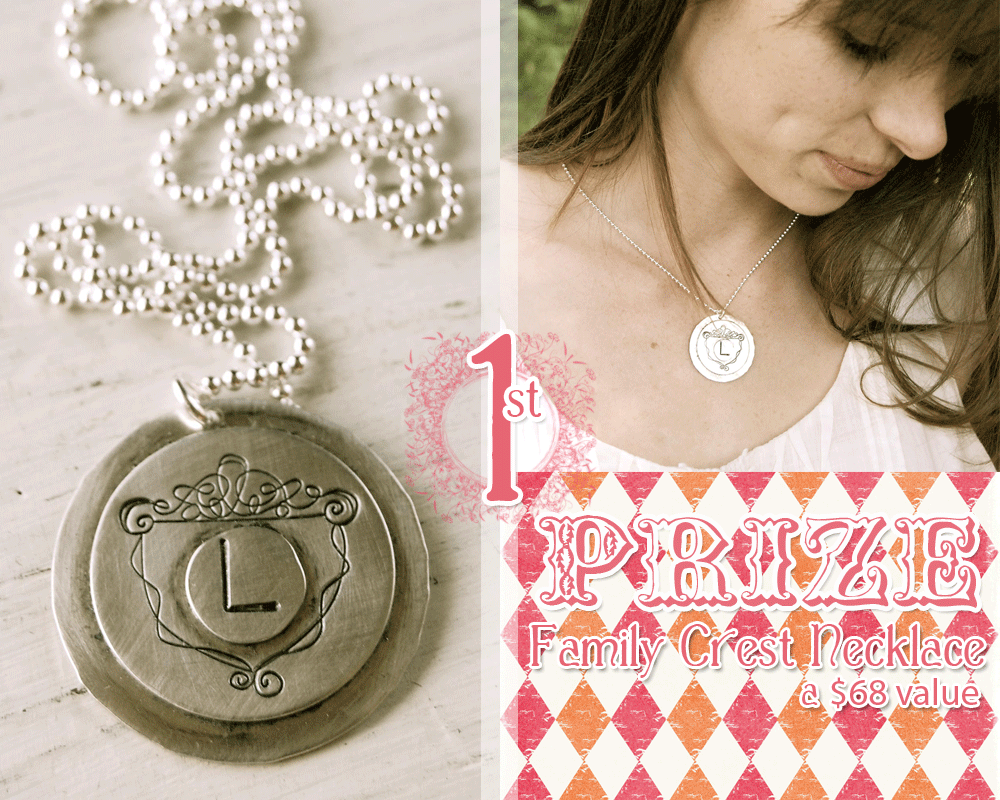 Wowza! Wouldn't you love to have your family's initial on this chic pendant? I'm thinking that it would also be cool to have your sweetie's initial on here and you can wear it close to your heart! Aaaaw~! <3
Next…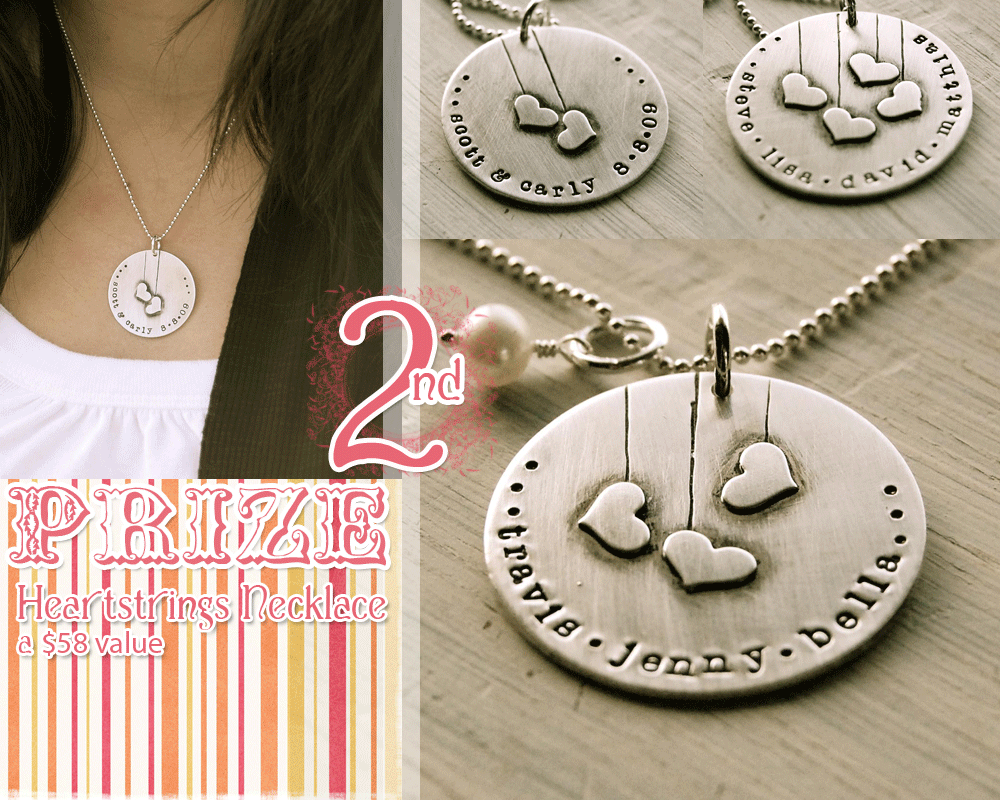 Ooo la la! Isn't it a beauty? You get to pick how many hearts you'd like on your necklace [2-4] – and of course customize it with names, dates, phrases, etc.! That is so sweet!
And there is just ONE more prize in this giveaway…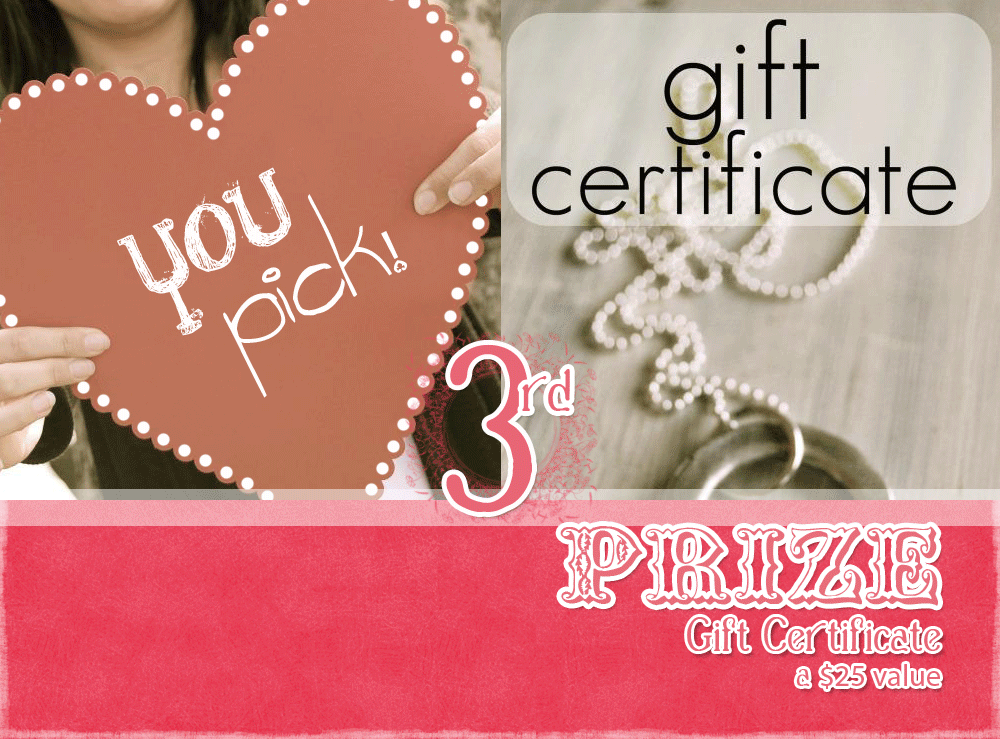 Truly, it doesn't get any easier than that. You will get $25 credit to pick exactly what you want! Don't you love it?
For those who may not know [but who doesn't know, though??], Lisa Leonard is a talented jewelry designer living in California with her hubby and two sons. She has faced many challenges with one of her sons being born with Cornelia de Lange Syndrome, but I have been encouraged to see how she's overcome it all. Anyone could take a look at her blog and see that she's a loving wife and mother, soaking in the pleasures of a beautiful family life. I am not only intrigued and inspired by her lovely jewelry, but also in the beautiful glimpses of her personal life on her blog, too.
Speaking about her jewelry, though, you simply MUST take a look at some of my favs: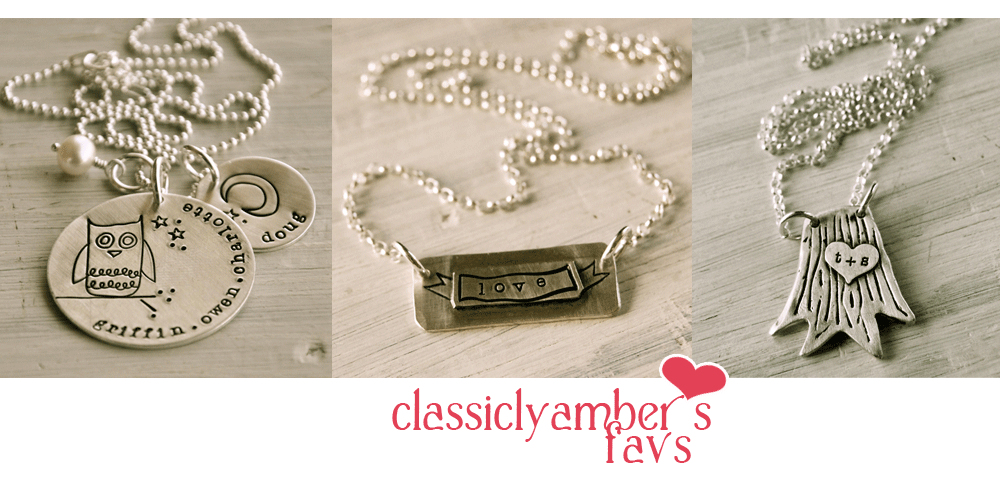 Seriously, those are just a few of my favs. It is hard to just pick a few, ya know? I also really like the Teenie Tiny Initials Necklace and the Little Lady Necklace for my daughters!
Lisa creates these pieces by hand. Because of that, it is unique and special in its own way. You can have her customize your jewelry for you and get something that has lasting value!
Personally, I am in love with her jewelry because it IS personal! I adore the way that you can have just about any of it marked with your own spin.
She doesn't just do necklaces, she's also got some nifty bracelets – and I wonder if you could add in a few extra links and turn some of these into cutesie collars for your favorite furry friend? Yeah, I like that idea. Let's ask her! Or you could always pick up one or two for your non-furry friends when you get yourself your fav necklace!
Besides necklaces and bracelets, there are other sweet goodies that you need to check out from her shop!
Keep in mind that Mother's Day is Sunday, May 9th and that is fast approaching! I'm thinking that any of Lisa's jewelry pieces would make for a fabulous Mother's Day gift! Think of the ways you could customize a necklace or a bracelet for Momma. Or you could try dropping hints to your man to have him pick up something special for ya! Ah, crap! Who am I kidding? Guys don't usually get hints, do they? So I guess you'll have to come right out and tell him that you would love to have a personalized necklace from Lisa for Mother's Day! Corey, if you are reading this, here's your HINT! Aye? Wink, wink?
In return for you sharing this giveaway, we will offer you MORE chances to win! How can you earn more entries? It couldn't be easier:
Leave a comment below, stating

your top choice

of Lisa's jewelry and what you'd love to have your's say
Subscribe

to ClassiclyAmber.com

Follow

ClassiclyAmber on Twitter

Fan ClassiclyAmber Designs

on Facebook

Tweet about your entering this giveaway:

[click the green tweet button at the top of post]

Set your Facebook status about entering this giveaway:

[copy and paste the following]

"

I just entered to win some CHIC Lisa Leonard Jewelry from ClassiclyAmber and you can, too! http://wp.me/pFNiX-NE

"
Follow

Lisa on Twitter

Sign up

for Lisa's email newsletter [and also get 15% off your next order!]

B

l

og about this giveaway
So there ya have it! Wow! That gives you up to 9 chances to be one of our 3 happy winners!! Do them all or just pick and choose. For each of the 9 chances you have done, just leave an extra comment below stating what you did. If you leave one single comment stating that you love her jewelry, follow me on Twitter and also follow her on Twitter, then you will still only get just one entry. So you will want to enter separate comments for each of the 9 so that you get that many extra chances to wiiiiiiin! So definitely come back again and again to leave separate comments for each! Please link up to your tweets or blog posts or whatever. And you, too, can HAZ SUCCESS. If you are already a follower, or subscriber or some other happy camper relating to the 9 options above, then simply state it in each comment that you leave and that will still increase your chances in winning!
Contest is open to US and Canada residents only. The deadline for entering this giveaway is Monday, April 12, 2010 – and then the 3 winners will be chosen using Random.org~!
***Comments are now closed! Thank you to everyone who's entered and keep a checkie here as I will be using Random.org to announce the winners soon!!***