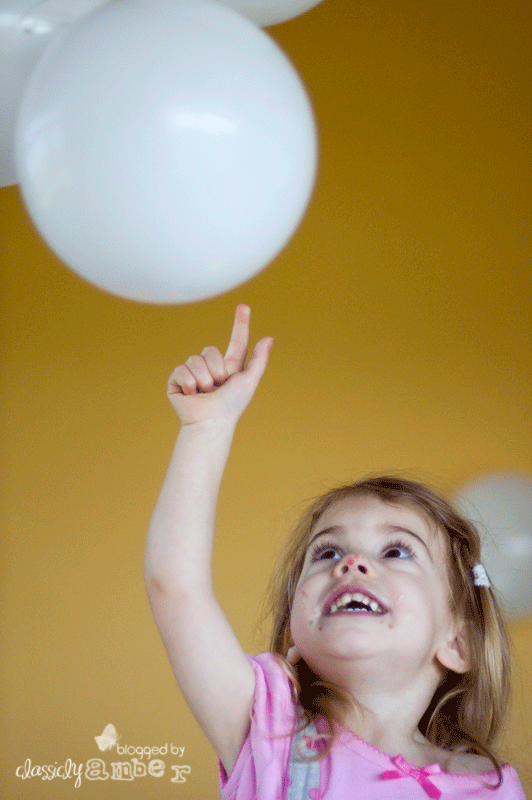 We recently celebrated our oldest daughter's 3rd birthday. Yep, I'm still sitting here wondering how she could be that old already, reaching up for balloons and being so cute with her messy smoothie-face…and I have a feeling that I will feel that way for the rest of my life each time on of our kiddos has another birthday or milestone event. They don't stay as babies forever, do they?
Not too awful long ago, I used to feel pressured to put on a big shuhBANG or a shuhZAM or a shamWOW [no, wait…that's something else, I think] for my kid's birthdays. I used to put my sanity on the back burner as I'd scramble to do anything and everything I could do to make my child's birthday party be the best one around. Looking back, I really have no idea how I got suckered into that vicious cycle of every passing birthday needing to be bigger and better than the previous! Augh! Let me repeat: It. Was. Awful. Please don't get me wrong. There is absolutely nothing wrong with planning out extravagant birthday parties for your youngsters if you can handle it all and if the birthday kiddo feels just as special as they should on their big day, but in my case it was really starting to wear me out!! It's hard to bake 3D cakes from scratch, make icing from scratch, spend several hours assembling them and piping on icing, making invitations and mailing them out, coming up with games and gathering all the ingredients to play 'em, cleaning the house or wherever to prepare for guests, making the whole meal for everyone, wrapping presents, decorating…Oh my word. Just typing all of that out surely made my heart fall into my stomach where it's now floating around. [Don't worry. I'll fish it out later.] When I used to be that mother, I was so stressed out and BUSY that I couldn't even enjoy my birthday kiddo on their big day! There was WAY too much to do! "Yeah, yeah, hon…I'm trying to finish this up in time! I will see you in a little bit~!" Uuuum…WHEN?? Okay. I finally realized that something was not right when in looking back on their birthday celebrations, I couldn't so much remember the memories that I had created with my child, but instead all I could think of was all the stress and chaos surrounding the planning and execution of this elaborate party. And I hate that.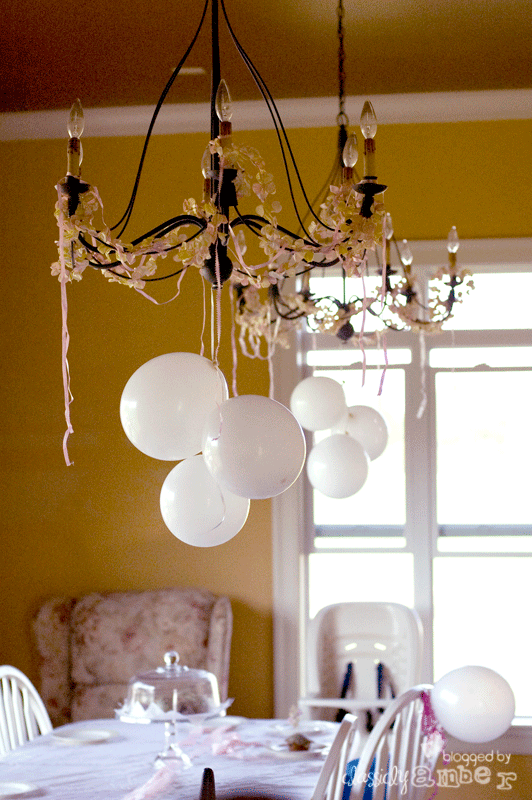 So now our party celebrations are simplified. Even though we don't do a whole lot, what we DO do has more meaning and things are much more peaceable around the homestead. I still love the idea of planning parties and making things special, but I guess you could say that I've learned my limits. This year for Gianna's birthday, I decided to do more party decorations in the dining area. I haven't done as much of that in the past couple of years, but I did it for her because she really gets into that sorta thing! I mean – REALLY! You have no idea. She absolutely loved it, too. In fact, she loved it so much that I've yet to take down the decor off the chandeliers in there. Anyway, in learning my limits, I tried to come up with other ideas that would be easy to do – and that I could customize especially for them and make them feel extra special inside. Something that is a pretty big hit here are our birthday table mats, and they are so easy to whip up. You can decorate this however you want to, but all you need are:
cardstock or even just plain paper
clip art/digital scrapbooking elements/etc. on your computer
regular scrapbooking elements [papers, stickers, rub-ons, etc.]
clear packing tape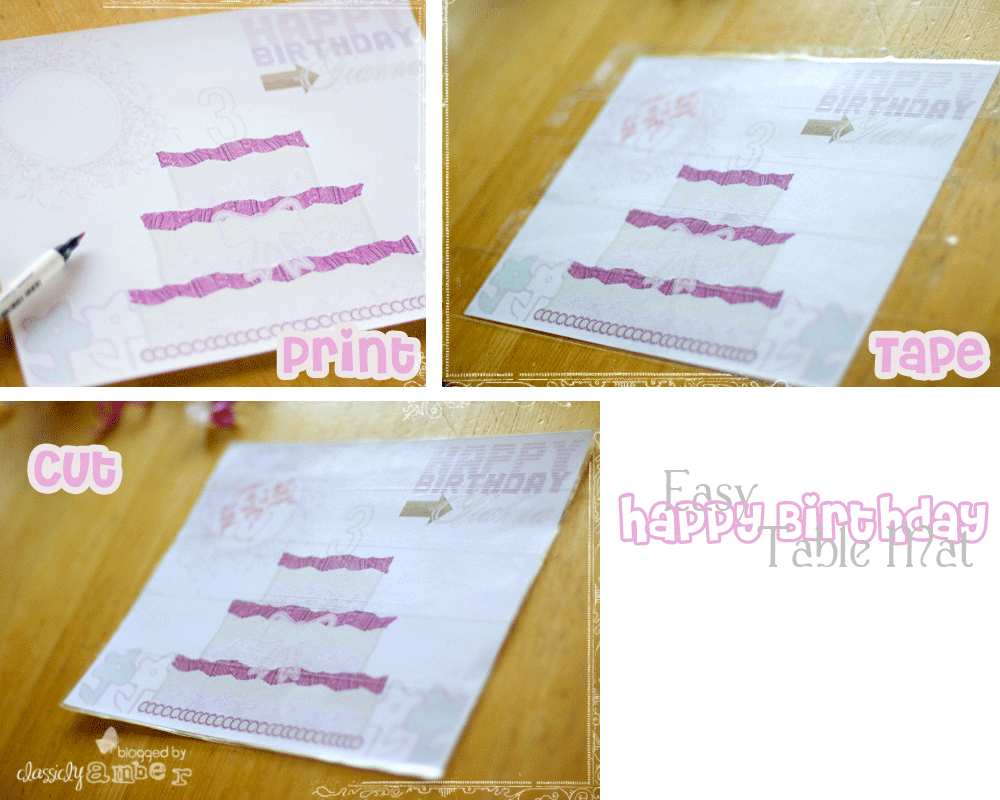 Design/print out your child's table mat and be sure to include their fav colors, animals, etc. Write on special notes and phrases to them…
Using your packing tape, start taping across the paper, overlapping the edges so that no paper is visible. When you get done with this part, it will be taped to the table, so peel it all up carefully and turn it over to repeat on the back, too. This step makes your table mat waterproof to last through several meals!
Press down the tape all over, front, back and edges, and then cut off the excess tape all the way around. Don't cut right next to the paper; instead leave a small gap all the way around so that the tape will stick together and create a nice sealed off edge [of course, if you have one of those fancy laminating machines, then you can just use that instead!]
Then place it at your birthday boy's/girl's spot at the table. Put a balloon and ribbons on their chair and make their favorite foods for the day! Seriously, you have no idea how much younger children just love this to death! It's the simple things, folks…but it means so much to them. I never let my kids see their table mats until their birthday breakfast, so it's a nice surprise for 'em. Sometimes I will use cardstock or scrapbook paper to make up quick crowns or hats for them to wear, too. They also love that!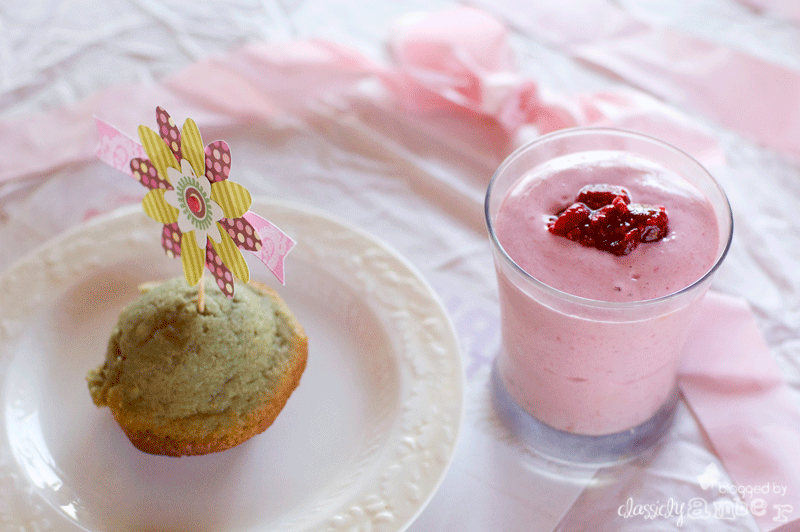 We are also pretty big into homemade smoothies right now. It is SUCH a treat for breakfast and is so easy to make! For Gianna's birthday, I made a yummy raspberry banana smoothie – and we also had the Lemony Blueberry Muffins that I've shown you before. To make Gianna's place setting extra-extra special, I just took a flower design off of a greeting card that a friend had made me a year ago [I save all those things so that I can reuse them]. Then I glued it onto a toothpick and then glued on a piece of circle-shaped cardstock onto the back of THAT with a handwritten note for our girl! She LOVED it!
So I know that every family has to do what works for them, and THIS is what works for US! Click HERE to go straight to our current fav smoothie recipe!

Have you entered to win my current giveaway yet? It's pretty fabulous! And there will be multiple winners! It's called The "I Never Win Anything" GIVEAWAY – With Lisa Leonard Jewelry! Yeah, Lisa rawks. And so does her jewelry.
Click the pic below to go straight to the post to enter…