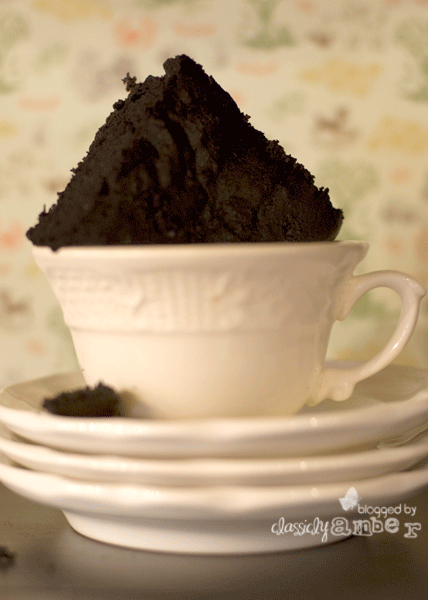 People, this is a keeper! And you'll be amazed to find out that they have no processed sugar in them, but are totally delicious.
1 stick [1/2 cup] unsalted butter
1.5 cups cocoa powder [we love to use dark for this!]
1.5 cups pure maple syrup
2/3 cup expeller pressed canola oil
4 large eggs
1 tsp. pure vanilla extract
3/4 cup unbleached all purpose flour
1/2 tsp. sea salt
Butter your pan. I use a smaller glass casserole-type dish that is about 9″ x 6″. However, it's deeper than your average dish. So if you use a 13″ x 9″, be prepared for thinner brownies.
Preheat your oven to 350 degrees.
What I like about this recipe, too, is that we make it all on the stove top, so you're not dirtying up 500 extra dishes for mixing. Everything goes into this one pan, step by step.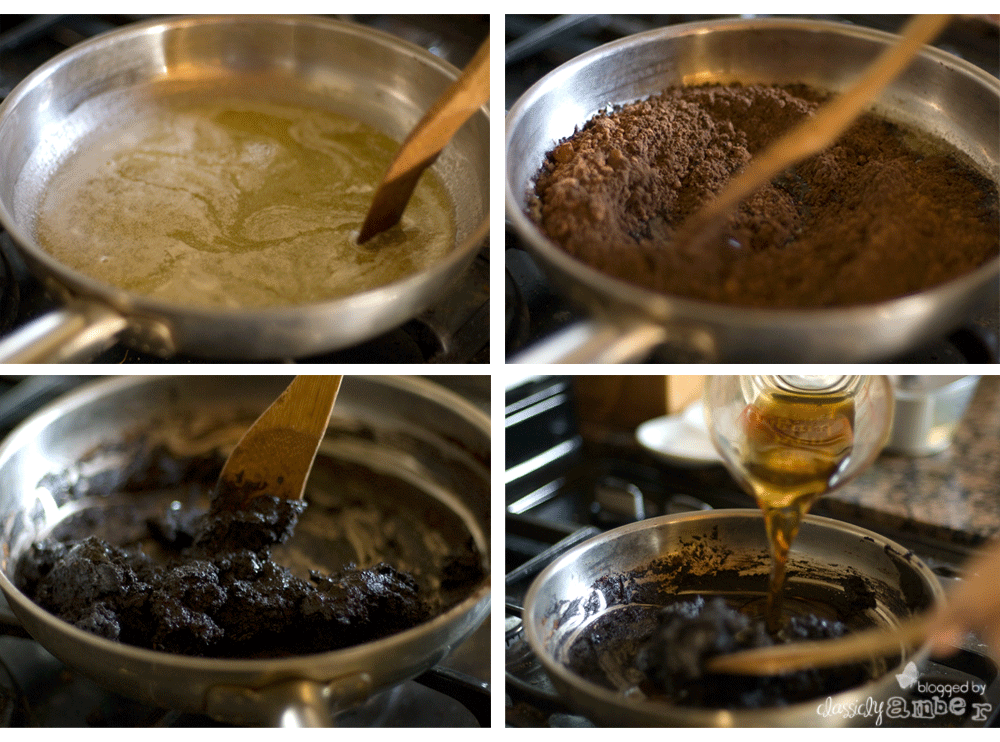 In a medium-sized skillet on the stove top, melt your butter on low. Then incorporate the cocoa powder. When you get to this point, it will smell soooo divine but it will honestly look like crap. If your hubby were to suddenly walk in at this point, he might question your kitchen skillz. It looks like this pasty mass of blackness. YUH, not too delectable. Anyhoo, just keep doing your thing and know that they will come out on top in the end. Kill the heat.
Next, add in your maple syrup, canola oil and vanilla. Mix.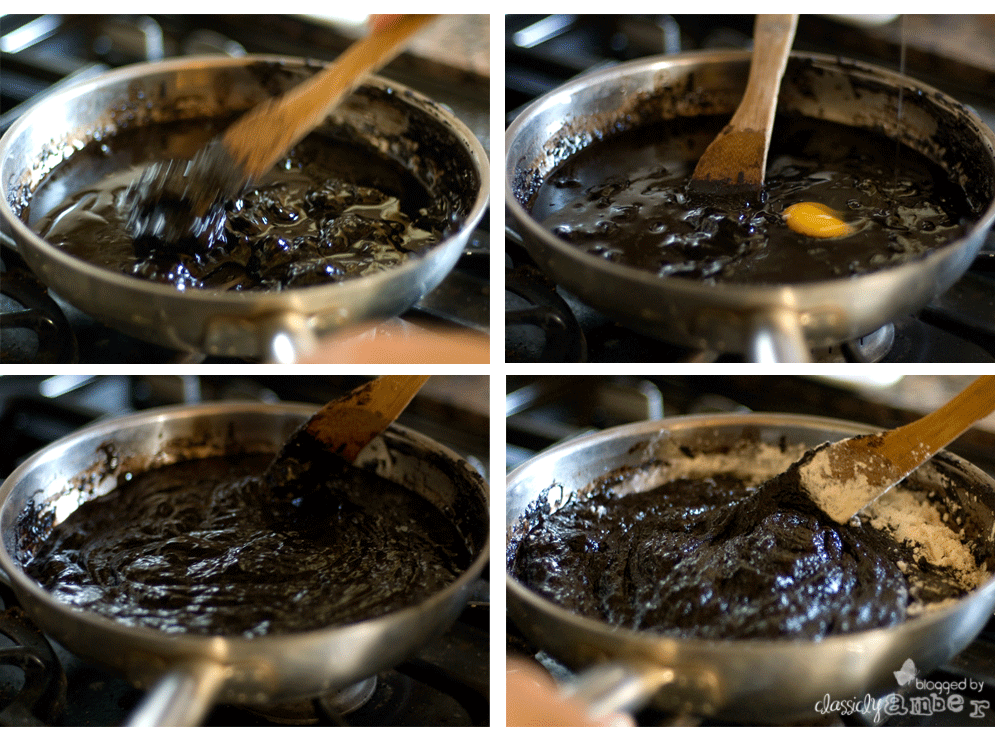 If your eggs are still in one piece [mine just barely made it in time thanks to Gianna's curiosity], add them in – one at a time – and mix pretty durn skippy after each one. By now, you should see the mixture starting to come together nicely. It actually looks like a batter!
Finally, add in your flour and salt, and mix just until there are no huge chunks of flour and all the white is gone. At this point, you can taste the batter [if you are into that raw egg sorta thing and if you trust your chickens] and see if it's sweet enough for your liking. If not, simply add more maple syrup…a little at a time until it's perfect for your family. Our family loves it by my recipe here. Do what works for you, though.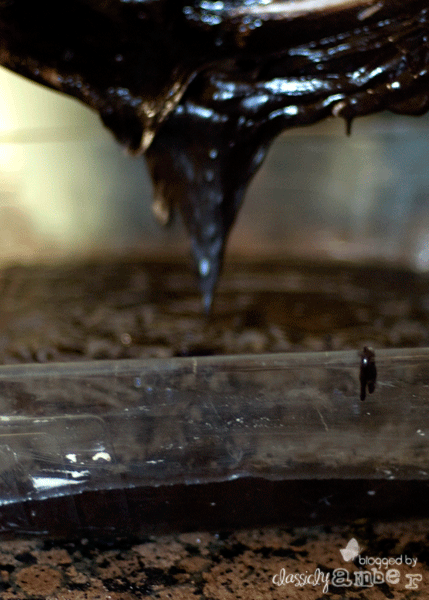 Pour it all into your pan and then pop it in the preheated oven for approx. 40 minutes. This takes a lil' while, but will fill your entire home with the most delicious scents. Oh. My. Goodness. While you're waiting, get out the rubber spatula and start scraping at that batter leftover in the bowl. You didn't seriously think that I was going to recommend not eating that, did you?!? Naw, girlfriend! Go to town! Oh, and wipe your mouth, quick-like.
So you know the drill: you'll know the brownies are done when a cake tester or toothpick inserted into the center comes back out clean. Let it cool for just a bit…and either cut it into 12 tee-niny pieces [perfect for your frail, dieting friends], or 9 average sized pieces, or 4 huge-a-MONGO sized pieces [perfect for those late night gorge-fest sessions after all the kiddies are in bed! what? you don't do that, too?? oh, stop being so modest!!].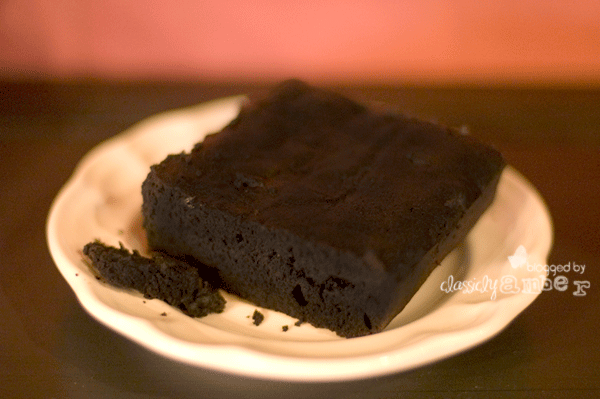 These lovelies are DARK! Yes, dark chocolate is a love of mine. How 'bout you? [They were also hard to photograph because of that!]
Serve 'em up and chow down – all too happy that you successfully baked a sweet chocolatie dessert with zero processed sugar in it. It's proof that it can be done!

In cased you missed it live online, the winners of the Lisa Leonard Jewelry were announced on Twitter! Scroll down to recap that info:
3rd prize [$25 gift certificate to Lisa's shop!] goes to:
Angie!!

I'm happy that you get to get that necklace! It'll be cute!
♥♥♥♥♥♥♥♥♥
Next, 2nd prize [Heartstrings necklace] goes to:
Andrea!!

Wow! Just what ya wanted!
♥♥♥♥♥♥♥♥♥
Finally, the grand 1st place prize [Family Crest Necklace] is given to:
Very Married!!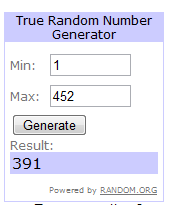 Yep, I'm chuckling over this because she was one of the folks who chimed in with how she never wins anything! Looks like you were PERFECT for this giveaway, friend!
♥♥♥♥♥♥♥♥♥
Congrats to all the winners! [Please contact me so I can hook you up with your prizes!] And if you didn't win, don't worry 'cuz I never win anything, either! Why do you think I gave this that title? 😉 But seriously, I plan on having more awesome giveaways in the future, so keep trying and you will surely get yours one day.   😀