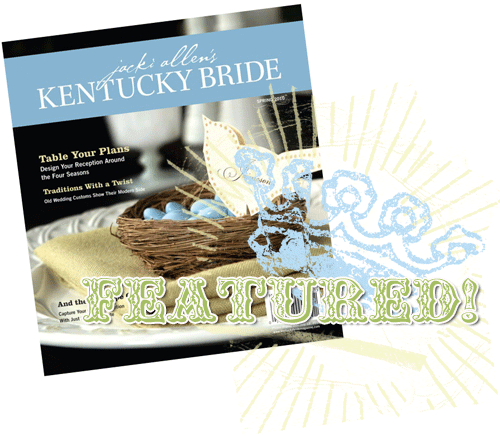 A little while ago, I made a custom banner for a sweet lady who ended up being Jaimeson Gann, the sidekick wedding planner and daughter to the talented Jacki Allen, also a wedding and events planner and president of Kentucky Bride magazine.
They used the banner in a spring tablescape photoshoot that has a luscious green foliage backdrop. They used white milk glass against a rustic dark table, and it made everything on the table totally POP.  My light colored banner against the dark greenery creates the same affect! [The table itself, by the way, is totally delicious! I must have!] Ah, there's more details on the table – and several other tablescape ideas for the rest of the seasons, so you should just check it out. You can go online to pick up your own copy HERE. If you're getting married soon, then this mag is a great resource and has nifty ideas in it. Heck, even if you're NOT getting married any time soon but you do like to host nice dinner parties – then Jacki and Jaimeson can pass along some wonderful inspiration! 😀  Be sure to check out the other talented artists, designers and businesses featured in the mag!

Speaking of my custom banners – I have a bunch of mess up my sleeve for them. I am in the middle of working on something that I hope to have finished soon and will share it with all of you. I'm pretty dern sure that you'll love it, too! Stay tuned!
The weather is beautiful here, as it always is in the springtime. I have been busy as a bee getting caught up on laundry and am excited to be purging clutter from our home! We are also getting our garden going and it will be so awesome to get lots of yummies from it this year! I hope everyone is having a lovely week so far! <3