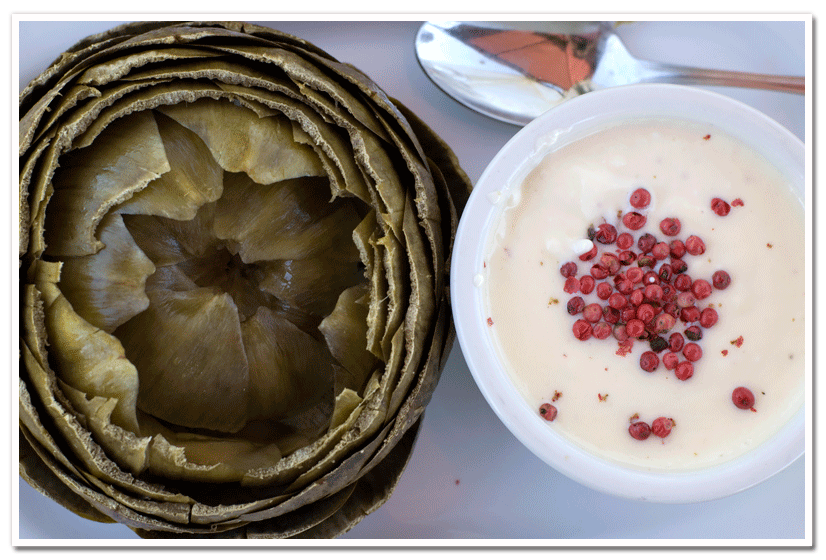 Artichokes with Pink Peppercorn Dipping Sauce
The highlight of this recipe to me was the pink peppercorns, which I had never had before this. Not only did they match the colors of my tablescape :), but they also looked cute and were delicious in this creamy cheesy sauce! Have you had pink pepper before? It is less peppery than black peppercorns and delicious in its own way!
Braised Artichokes
2-4 whole large fresh artichokes
2 lemons
2 cups water
1 cup dry white wine
1 clove garlic, peeled and quartered
2 fresh green bay leaves
2 sprigs fresh thyme
1 tbsp. extra virgin olive oil per artichoke
1. Trim up the artichokes [cut off all the rough tips of the leaves and the top of the head. It IS called a 'head', right?] and everywhere that you've trimmed, rub on a halved lemon. Also cut off the stems and peel 'em. Place the trimmed artichokes and stems into a bowl of cold water to chillax while you get your mess together.
2. In a large pot, add in all the rest of your ingredients [minus the olive oil] and get it tuh simmerin'. At this point, you can now remove your artichokes and stems from their water bowl, being sure to place the artichokes base down in the pot. Why? I don't know, but it's in the directions – so let's roll with it. Now drizzle in the olive oil in each of the leaves of the artichokes.
3. Get these mugs cookin' until the water is rapidly simmering. Pop on a lid and let it go for 45 minutes or so. You can test it with a fork and will know it's done when you can easily pull down an outer leaf with the fork – and it's tender. [Careful now – I tried that trick also, but after it had been out of the pot for a while, it wasn't quite as tender. So mine should have cooked for probably 10 minutes longer.]
And for the yummy dip…
Pink Peppercorn Dipping Sauce
Yields 1 2/3 cups dip
3 tsp. pink peppercorns, ground up
5 oz. fresh shaved parmigiano reggiano cheese
1 c. crème fraîche or sour cream
1/4 tsp. kosher salt
1 tbsp. mayo
1. Add the ground peppercorns and shaved parmigiano reggiano to a food processor fitted with the sharp chopping blade.  Process until the peppercorns and cheese are the consistency of fine breadcrumbs.
2. Add the crème fraîche or sour cream, kosher salt and mayo.  Keep pulsing until all the ingredients come together and the dip is smoooooth.
3. Pour the dip into a bowl and cover 'n fridge it until ready to use.  If your dip is in the fridge a while, then it will probably separate like mine did. No worries! Simply mix it back up and you're back in the game!
This recipe [dip + artichokes] came from Stephanie Beack, from Scrumptious Street Blog. Click HERE to go straight to her recipe!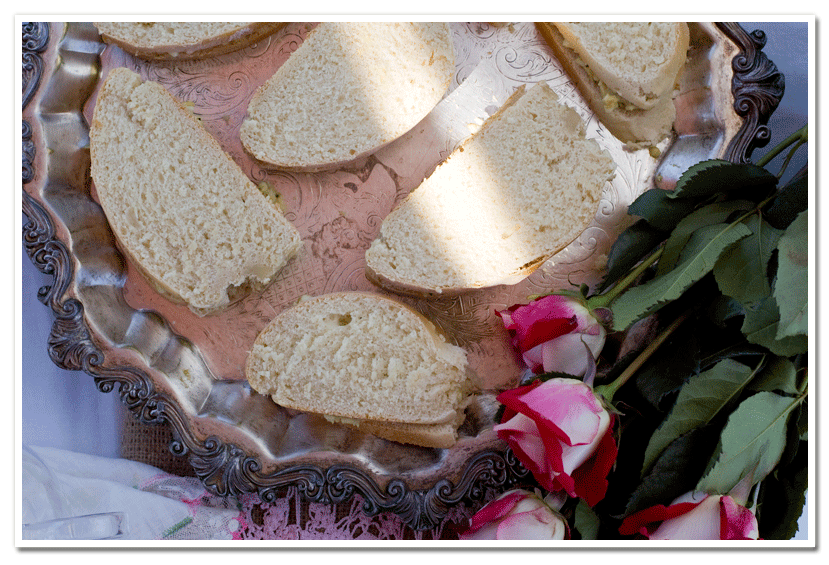 Oh mercy, mama! These are my egg salad sandwiches, a long time fav that my mother taught me, but I've made it my own. For one thing, I make my bread from scratch [highly recommended!] and I also like to add some herbs in to my egg salad. There were tons of fresh eggs in the egg basket, so I used up those along with some homemade mayonnaise, basil, sage, salt, pepper and finely chopped up green onions. It's a delish combo!
Basic Egg Salad
8-10 large eggs [hardboiled]
about 1 cup of mayo
dried sage [to taste]
dried basil [to taste]
2-3 finely chopped green onions
salt and pepper [to taste]
In a bowl, chop up the hardboiled eggs with a pastry blender until they are all in small-ish pieces. Add in the remaining ingredients and mix to perfection. Slather over your fav bread!
This is not a picky recipe and you can fudge on the ingredients. You may like a little less mayo than we do….or your eggs may be larger and you may NEED the extra mayonnaise. At any rate, you really want your egg salad to be moist and fluffy, but not too wet. You can certainly taste it as you go!
Now THESE are some supa tasty, supa easy hors d'oeuvres that I can get behind!
Easy Hors D'oeuvres
Frozen Wild Salmon Steaks
Lemon
Onion Powder [to taste]
Garlic Powder [to taste]
Fresh celery, julienned
Creamy goat milk cheese w/herbs
Kashi's TLC Honey Sesame Crackers
We bought several frozen wild salmon steaks from Trader Joe's…squirt 'em with fresh lemon juice…onion powder…garlic powder…salt and pepper to taste…pan fried them and then stuck it in the fridge. Yep! Save it for later. Then the next day, I took it back out and flaked off sections to use in this recipe. Have you ever bought those multi grain TLC crackers that Kashi makes? Yeah, that's the base of this mug. Then on top of that, add on a small dallop of creamy herbal goat milk cheese, and on top of that some julienned celery, and on top of that goes your salmon. To serve it, I put it all on a bed of Red Alaea Sea Salt – and used some of that to sprinkle it all over the hors d'oeuvres. This is so easy and full of flavor! You've gotta try it.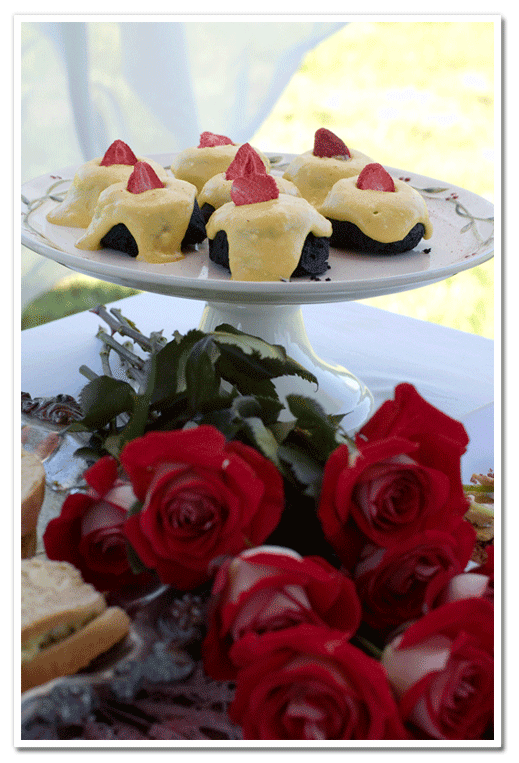 Because we are really into dark, DARK chocolate here – I decided to whip up these baby cakes using [what else?] dark, dark chocolate! On top of that, I made a quick maple buttercream frosting and stuck in a freeze dried strawberry in the top of each. Now…I could have used fresh strawberries since they are certainly in season now and we have an okay amount popping up in our patch right now, but that was not my original plan. I had purchased a bag of organic freeze dried strawberries for the sole purpose of all natural food coloring for my icing.
Imagine it, folks: pink icing…colored with strawberries…and tastes like..STRAWBERRIES! Well – what a brilliant concept! You just can't beat the real deal…
Yep, I wanted it pink – and I didn't want to sacrifice our livers with chemical food dyes to eat it. So guess what happened? Everything was going along fine 'n dandy…and I had the baby cakes and basic frosting all made up 'n ready to go. I quickly opened the bag of freeze dried strawberries and dumped it all into the food processor and gave it a whirl. One minute later, I'm popping the lid off and looking in and saw all the perfectly beautiful pink powdered strawberries – – and then my eyes fell on a teeny white bag, shredded up, that read "TO PRESERVE FRESHNESS. DO NOT EAT." Auuuuuggghhhh! Yeah, so it was all in the food. Think we ate it? NO. I'm trying to get away from the chemicals…and there I was totally adding them back into our food! Lesson learned, though. I was in too big a rush at the very end and didn't have my thinkin' cap on. Thankfully, I had pulled out several whole pieces of dried strawberries ahead of time to chunk on top of the baby cakes…and was still able to use them on there for color and tasty times.
Dark, Dark Chocolate Baby Cakes
1/4 cup unsalted butter + extra for buttering pans/cups [all should be room temp.]
3 cups dark unsweetened cocoa powder
1 cup canola oil
1 cup pure maple syrup
4 large eggs
1 tsp. pure vanilla extract
1/3 cup unbleached all purpose flour
pinch of salt
Preheat the oven to 400 degrees.
Butter one 12-cup muffin pan and one 6-cup muffin pan.
Beat up the butter and maple syrup. Next add in the cocoa powder and the canola oil and mix until combined. Next, add in your eggs one at a time, making sure that each one is mixed in before adding the next. Add in the vanilla. Finally, dump in the flour and salt, and mix it all together until it is a luscious, dark and smooth batter. Taste and see.
Pour the batter into the greased muffin cups and fill them up. [You may or may not have one or two empty cups. If you happen to, simply fill it halfway with water so it doesn't burn in the oven]. Pop the pans into the oven and bake for about 6-8 minutes. If you've never had baby cakes before, then let me explain: the outsides should be solid and dry but the insides…ooooh mercy…the insides are almost like a thick pudding! So you really can't use the toothpick trick here to test your baby cakes. What I like to do is just get a butter knife and pick up one of the muffins in the pan. If it's holding its shape well and seems like it will plate up nicely, then it's DONE!
Serve 'em upside down and top them with…
Maple Buttercream Frosting
3 large egg yolks
1 cup pure maple syrup
1 cup [2 sticks] unsalted butter, still cold and cut up into small pieces
Beat up the egg yolks in your mixer until they are light 'n fluffy and then set 'em aside.
Then in a small pan, bring the maple syrup to a boil [over med-high heat]. Let it go until it reads 240 degrees on a candy thermometer. Kill the heat and remove the pan. Take it over to your mixer, and with it mixing, slowly pour in the syrup down the side of the bowl steadily. Keep mixing for another 5 minutes until it's all incorporated and the frosting is thicker [another 4-5 minutes].
Spoon this all over your hot dark chocolate baby cakes and chow down! Mmmmmmmmmmm….
The frosting recipe is from Grandma Martha!

I partnered with MountainRoseHerbs.com to bring you this awesome spread. Any of the links you see here will take you straight to their online store via my affiliate awesomeness. After you've read all the way through the post, please come back and click the banner to place your next order with them. They sell anything from pink peppercorns to tea pots to herbal tinctures to books and gifts. This is an awesome company and you will love ordering through them!
W I N N E R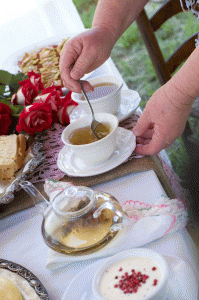 So you can, of course, serve ALL of this up with your beautifully tasty flowering tea, poured up from your quaint glass tea pot! You can purchase the teas and glass tea pots from Mountain Rose Herbs. However, for ONE awesome reader today, you will get yours FREE in the mail! Thank you to everyone who entered the Mother's Day Tea Party GIVEAWAY that I've hosted…and Random.org has picked a winner from the previous comments:
And check his comment, too:

She sounds like an amazing woman! Congratulations to CHRISTOPHER! Please contact me to claim your prize ASAP in time for Mother's Day!
I hope all the mothers out there have an AWESOME Momma's Day this coming weekend!
Have a great day, everyone!