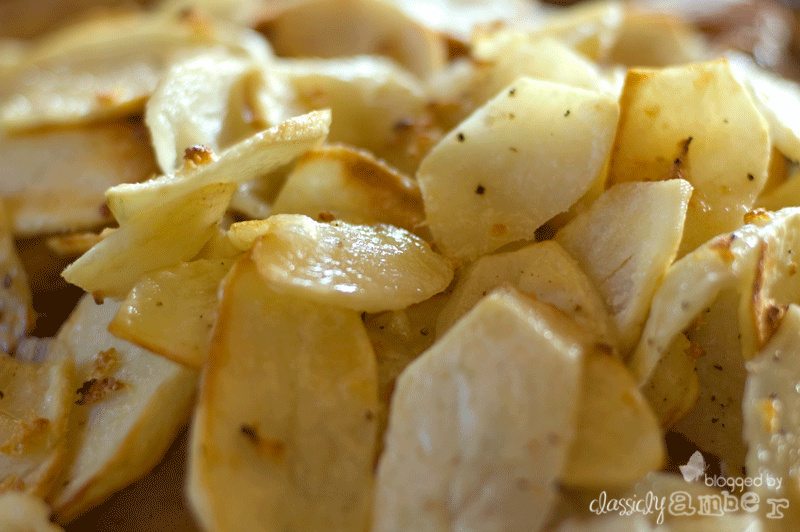 Try this – and I'm nearly positive that it will be a keeper at your home! It's so easy to make up 2-4 pans of this, too…so it's simpleness is another perk. Plus, I know that everyone will be cooking out soon and these potato chips are definitely something you'll want to serve up with your grilled goods.
All it takes is:
4-6 russet baking potatoes, rinsed & peeled
Olive oil
Garlic cloves
Salt
Fresh cracked pepper
Optionals:
Cheese, your choice, shredded
Herbs [oregano, thyme, basil, rosemary,etc.]
Preheat your oven to 500 degrees.
Get out two baking sheets and grease them up with olive oil. You should have plenty of extra olive oil on your sheet pans because you will be coating all of your potatoes – both sides – in it.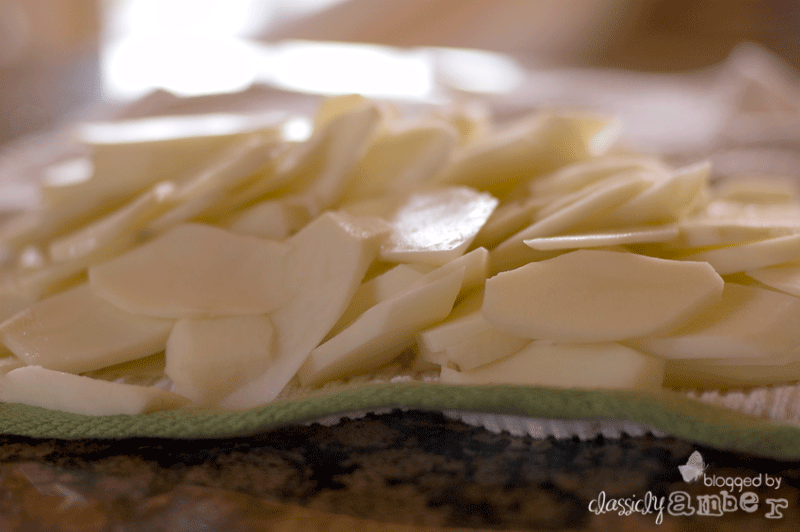 Slice up your potatoes thin, but don't worry about it being TOO thin. Naw, you won't need to worry with that mandoline-slice-the-skin-off-your-fingers-thing! Just use a regular chef's knife for this deal. Then pat 'em dry with a towel.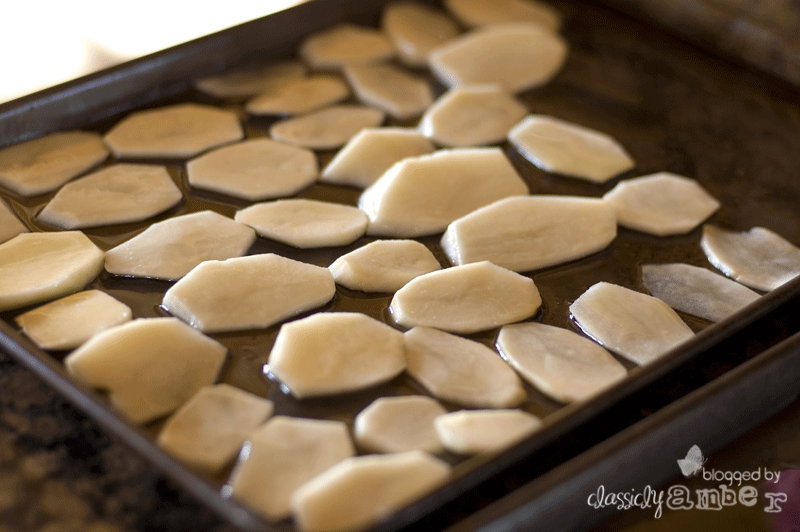 Place the potatoes in a single layer on your baking sheet, being sure to get both sides of the potatoes covered well with oil. *Warning: if you do not have enough oil on your pan, then the potatoes might not cook right and could possibly dry up and burn. I have NO idea how I know all that!*
Sprinkle with sea salt, preferably something more coarse. See the big 'uns up there? Yeah, drool.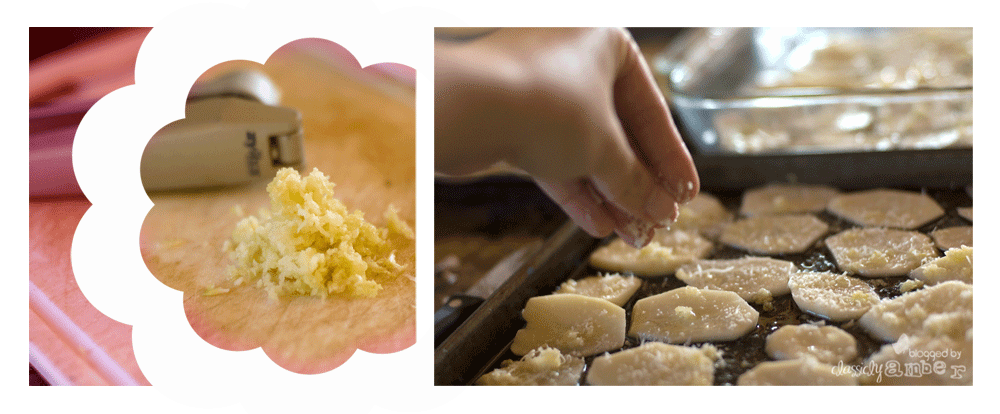 Then get out your nifty garlic mincer and mince up the garlic cloves. Gianna [age 3] helped me "sprinkle" this all over the potato slices. They don't really 'sprinkle', though, obviously because it's wet. You will see what I mean. Just twinkle your fingers together to release minced garlic from your fingertips all over 'em. I have no other way to explain this to you…So sorry…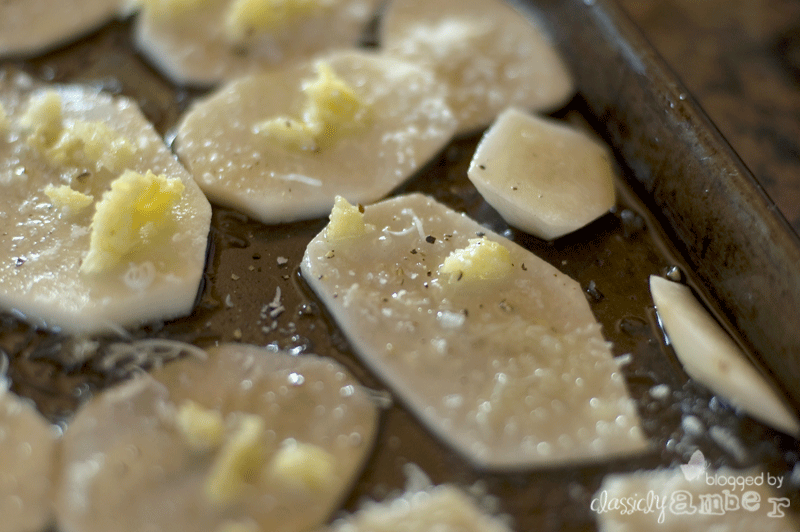 Crack on some fresh black pepper! And last, add on whatever the crap you want to – to suite your tastes!
Pop the pans in the preheated oven and bake for approx. 18-20 min. Do keep an eye on them towards the end, checking regularly so they don't burn. Once you see them start to turn a golden brown [especially on the edges], pull them out and eeeeeeeeeeeeeeeeeeeeeeeat!!!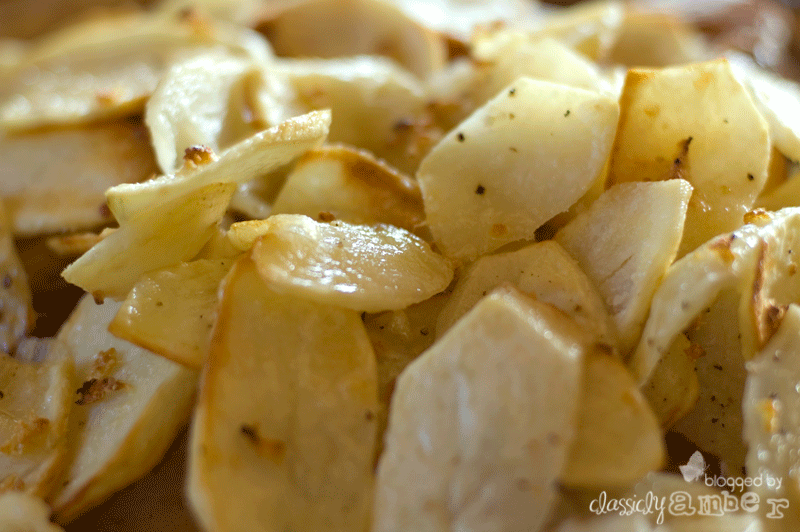 [They are SO daggum tasty!! Hope you and your fam enjoy!!]