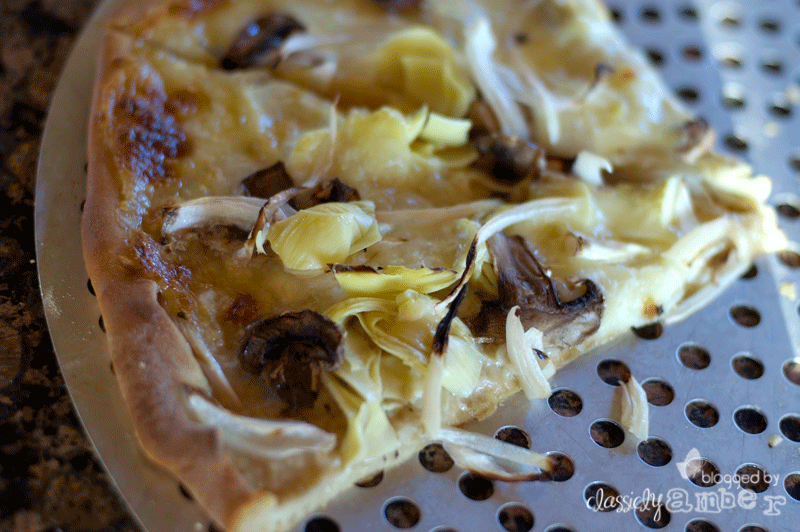 I had to use up ingredients tonight for pizza toppings, and this turned out to be such a winner that I knew I needed to share with ya! If you would like to see my how-to on making your own pizza, then just CLICK HERE to go to my past post about it.
So really quick, this is all you need:
Extra virgin olive oil
salt crystals [or reg. sea salt], to taste
fresh ground pepper, to taste
dried oregano, to taste
dried basil, to taste
best grade mozzerella cheese, sliced
parmesan cheese, freshly grated
1 can of artichoke hearts, roughly chopped
half of white onion, thinly sliced
mushrooms, sliced
After you've prepared your pizza dough on the pan, then pour on 2-3 tablespoons of olive oil. Spread the love all around with your fingers, going right up to the edges of the crust. Shake on a little of your herbs and seasonings all over. Then add on your mozz. cheese and parmesan cheese. Last, add on the artichokes, mushrooms and onions. [If you do not like your mushrooms and onions on the soggy side, then it is important to add these toppings on LAST or else they won't crisp up in the oven as good! – Little tip there.]
Make it and love it!!
*I'm sharing this on Tasty Tuesday over at Balancing Beauty & Bedlam. Be sure to check out the other food shtuffs going on there, too!*