Recently, we took a trip to our friends' farm – Wes and Amy. If they lived closer than 45 minutes from us, I'd be over there bugging them more because I like their company and I like the company that they keep. They have all these animals, especially horses, since Wes is a skilled farrier.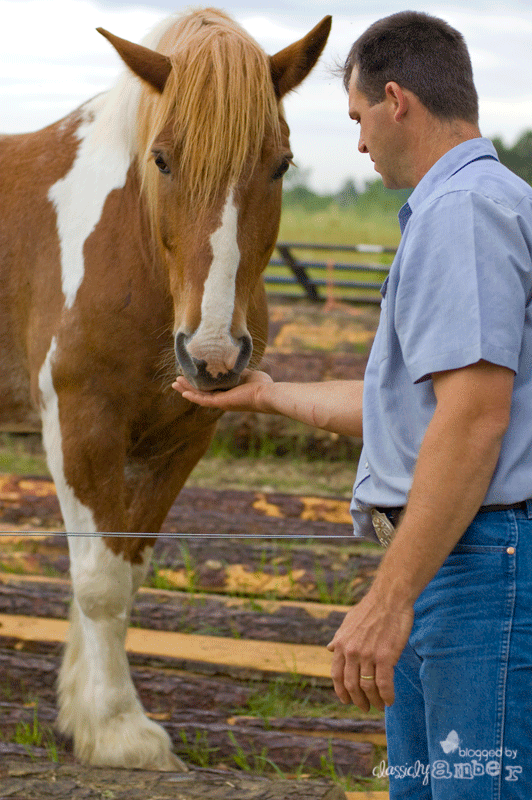 So we got to meet this big dude, and I honestly can't remember his name. I want to call him Charlie or Buckie or something. Anyway, he kinda intimidated me and wowed me at the same time. I was in love. From a distance. Honestly, the earth quakes slightly when this horsie steps across it. So I was afraid of getting stepped on if I got too close, yet I kept wanting to pet him or ride him or something.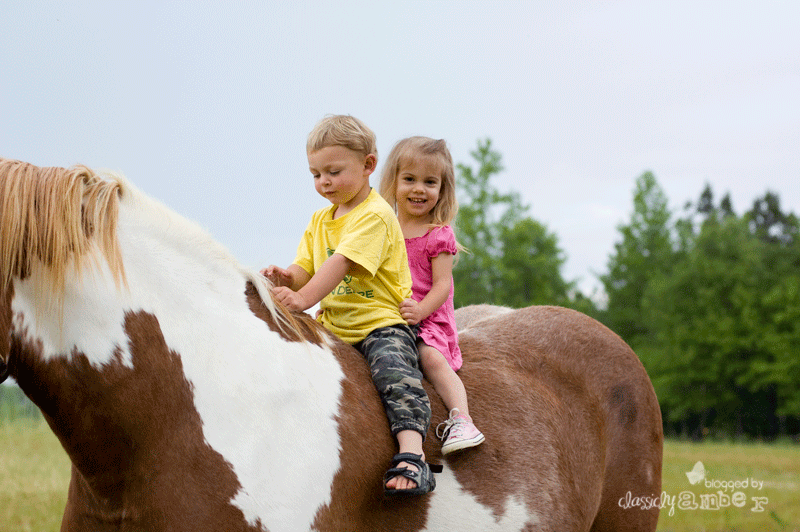 And then some of our babies wanted to jump up there. This is their son Wyatt with our daughter Gianna. I couldn't tell if Gianna was more impressed with the horse or with Wyatt. She was definitely enjoying it!
The Star was PeeWee, though. He pretty much had us all wishing we could take him home! Just take a gander at him to see what I mean: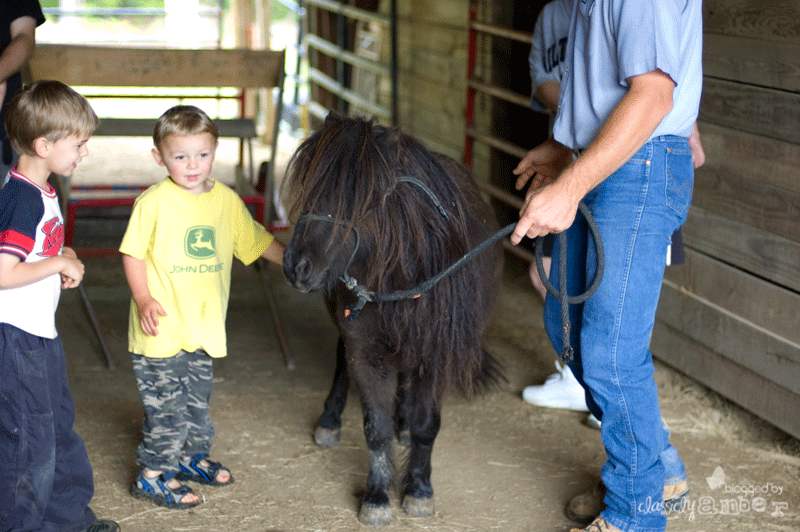 See? Ain't he a cutie? He's got a LOT of hair, though! I was wanting to braid it all, but didn't know if he went for that look or not. He's been eating really well…REALLY well. So homeboy needed to walk off a few pounds and decided to let us tag along for the exercise.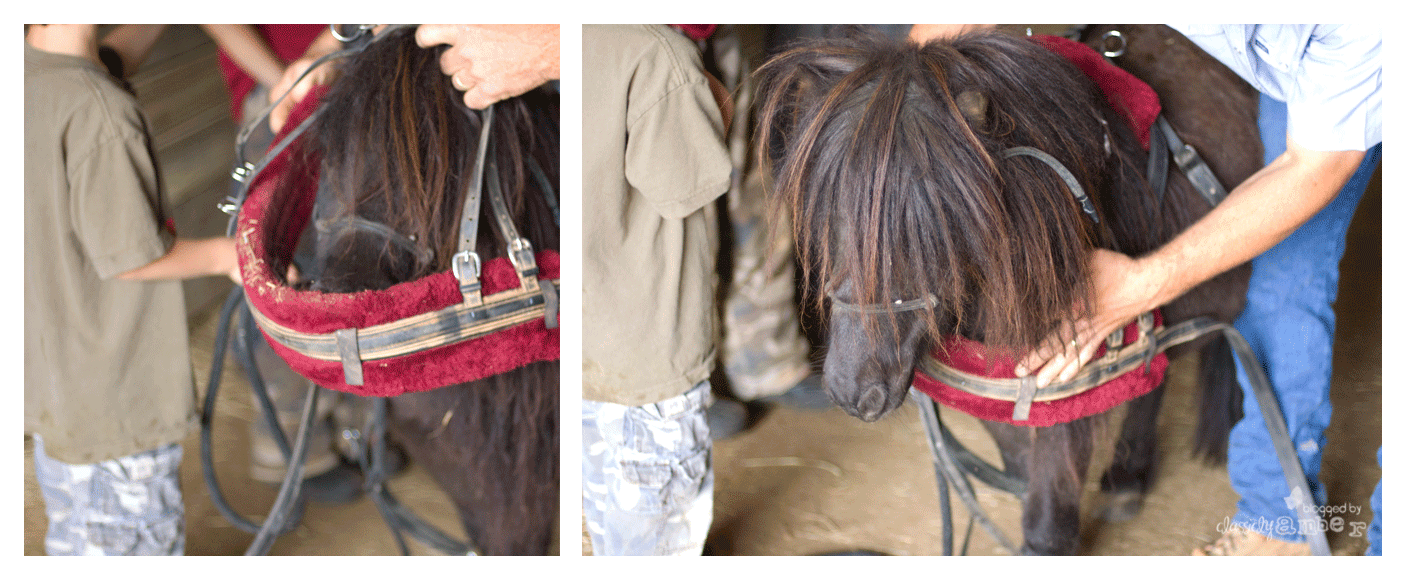 So he geared up…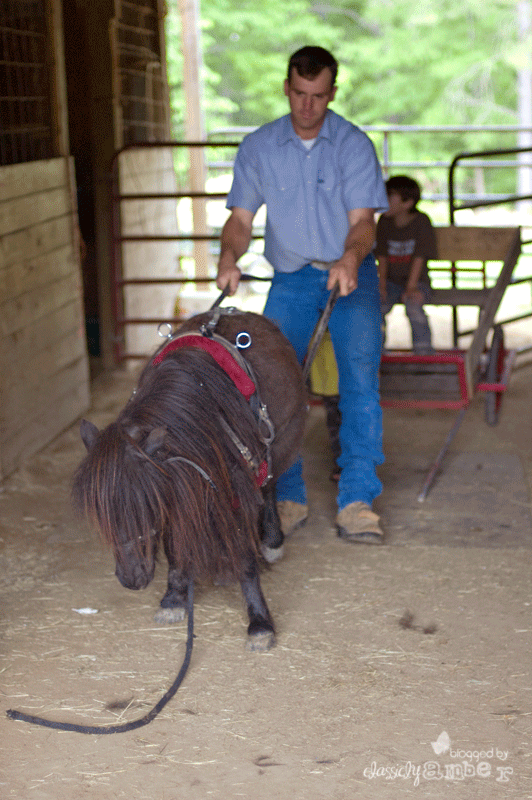 And backed up…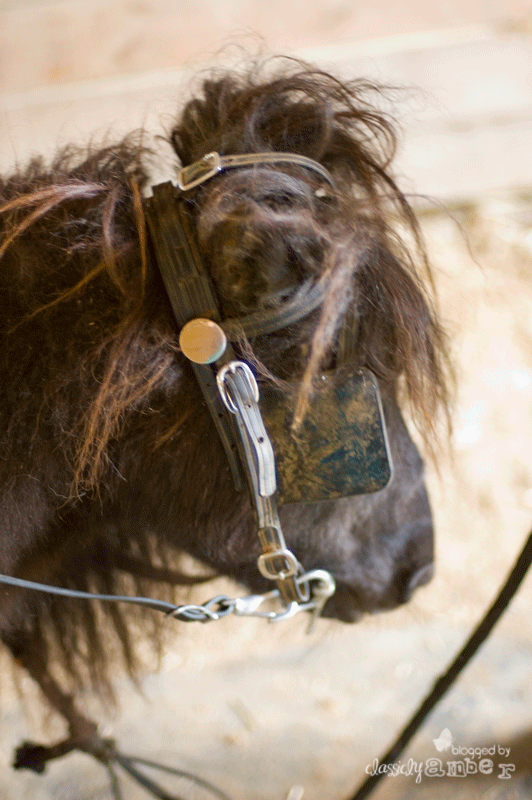 And – – [WATCH the HAIR, Dude!] Yeah, buddy. We all have Mane Jealousy. Continue!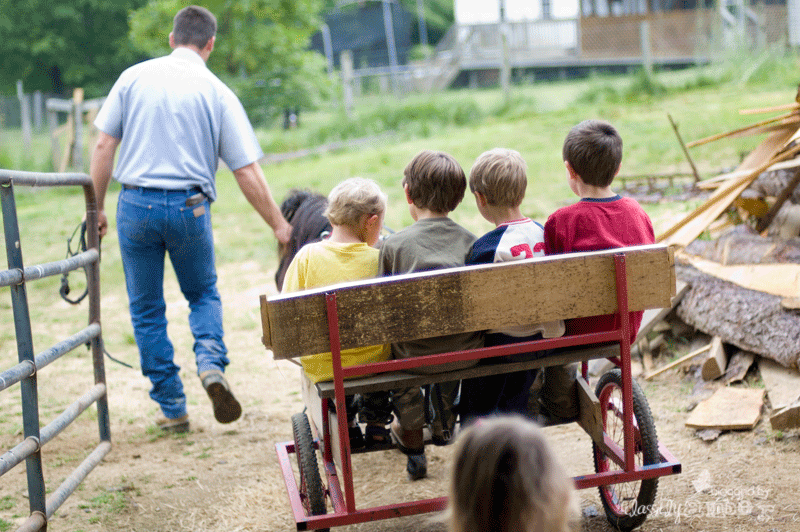 So Big Wes is taking everyone out yonder for some excersin'! From left to right, it's their two boys: Wyatt and Little Wes, and then our two boys: Nolan and Ethan. Oh, and it's Gianna's head at the bottom of the shot. At first, she was trying to tag along for this first ride but she had to wait her turn.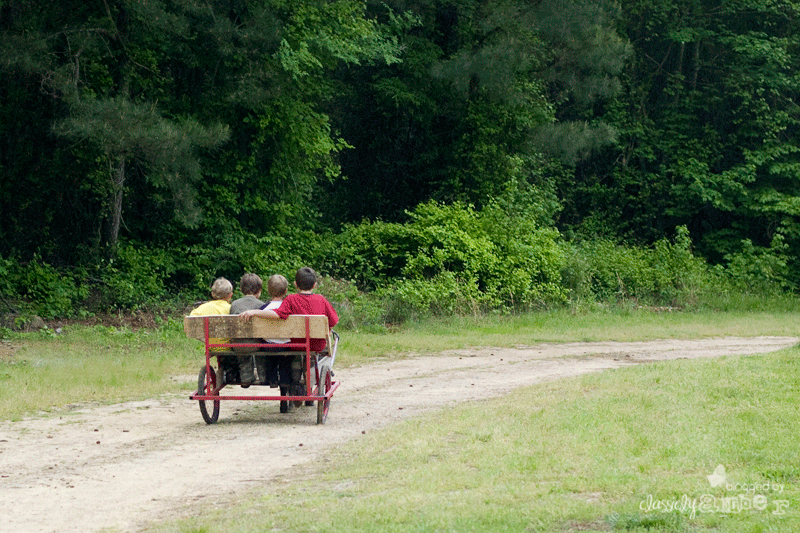 I have to admit to you that when I saw the boys tromping away rather quickly with PeeWee – and Little Wes was driving – I was kinda iffy about the whole thing. What if PeeWee has Midlife Crisis right there on their long driveway and decides to do something totally crazy? I don't exactly know what a miniature horse is capable of with 'going crazy', but some thoughts did cross my mind about him trying to break free and run away with the cart and our boys on it.
Not PeeWee, though! He was as awesome as he could possibly be!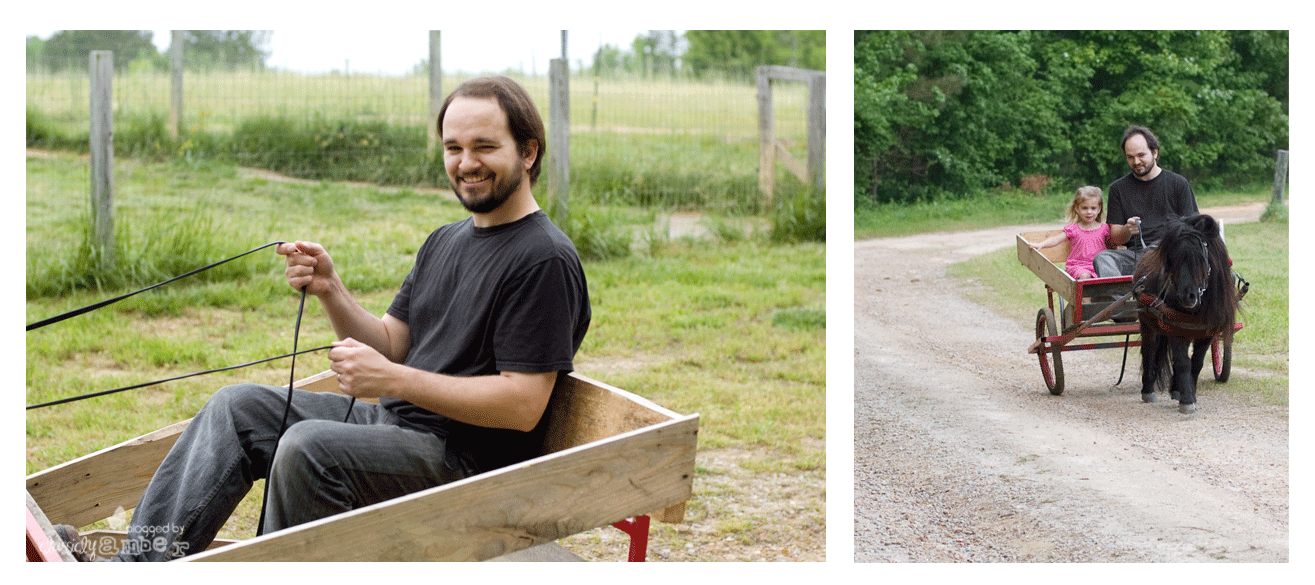 Yeah, Stud! You are my Prince in a miniature horse cart! Call me!
PeeWee even talked Corey into going for a spin! Now…I would have ridden with Corey to have a nice, romantic ride out…but PeeWee can only handle so much weight at one time. It's not that I'm fat or anything. No. It's just that, you know, we didn't want to work him too much. We wanted it to be a relaxing jog for him and all. You know. So Gianna went with Corey because…she's a little lighter than I am. They had fun having daddy 'n daughter time together, too.
Ah, but lastly – I decided to hop in the cart and give PeeWee a go. Nervous? Yes. I briefly had visions again of PeeWee suddenly bucking and tearing off through the woods with me in the back getting busted up. Such drama in my mind at times. It scares me.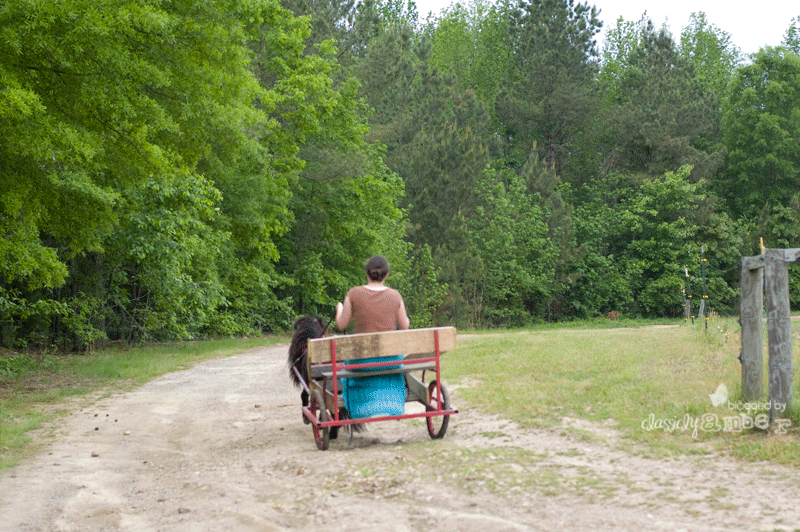 So when I started out, I went kinda slow and made sure that he listened to my every whim. PeeWee totally behaved himself! If I even just baaaarely pulled the reigns one way or another, it was like he was reading my mind and was already starting to go in that same direction as I pulled. Amazing. I went all the way down, turned him around and came back.
Dare I, though?? On the way back, I decided to see how fast he would go, so I slapped the reigns and yelled "YA YAAA!!" …….. and "YAAA!!" ForGET the nice, relaxing ride for PeeWee! Momma wanted to run it wide open! I can not BEGIN to describe to you how much fun it is to be in a cart behind a miniature horse and have him going wide open down a rustic gravel drive! I was literally coming OFF my seat because the ride was so bumpy! It was so much fun!
See?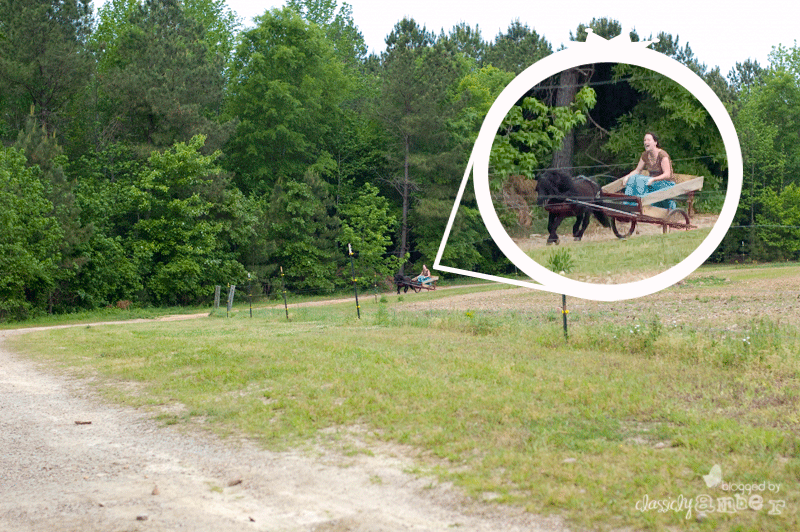 I'm pretty sure that I scared the chickens. And speaking of visions, Wes must have envisioned me running PeeWee smack into a fence post with my crazy Indian ya-yas 'n things! He seemed to look relieved that we made it back in one piece. PeeWee was sweating. Wes and Corey were sweating – just standing there. I thought I was in trouble. Nah, everything was fine! We might not ever get invited back out again, but everything is fine! 😀
So…we want need a miniature horse 'n cart now.