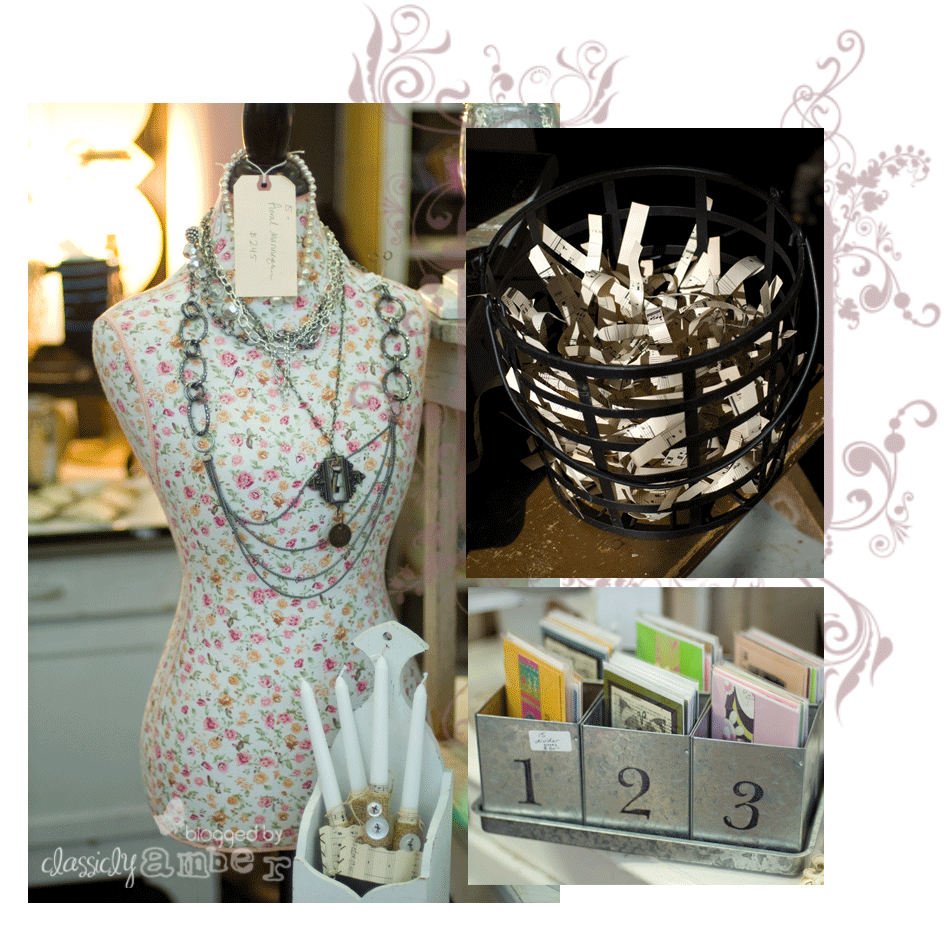 Dearest friends:
I have a confession to make. In days of olde, I used to ask my husband to go with me to places that I knew he wouldn't have a whole lotta fun going to – but I knew he was nice enough to tell me "Sure, let's go." – So even though it was what it was, I persisted. All that has changed now because I no longer feel the need to drag him around on excursions when I know he'd much rather be doing something else instead. Plus, there is someone else I can go with who is just as entertained and entranced by it all as I am.
Me and my friend, Steph – well – a' hunting we did go! She goes to this [secret] place and I can't tell you where, but when she took me, I saw that treasures abound in every nook and cranny! We looked and browsed – and browsed and looked – for HOURS! It was so fantabulous.
Steph is my new amigo for all-things-vintage and I'm sure hubs is breathing a sigh of relief. She has a lot more fun at it than he ever did, too. For one thing, I could NEVER get Corey to pose for a photo like this:
I don't think he would dig wearing the bonnet, even though yellow looks great on him! But isn't this the sweetest bonnet? I was really tempted to get it. And I was telling Steph that I am just crazy enough to actually wear the thing, too! I am just that awesome. She looks great in it, too. I should have convinced her just how much she needed it.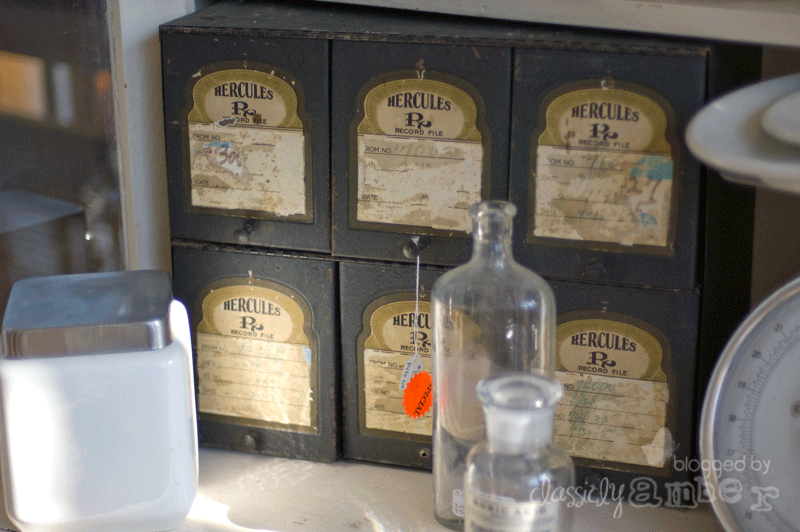 Okay, so the SHTUFF we saw: there were lots of goodies. I was drawn to numbered things [that's still the rage, though, isn't it?] and little organized drawers for things. I also love anything vintage with texture and femininity. Floats my boat.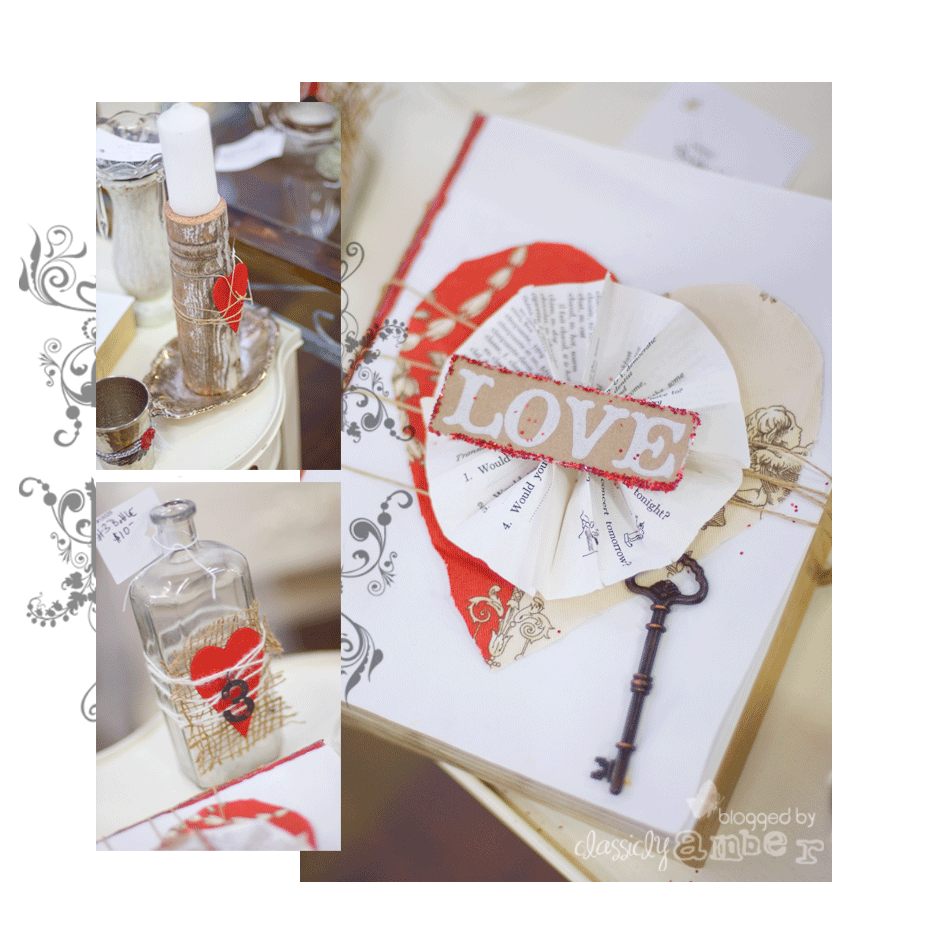 So this is an entirely simple idea for Valentine's day decor – and I love it. Take an old glass jar, cut a random piece of burlap, slap on a heart, thread a number through some string and wrap it haphazardly around the jar several times. DONE. Similar idea on the candlestick – which is CUTE. Heart the journal, too. All <3s!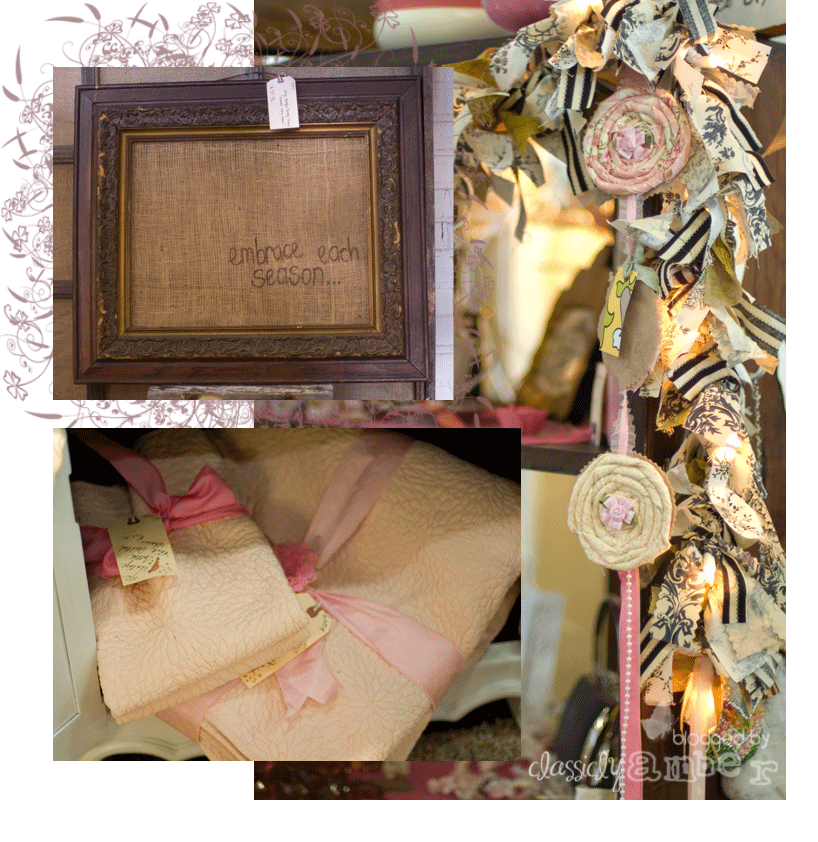 Okay, and that frame with the quote handwritten on burlap? Pure genius. I am SO doing that somewhere in my home. Loved the raggedy garland and the whimsical floral garland beside it. CAN DO. Also – check out those pink handmade quilts above: aren't they sweet? I can not remember the exact prices, but the set was super low! If I had a need for it, I would have surely bought it!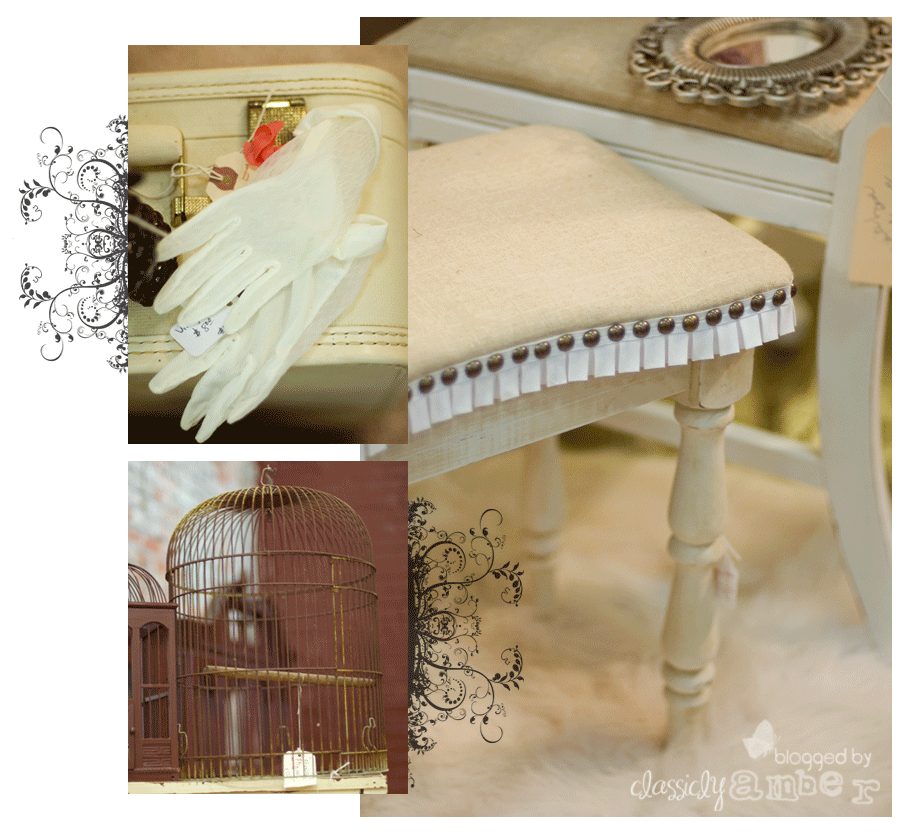 And these are the types of things I love: sheer gloves, a vintage birdcage – and oh my – this sweet stool with the box-pleated, nail-head trim! *Swoons and falls down!*
We also saw some, er uh, interesting creatures.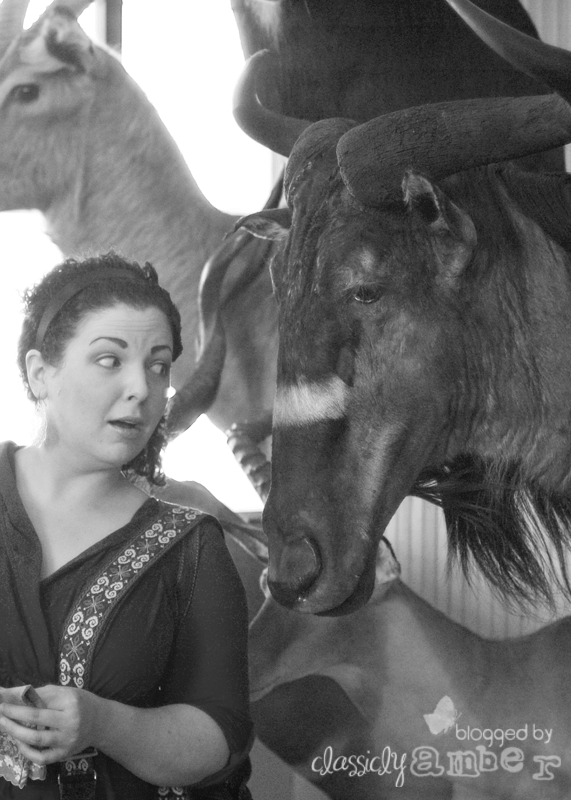 Scary much?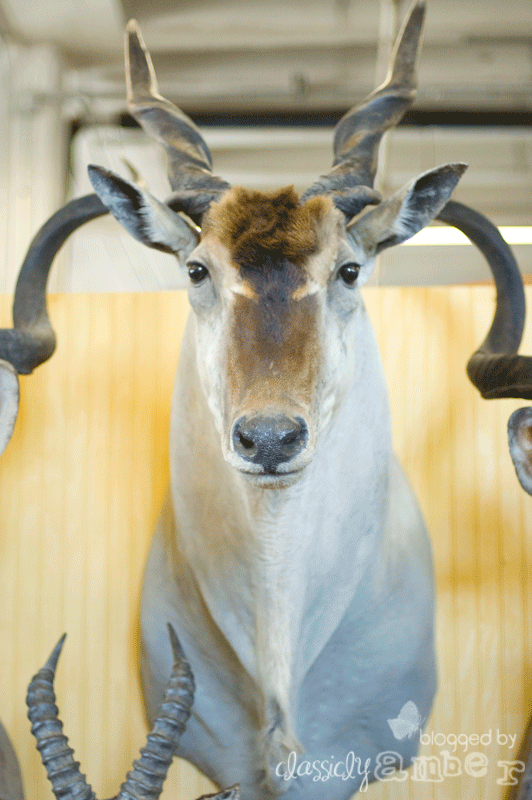 This one kept looking at me like that. Made me uncomfortable. I would start to say something to Stephanie, and then caught him just GAWKING at me…the nerve!! Eavesdroppers are NOT on my Christmas card list, okay?? [Okay, so I admit that I haven't even sent out Christmas cards in a couple of years…but hopefully he gets the point.]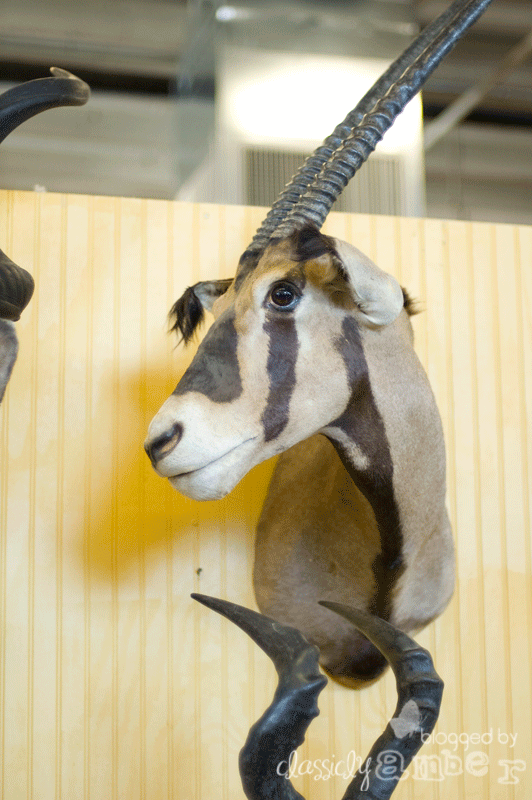 And this dude was kinda cool because: a.) he looks like a member of KISS [rawk on] and b.) he kept staring down the other dude who kept eavesdropping my convos. Loved him. [Hint: I don't seriously love KISS, though, so don't buy me the T-shirt.]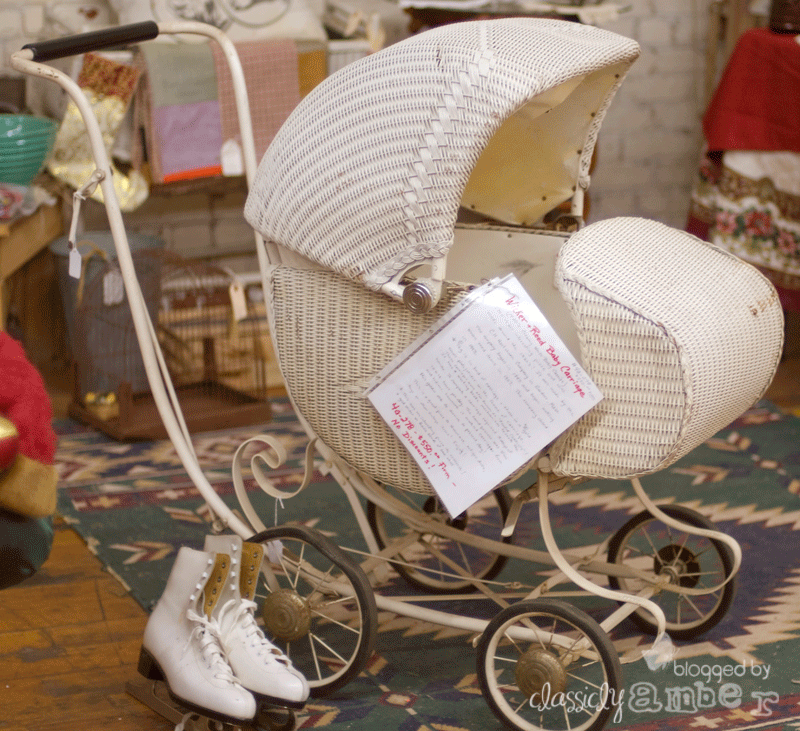 My eyes kept being drawn to vintage prams and carriages – and even old baby doll beds. There were a LOT. I was pleasantly surprised. Loved them all. I would have taken one home, if I could! Don't know what I would do with it, though. I have visions of pushing our new baby along in one of these down the sidewalk, me with some fabulous vintage party frock on – and with all the other children behind me skipping along in a straight line in order of age. They are perfectly dressed with zero stains or dirt on their clothes, have pink puffy cheeks and gleams in their eyes – and are each one licking their own all natural lollipops made with 100% fruit and somehow managing to stay impeccably clean at the same time.
And now back to reality.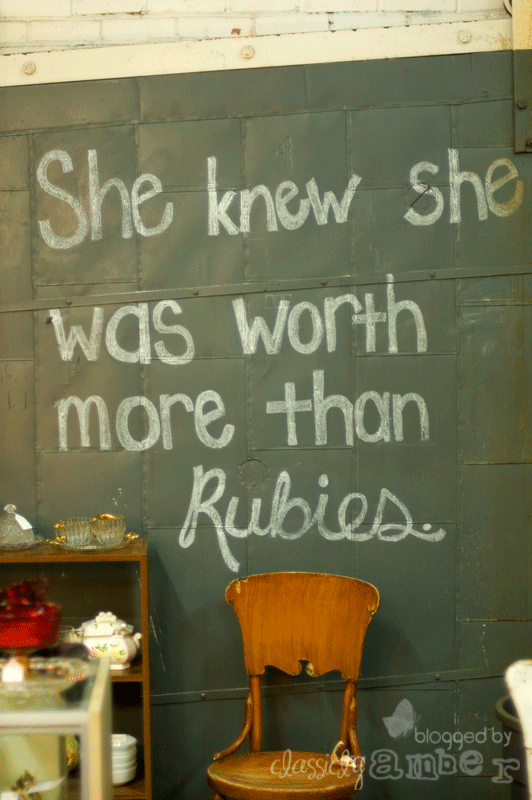 Indeed she did.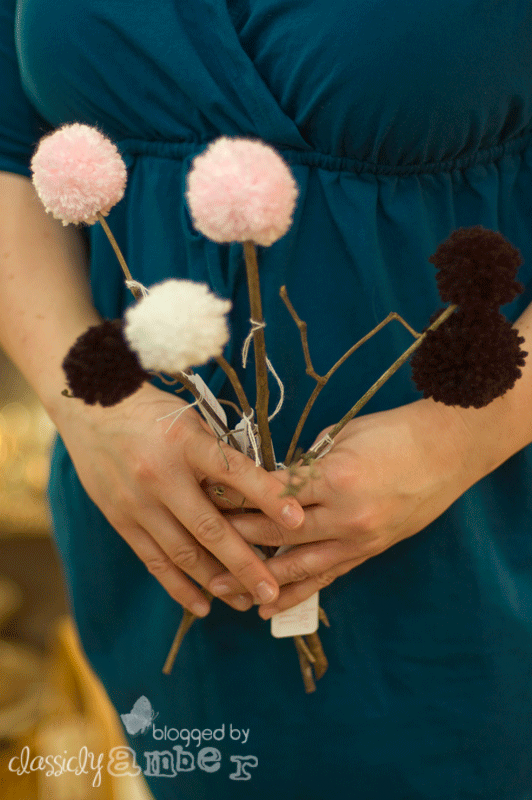 An innocent bouquet: Handmade pom-poms on regular 'ole sticks.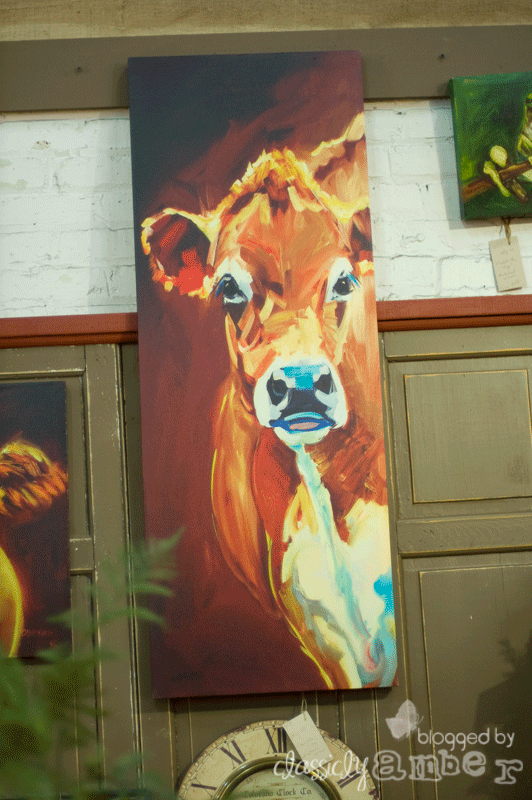 Bovine paintings. They were funky farmhouse fresh!
We loved this vintage hat! Ain't she purty?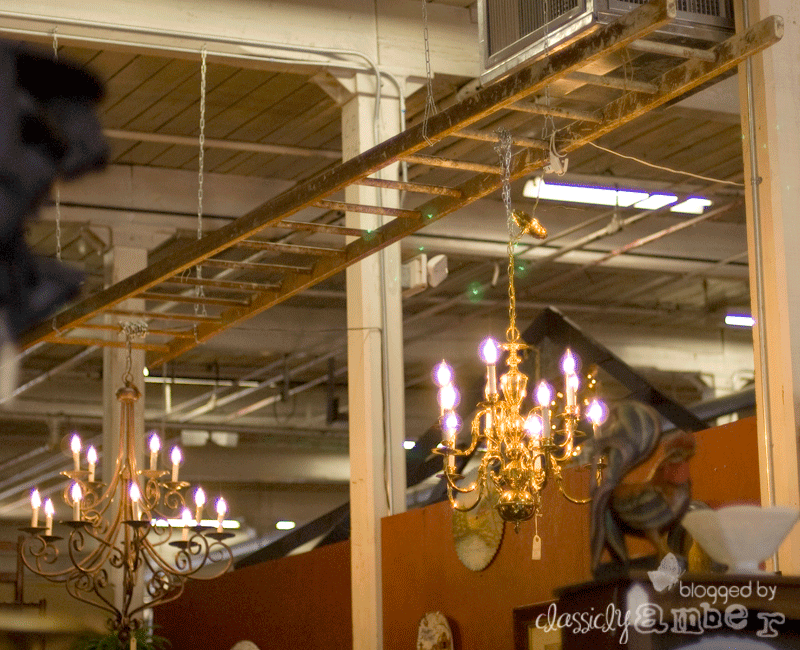 Chandies hanging from a nappy old ladder? Yes, please.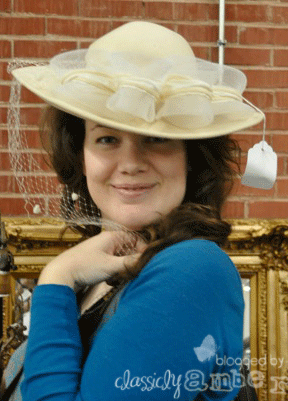 So that was just – PART – of our fun day together! We will def be going again soon. Hope you had fun browsing with us.
Love,
Miss Ayumbuh [say that with a Southern drawl. Hopefully it makes sense.]