Looking for something gourmet – yet EASY – to make for your sweetie this Valentine's Day? I gotcha covered. You are seriously going to love everything about this dessert. It is so easy to whip up and tastes like a million dollars. Plus, who doesn't love babycakes? Perfectly, smooth chocolate melting from the inside of the treat once you cut into it…every luscious bite scooped up with a heaping spoonful of freshly whipped cream…Mmmmm….
Molten Chocolate Babycakes
Serves 6 [but I easily tripled this recipe for the people in my life!]
4 tablespoons unsalted butter, room temperature, plus more for muffin tins
1/3 cup granulated sugar [or Sucanat], plus more for dusting muffin tins
3 large fresh eggs
1/3 cup unbleached all-purpose flour
1/4 teaspoon salt
8 ounces best bittersweet chocolate, melted
Carton of whipping cream, for serving
Preheat oven to 400 degrees. Generously butter 6 cups of a standard muffin tin. Dust with granulated sugar/sucanat, and tap out excess. Set aside.
In the bowl of an electric mixer fitted with the paddle attachment, cream the butter and granulated sugar until fluffy. Add eggs one at a time, beating well after each addition. With the mixer on low speed, beat in flour and salt until just combined. Beat in chocolate until just combined. Divide batter evenly among prepared muffin cups.
Place muffin tin on a baking sheet; bake just until tops of the cakes no longer jiggle when the pan is lightly shaken, 8 to 10 minutes. Remove from oven; let stand 10 minutes.
To serve, turn out cakes upside down onto plates. Serve with fresh whipped cream, if desired, and it definitely is. [To make freshly whipped cream, simply pour in a carton of whipping cream into your mixer's bowl, and turn on a med-low speed. As you whip air into it, it starts to get fluffy. If you wish, put in a little bit of sugar or sucanat…and a few drops of pure vanilla extract. Keep mixing until there are soft peaks. Takes just a few minutes and is way better than that Cool Whip nonsense.]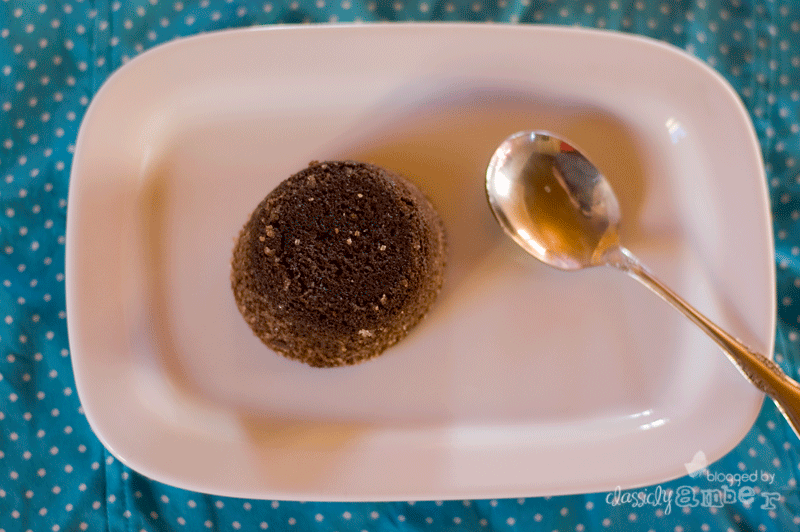 This is GOOD, don't get me wrong, but it's not good enough.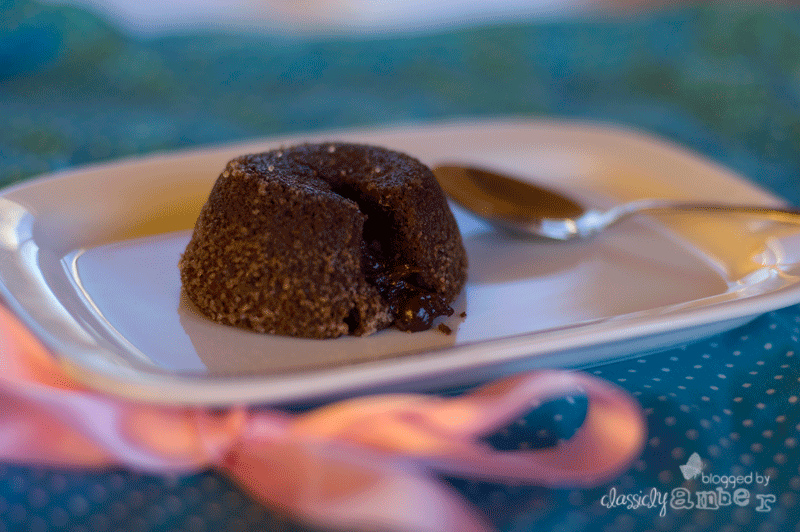 Okay, NOW we are getting somewhere. See that melted chocolate oozing out?

Now THIS is Heaven on Earth. Served with that freshly whipped cream? Oh MY.
These bake up in about 8 minutes for me, and they do need to set up for 10 minutes before you remove them from the muffin tins. Otherwise, they will be too soft and gooey to plop out. However, that is not long at all to wait and is definitely worth it. Your honey bunches will love you all the more for giving them such a treat!
Tell me how you love it! And Happy Valentine's Day to all you sweethearts out there! <3