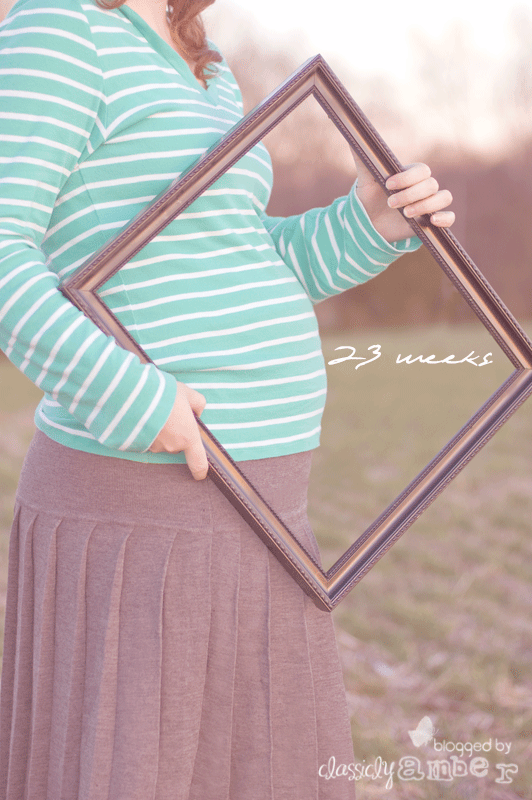 Does that belly look like it's growing a lil' girl or a lil' boy inside? Excuse the bunched up shirt on my tummy…it's not bubbly like that in real life. I had on a layered shirt that created that dramatic effect. But you know how some folks claim that they can tell your baby's gender just by looking at the shape of your swollen belly?
I went outside recently with hubby for a quick, impromptu photo shoot. We just wanted to quickly document where baby is at right now. He/she is getting bigger, I can tell ya that! According to my preggercy info on BabyCenter.com, the baby is almost a whole foot long and weighs over a pound already! Little Sweetie can be seen doing somersaults, lunges and full squats through my clothes now when I am lying down. Sometimes the sight of that takes even myself by surprise! You would think that nothing would surprise me now – this being our 5th baby – but it's truly interesting how much of the details that you forget. I'm just trying to cherish it all…  ♥♥♥
Thinking about:   → a new homebirth midwife, as the one we thought we had picked out wasn't going to work afterall;  → heartburn, though it's not TOO bad yet, I am leery of what's to come as baby gets bigger!;  → selling furniture/decor we no longer need/want [it has been SO freeing to get rid of stuff!]; → impatiently waiting on Tsh Oxenreider's book called 'Organized Simplicity' to come in the mail;  → looking ahead to a baby shower that a lovely friend is working on for our baby…[where should I register?]; → finding inspiration in a great friend and wanting to get my new shop stuff posted soon [can't wait to share her shop with you, too!]; → I could keep going, but will stop here with my nightly insomnia episodes. It is odd because it doesn't last all night. I go to bed and fall OUT. There have been reports of myself snoring loudly, which I can't confirm nor deny. And after I sleep like a log for 2-4 hours straight, I wake up with a bathroom trip, come back to bed and am too uncomfy to fall back asleep until the sun starts to rise…and so does everyone else in the household. This happens night after night. Is that not pure insanity? Has anyone else dealt with insomnia like this during pregnancy? Please throw some remedies my way, or, in the least, tell me what my issues are so I can have them resolved and get back to sleeping more at night! This mess leaves me so extra tired through the days of my life.
I may not be getting much sleep, and we may have a lot of big changes going on around us, but I am happy and life is exciting! My goal is to be flexible and embrace the changes and grab any challenges by the horns! Life was meant to be lived well – and well, I'm gonna live it!
Hope your week is going great already!