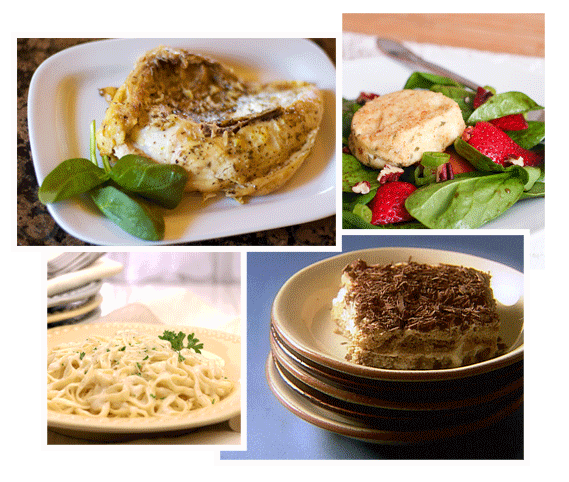 Meal to Try:
Pan Fried Chicken Breasts in a Lemon White Wine Sauce
over a bed of Linguine Alfredo
and a side of Spinach Strawberry Salad with Baked Goat Cheese
and ending with a big slice of Tiramisu
So hubby whipped up the Alfredo sauce because he has skillz to make it perfect – all his own – with NO RECIPE. I did a quick search online to try to find something similar, and here's one I came up with. Tyler Florence presents a basic Alfredo recipe here. Be sure to scroll down to get to it. I will note, too, that Corey squeezed a little bit of fresh lemon in ours because that's how we roll. SO GOOD!
And the chicken? Heavens. You know that cooking chicken with the skin and bone action still there keeps that tasty flavor that we all love. So please don't cut corners and buy boneless, skinless for this recipe!
Here is the recipe for the chicken and sauce:
Crispy Chicken Breast with White Wine Lemon Sauce
4 Bone-in Chicken Breasts
4 tbs Olive Oil
Kosher salt
Freshly Ground Pepper
2 tbs butter
1/2 cup white wine
Juice from 1 lemon
6 minced garlic cloves
2 sprigs fresh rosemary
1 tsp chopped fresh thyme
Preheat oven to 400 degrees.
Heat a large oven safe skillet on medium high heat. Drizzle chicken with half the olive oil and season with a good crust of salt & Pepper. When pan is hot add chicken skin side down. Cook approximately 3 minutes or until a nice golden brown color.
Sprinkle the minced garlic around the chicken add the sprigs of rosemary, & 1/4 cup wine transfer to oven for 8-10 minutes.
Remove from oven, place chicken on serving platter & tent with foil. Return pan to stove. Add butter and thyme, stir. . .add the rest of wine and lemon juice, turn heat to medium-low. Cook for 3 minutes. Discard rosemary. Drizzle over chicken.
On Giada's Tiramisu: we loved it. I changed the recipe up just a tad, though. I actually doubled the ingredients and was still able to use the 13 x 9 pan, but it was extra deep Tiramisu. EXTRA DEEP TIRAMISU? I'd say that that's a good problem to have! Also, I took a carton of heavy whipping cream, some organic sugar and a drop or two of pure vanilla extract, threw it into the mixer and whipped up a really thick whipped cream. Why did I do this? Because I am crazy and wanted an even deeper, fluffier, creamier Tiramisu. I put this layer of whipped cream on top of the Mascarpone cheese layers. Then the dark chocolate pieces got sprinkled across the top…and finally, pure cocoa powder dusted across every slice. This is something that you're going to want to eat…RIGHT NOW.
No, this is not a meal that you can cook up super fast. There is a couple of hours invested in it. But is it worth it? You betcha sweet bippy, it is!! Try it this weekend and lemme know how you love it!