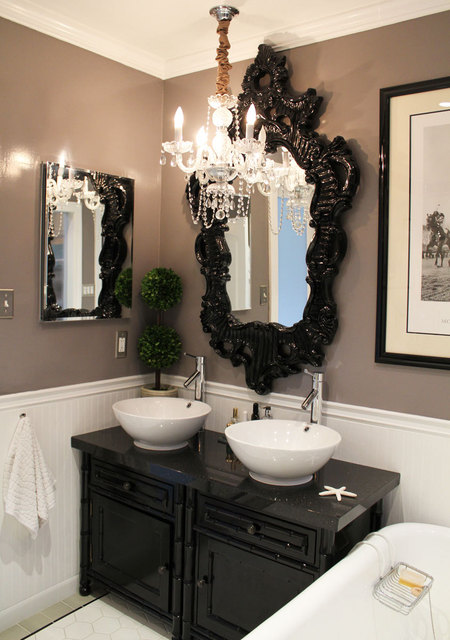 When we built this home almost 4 years ago, I had lots of ideas swirling around in my brain. One thing I knew for sure I wanted to try was to put together my own sink area in the powder room on the 1st floor. I felt certain that I could make something custom at a fraction of the cost of similar, but not as nifty mass-manufactured ideas.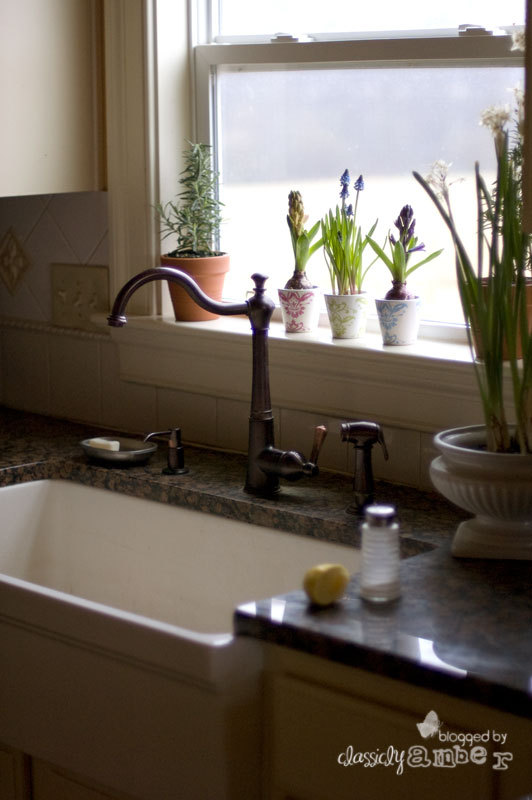 If you are having granite installed in your kitchen, consider having your granite dude give you your sink cutout. You are paying for that granite, so why not keep it? Think of other things you can use that chunk for. [I should note here that it is sometimes tricky for them to cut the piece perfectly…so bear in mind that it could be lost in the process. Doesn't hurt to try, though!] In our kitchen, I had a HUGE farmhouse style sink put in [which turned out to be one of my most fav things about this house!] and so my granite cutout was extra large. I got the measurements of the cutout, and then began my search at Goodwills and antique stores for a dark wooden chest of drawers that could be converted. It took me a couple of weeks of searching, but I finally came across one that had perfect measurements and was similar to the look I had in mind. Plus, it was marked right at my budget and I was able to talk them down a bit lower by offering cash and an on-the-spot transaction.
I had our granite guy do a smaller sink cutout from our kitchen sink cutout [sound confusing?]. The wooden top of the antique chest was easily removed, and the new granite with the smaller sink and faucet was installed on top of the chest.
In the end, even with purchasing the sink and faucet separately, I still managed to come under budget. A similar set up like this that you might find elsewhere would have cost several hundred more dollars than what we spent. I loved doing it this way because it's more unique – and I thought it was fun to put it all together how I wanted!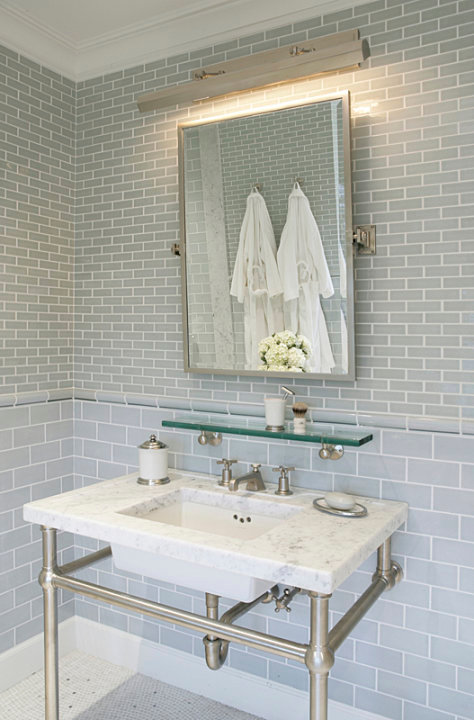 Don't wanna use a chest? Let the granite take the main focus with an under-mount sink and exposed pipes, which can double as a place to hang fresh, neatly folded towels.
Even if you're not having new countertops installed in your kitchen, you could still browse granite yards and ask them about smaller pieces [granite remnants] you could purchase for a lot less moolah if you are in the market to redo your bathroom. If you're anything like me, you will have fun putting it all together yourself – and love the challenge of coming in under budget!
Whatcha' got in your bathroom?
Photo credits: Apartment Therapy; House of Turquoise