I recently shared this online via Twitter/FB and wanted to expound a teeny bit more here. Our oldest son, Ethan, just turned 10 back in January. So, I gave him the gift of sewing by hand. Here's how it all came about: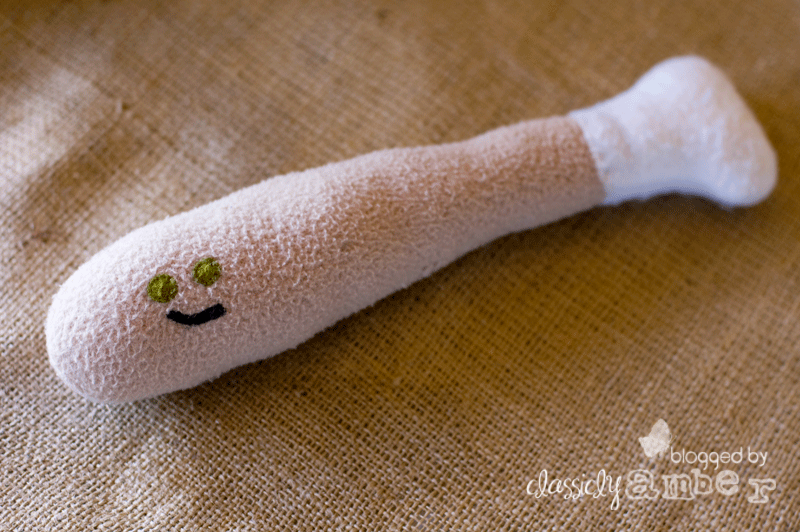 The boys were playing with a soft baby toy. It's a smiley happy turkey leg that I bought from an Etsy seller a couple of years ago when Sarie was teeny. Ain't it cute? It's uber soft – and has jingle bells in the end of it. A smiling turkey leg that jingles is the perfect gift for a baby. Do you not agree?
It was probably a year ago that the boys last had out this same toy – playing with it the same way – and split the seam on one side. I sewed it back up then, but warned them that if they ever messed it up again, they would be the ones making the proper repairs. So here we are. Deja vu. Ethan was bopping Nolan on the head with it furiously [but seriously, how violent can you be with a soft turkey leg?] – and I saw the ripped seam. "Let's go, buddy! Me and you – to the sewing room!"
I can not sit here and tell you that he was excited to learn how to hand sew. I refuse to tell you about any grumbly, mumbly stuff or poochy lip diseases. But I WILL tell you that in the end, he had a huge smile on his face – excited to have learned something new – something useful – to have repaired his damage – and to have done a pretty decent job well done! It's in times like these that I remind him that he needs to know this stuff. Sewing is a basic life skill that many people do not possess, so he will be several steps ahead of the game. Also, his future wife will get a kick out of having a hubby that knows how to do all KINDS of stuff when it needs to be done! Who wouldn't love to be married to man that can sew when he needs or wants to? Or cook? Or clean house? Or – <gasp!> – fold a FITTED SHEET neatly??? Seriously essential to survival. And Ethan is collecting all these things under his belt [so will the other kiddos!].
By the way, Ethan did a good job of hand sewing, but he IS still a boy! So…take a look at this picture he had to doodle real quick of the whole thing afterwards.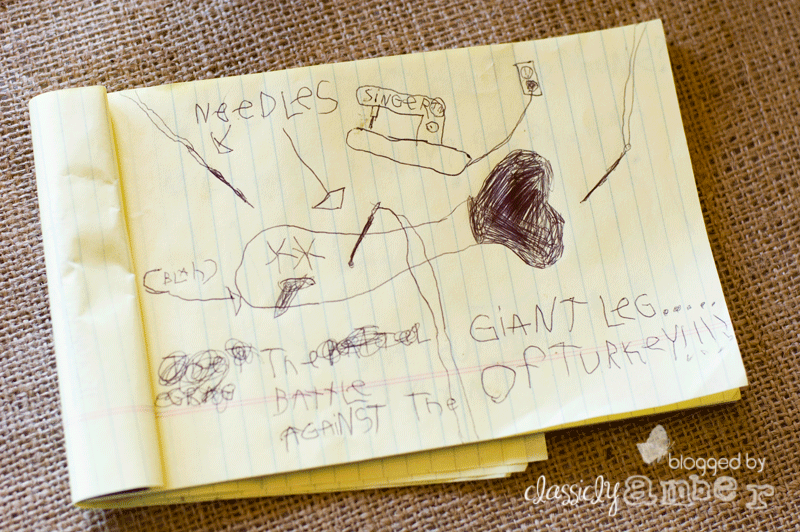 Apparently, it was an epic battle…but he prevailed~!!