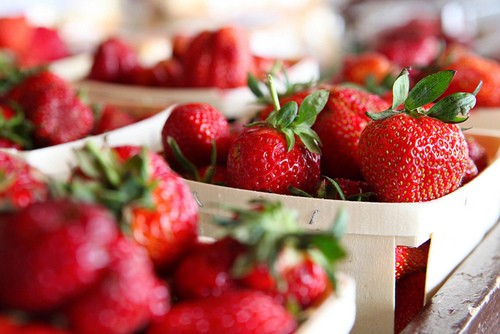 I am literally about a month away from giving birth, and all I can think about – dream about – is strawberries. It's PERFECT timing because these mugs are in season right now! I have yet to stroll through a big patch and pick a bunch. We grew them last year and absolutely loved it. This year, not so much. Growing, I mean…because we definitely still love 'em!
But see that first pic up there? That's just not enough. When I say that I'm thinking about scrawberries, I mean that I am seriously having a mega mondo craving! Yeppers. So the pic below begins to represent it a little better:
However, a whole TRUCK full of fresh strawberries will make it happen even more!
Please, if you come by to see me, bring some fresh strawberries with you for my munchies. Chances are – I will be out of these tasty berries by the time you get here and will need them again.
OH! My hubby was just looking over my shoulder and read the title, so what does he so sweetly do? Well, lemme just say that I am now sippin' down a mug of strawberry smoothie! [This will be gone soon, though, and I'll need more strawberries for thuh takin'!] Baby is kickin' in full blown agreement! 😀
So talk to me about strawberries. Anything. Do you grow your own or go to one of those pick-your-own places? What's your fav thing to make with them? Do you wash your face with them? [I have actually seen that done before!]
Second pic credit goes to:

a perspicuous mind via flickr