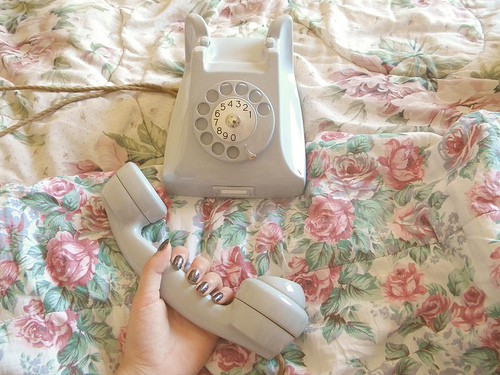 Hi there. In case you didn't realize it, I am QUITE the pregnant woman! By that, I mean that I had a guesstimated due date for giving birth by June 14, 2011. That was 2 days ago and here I sit, with babe safely still chillaxin' in my womb, obviously in no big hurry. I never have been one to put too much stock in those due date numbers, as I realize that every mama, every baby, every pregnancy is completely individual, and babies ALWAYS come out when both they + mama's body are ready~! With that said, you know as well as I do that going past your date is enough to produce even just a tiny amount of anxiety in most mothers. Everyone knows that, right? Especially women who have had babies before?
That brings me to my next topic: It's simply not fair to the preggo mama to start calling her up on the phone, obviously stopping just short of asking that dreaded question that all pregnant moms just do NOT want to hear – EVER:
"So have you had that baby yet?"
Do not tell me that  I am the only one to have experienced this! In fact, it seems like half the women I know who have their own children have told me of their own stories of dealing with this question in various forms at the end of their pregnancies…and half of THOSE women are actually the ones doing this to me! Go ahead and tell me how messed up that is. I want to say to them, 'How can you forget that quickly what it's like? How can you do this to me?' but I say nothing. Instead, I am writing this blog post! HA! So no, I know that I'm not the only mom to deal with this. Someone even went so far as to dedicate a website for preggos in my situation, a totally nifty place to send all the well-meaning friends and family while they are just dying to ask the one question that must not be asked…well…just go here to see what I mean:  HAVE YOU HAD THAT BABY YET?
Genius, right? And someone is paying a yearly fee just to keep that website alive and well for all of us. It's that big a deal!
Since this is our 5th baby, and we are obviously not rookies in the parenting arena [at what number do you become PRO level, though?], I've noticed several who – when they call – they try to dodge that question, yet they are still asking it in their round-about way. They know that we are experienced parents and that we don't want to hear that question. So they think of other ways to ask the question without having to actually ask it. Here is an example phone call I have had, which is the same type of trick that these people are cleverly pulling on me right now:
[attempting to act totally casual] – "HI AMBER! So um, YEAH! Just checking to see how everyone is doing over there! [everyone? as in - the baby!]
So yeah, are you doing well? [are you having hard contractions yet?]
Are you getting plenty of rest? [have you had that baby yet?]
How are the kids doing? How about Corey? [how about that BABY?!?]
Do you need anything? [call me as soon as you hit that first labor contraction!!]
All righty, well it was nice catching up. Talk to you soon. [tomorrow!]"
And aghast, I sit here and have to rat on my own mother, whom also contributed to the paranoia recently when she called me late on June 14 [remember? the guesstimated due date of mine?] for the sole purpose of asking:
"Is anything going on? Okay, just wanted to check before I turned in for the night!"
Mo-om! Seriously. I am totally calling you when serious labor has begun, same as I did the previous four times I've given birth!
In all fairness, I know that I am getting this from well-meaning friends and family only because they care about me and baby and are super excited to meet this new little person in all of our lives! I can not be too hard on them – because – I feel exactly the same! I am thankful to be surrounded by caring love~! Aaaaw, I love you all!
With that said, I am unplugging the phone.