Dear Paula Deen: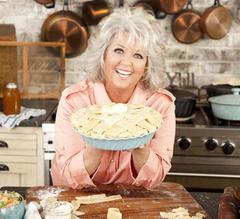 I have watched you on TV for years, and have always loved your sweet personality and gorgeous, bright smile. Your southern accent is a comfort, as it reminds me of my own Grammy, who has been my number 1 influence on cooking and baking as she has always made her own excellent dishes. I have your cookbooks, and have made many of your wonderful recipes. I have shared your warm sentiments on butter and just how amazing it is.
It's extremely saddening, as well as shocking, to see of those who've risen against you for your past mistakes. It angers me to watch the injustice of it all – and I have cried right along with you. What some of these people seem to be forgetting is that we all have regrets in our past; we've ALL said and done things we shouldn't have. I want to thank you for your honesty, humbleness and brokenness in this situation. These are good character attributes that are testament of your loving heart, and are to be highlighted and praised.
In spite of all the negativity connecting to your name lately, I am also seeing what looks to be even MORE greatness from those reaching out to you and encouraging you, supporting you, extending hands to help you to your feet quickly again. And to me, this is what is so wonderful about it all! It also shows the world just how incredibly loved and blessed that you truly are. I have no doubt that you will come through this harrowing ordeal in flying colors and will be stronger on the other side. I can't wait to see the awesome places you'll go next, and will support you 155%!! 😀
Sincerely with love,
Amber D.
P.S. for fans – help show your support to Miss Paula by joining the FaceBook page: We Support Paula Deen
It's 470,000 strong and counting! Whoohoo!