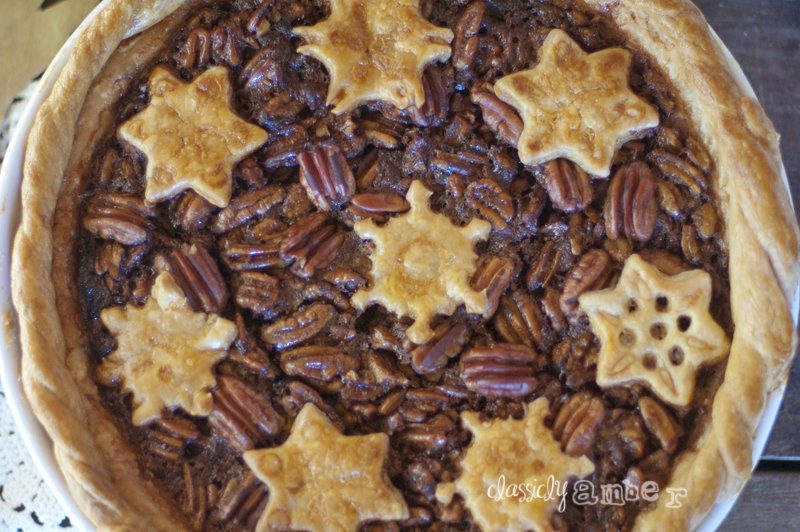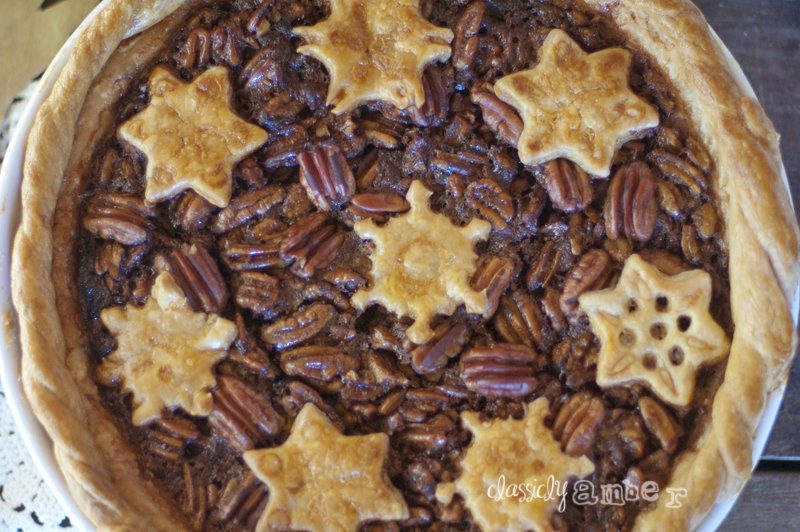 My husband says pecan like "pih-KAHN", but I say it like "PEE-kahn". He puts emphasis on the end of the word, I put it on the beginning. And he faults me for this. Our kids are confused. The whole house is a mess all because we can't agree who's right and who's not as right. I always hate it when he's wrong. Growing up, I heard most of my family members say it yet another way "PEE-CAN" and that always brought up weird images in my mind, so I guess I went my own route?
However you pronounce it, no one can deny that a good homemade pecan pie is absolutely delicious and a sure sign of fall. This year, fall has welcomed us here in the NC boondocks with a misting of snow. So we celebrated by making snowflake-topped pecan pie. I used a recipe from Martha Stewart's baking book, and changed it up to suit my tastes. Then just this morning, I happen to stumble across another recipe from her team that basically changed it up the way that I did. I didn't use any corn syrup in mine, as that's not my thing. It was the real maple syrup that shines here and goes perfectly with the pecans and buttery flaky crust.
INGREDIENTS
All-purpose flour, for dusting
Pâte Brisée (Pie Dough) Pate Brisee
1 cup sugar
4 tablespoons unsalted butter, melted
4 large whole eggs
1 cup plus 2 tablespoons dark corn syrup
1/2 cup pure maple syrup
2 tablespoons bourbon, or dark rum
1 teaspoon pure vanilla extract
1 1/2 cups (5 1/4 ounces) pecan halves
2 large egg yolks
2 tablespoons heavy cream
Whipped cream, (optional)
DIRECTIONS
STEP 1
On a lightly floured surface, roll dough to 1/8 inch thick. Transfer to a 9-inch pie tin, leaving a 1/2-inch overhang. Fold overhang under evenly. Using a paring knife, carefully cut out leaves from scraps of dough. Gently score leaves with the back of the knife to create veins. Place leaves on a baking sheet. Transfer lined pie tin and leaves to refrigerator. Chill for at least 30 minutes
STEP 2
Heat oven to 400 degrees. In a medium bowl, whisk together sugar, butter, 4 whole eggs, corn syrup, maple syrup, bourbon, and vanilla. Fold in half the pecan halves. Pour filling into pie shell; arrange remaining pecan halves on top of pie.
STEP 3
Score the outer rim of pie. Beat 1 egg yolk, and brush over hatch marks. Adhere the leaves to the dough in a decorative pattern. Chill the pie for 30 minutes. Mix 2 tablespoons heavy cream with remaining egg yolk. Brush the egg glaze over the leaves, and transfer pie to the oven.
STEP 4
Bake 15 minutes, then reduce heat to 350 degrees. Bake until a knife tip comes out clean, about 1 hour 15 minutes. Serve warm or at room temperature.